The Nightly Turbo: Randy Lew's World Record, Poker Players on Reality TV, and More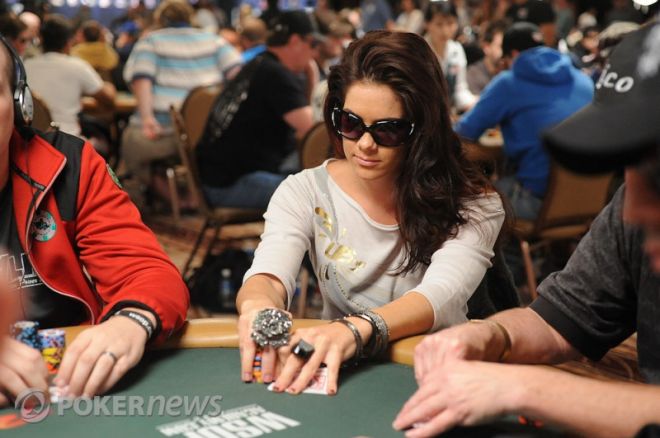 We hope you all enjoyed your weekend. Now, back to business. In the Monday edition of the Nightly Turbo, we bring you a Guinness World Record by Team PokerStars Online member Randy "nanonoko" Lew, reality TV appearances by Beth Shak and Tiffany Michelle, and more.
In Case You Missed It
The PokerNews Podcast crew is still in the Bahamas for the PokerStars Caribbean Adventure. This week, the team caught up with Eric Baldwin and Randy Lew and discussed the big stories taking place at the PCA.
A victory at the European Poker Tour San Remo Main Event in 2010 changed everything for Liv Boeree. She discussed that and more in Part 2 of the Seat Open series.
For the first time ever, the Bicycle Casino is hosting a World Series of Poker Circuit event. Chad Holloway previewed the the $1,600 Main Event, which begins Tuesday, Jan. 10.
How did the Sunday Majors play out on PokerStars? Who took home the biggest win? Find out in the Sunday Briefing.
Day 1b of the 2012 PokerStars Caribbean Adventure Main Event concluded Sunday night. The second flight attracted 654 entrants, with Alex Venovski finishing on top.
The first World Poker Tour stop in Ireland wrapped up Sunday evening. Dave Shallow cruised to his first live victory and a $289,031 payday.
The Fastest Clicker on the Interweb?
Team PokerStars Online member Randy "nanonoko" Lew is considered by many to be the fastest poker player in the world. On Sunday, Lew set out to prove it.
Lew set a new Guinness World Record Sunday by playing the most hands ever recorded in eight hours while making a profit. Lew logged 23,493 hands while turning a profit of just $7.65, creating a tension-filled atmosphere in the corner of the PokerStars Caribbean Adventure tournament floor late Sunday evening.
"This is a great feeling. I finished it," Lew told the PokerStars Blog after achieving the feat.
"I had a crowd. Everyone clapped for me. I was reading chat while I was playing. I probably shouldn't have. But people were like 'Go, Randy, go!' So, it kept me pumped, and it is a good feeling when people want you to win."
Read more about Lew's record at PokerNews.com.
Poker Players or Reality TV Stars?
Beth Shak and Tiffany Michelle call themselves poker pros. But lately it seems like the two ladies spend more time on the sets of reality TV shows.
Shak, who appeared on Bravo's Millionaire Matchmaker in November 2010, will be featured in an upcoming episode of TLC's NY Ink. The following chip shows Shak playing a hand of hold'em for a free tattoo:
If you look carefully, the tattoo artist's cards actually changed midway through the hand. Reality TV poker is so rigged.
Meanwhile, Michelle has parlayed her sixth place finish on The Amazing Race into an appearance on The Food Network's Worst Cooks in America. Michelle will compete against seven other "recruits" trying to transform into skilled cooks. The first episode of Season 3 will premiere on Sunday, Feb. 12.
We know one thing: If french fries are on the menu, we're betting the house on Tiffany.
Read more about Michelle at multivu.com.
Dancing Isildur
Viktor "Isildur1" Blom has more than a million reasons to celebrate after winning the $100,000 Super High Roller at the PokerStars Caribbean Adventure on Saturday. So, how is the Swede letting loose after his big win?
By dancing!
Well, kind of. While browsing TwoPlusTwo.com we came across an interactive site that allows users to take control of a virtual version of Blom on the dance floor. Among his wide array of moves: the robot, the twist, and even some disco.
The site has been around for a while and there have even been spinoffs featuring Phil Ivey and Howard Lederer. However, since this is the first time we're seeing it, we had to share.
Check out the dancing Viktor Blom.
U.S. Crimes Against Online Poker
Last April, the U.S. Department of Justice deemed that the three major online poker sites had been breaking the law on charges of bank fraud, money laundering, and illegal gambling. PokerWorks.com writer Linda R. Greenen recently took an alternate approach to Black Friday by suggesting that the government committed crimes against U.S. citizens, using online poker as a front.
In the article, Greenen examines several instances of corruption committed by the government involving the World Trade Organization, Neteller, Firepay and more. She also questions why it took nine years before Bill Frist snuck the UIGEA onto the Port Security Act.
Writes Greenen, "Frist should be arrested for creating a massive can of worms that still has never been sorted through, regulated, or enforced and has cost literally tens of thousands of dollars in slipshod enforcement by expecting banks to shoulder the cost of upgrading and changing their banking regulations and software to stop money transfers. Banks are not law enforcement agencies but apparently the US government still hasn't recognized this."
Check out the entire piece at PokerWorks.com.
Let the Moose Guide You
The Aussie Millions isn't the only major tournament hitting Melbourne this month. The rankings for the Australian Open were released on Monday, and SportMoose.com is the place to go for odds and betting advice during the first tennis Grand Slam event of the year.
Novak Djokovic and Carolina Wozniacki claimed the top seeds on the men's and women's sides, respectively. Djokovic is the defending champ and was listed as a 2.56-to-1 favorite by Betfair to defend his crown. He was followed in the rankings by second-seeded Rafael Nadal, although the Spaniard is listed as the fourth favorite by Betfair with odds of around 8-to-1.
Despite receiving the top seed on the women's side, Wozniacki was listed at just 15-to-1 by Betfair to win her first Australian Open. Reigning Wimbledon champ Petra Kvitova is listed as the favorite by most sports books at around 4-to-1, and bettors can take defending champ Kim Clijsters at around 10-to-1.
In addition to the tennis coverage, you can find the latest odds on up to 20 sports and reviews for a number of online sports books at SportMoose.com.
What Makes a Poker Player Nervous?
Poker pros have to deal with high-pressure situations all the time. PokerNews' Sarah Grant set out to discover what makes poker players nervous.
Are you following PokerNews on Twitter? Like us on Facebook while you're at it, and sign up for the newsletter. You know you want to.