The Nightly Turbo: Tony G Wins Business Award, Zynga Eyes Real-Money Gaming, and More

PNI Editorial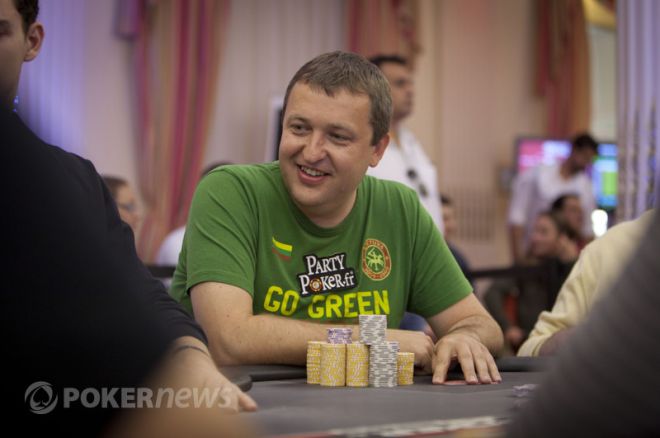 The race for a real-money online gaming space in the U.S. heated up Friday as Zynga stated it is talking with potential partners about a future venture into Internet gambling. Why the sudden flip-flop, you ask? We'll bring you that story and more in this edition of the Nightly Turbo.
In Case You Missed It
How was the high-stakes action at the PokerStars tables this week? Read the Online Railbird Report to find out the week's biggest winners and losers.
Sen. Harry Reid has been one of the leaders tied to the push for federal online poker in the U.S. But where has he been lately? Matthew Kredell takes a look.
British poker pro Tom Middleton captured a title at the Aussie Millions Poker Championship on Friday. For all the details from Day 9, check out our daily recap from Melbourne.
The weekend is almost here and that means football. Check out our picks for the NFL's Championship Weekend in the latest Pigskin Diaries.
Miss anything this week? We've got you covered. Nicki Pickering and Lynn Gilmartin get you caught up on the latest news, views and gossip in the PokerNews Weekly.
Tony G: International Man of Business
Our very own Tony G crushed the competition this month by winning the Lithuanian Business Lighthouse Award, presented by ekonomika.lt. Tony was one of 44 successful entrepreneurs and businessmen from Lithuania qualified for the award, which was voted on by 8,442 readers.
"I have been involved in a lot of different projects in Lithuania to help create jobs, including TonyResort.lt and TonyBet.com," Tony told PokerNews. "I am humbled and honored to have won the Lithuanian Business Lighthouse Award and I am hoping to be even more involved in my home country in the coming years."
He earned 24 percent of the vote; his closest competitor, Kaunas University of Technology Gymnasium Director Bronislava Burg, received 19 percent of the vote.
Read the full story at ekonomika.lt.
Zynga's Flip-Flop
Is Zynga reversing its position on real-money online gambling? Well, that's what one company spokesperson told All Things D on Friday.
It appears Zynga has a sudden interest in the real-money space and is speaking with several potential partners about a shift into the market if legislation is passed in the U.S.
"We build games and experiences that our players want and love. Zynga Poker is the world's largest online poker game with more than 7 million people playing every day and over 30 million each month," the spokesperson said.
"We know from listening to our players that there's an interest in the real money gambling market. We're in active conversations with potential partners to better understand and explore this new opportunity."
Read more at PokerNews.com.
PartyGaming Named in MegaUpload Indictment
The fight to protect intellectual property continued Thursday when online file sharing site MegaUpload.com and sister site MegaVideo.com were shut down by federal authorities.
The federal indictment showed that the site's owner, Kim Dotcom (yes, that's his name), made $42 million last year by hosting illegal copies of popular films and television shows. The indictment also shows that some of that money came from PartyGaming, the parent company of online poker site PartyPoker.
Financial Times reports that PartyGaming was a major advertiser for the site, paying more than $3 million for online ads which users had to view before watching a video. MegaUpload also had ad contracts with companies such as Google AdSense and adBrite.
The indictment can be found at sribd.com.
PokerStars TCOOP Under Way
The inaugural PokerStars Turbo Championship of Online Poker (TCOOP) kicked off Thursday with four events on Day 1. The site shattered each of its guarantees, handing out more than $2 million across the four fast-paced tournaments. Here's a quick look at the results:
Event #1: No Limit Hold'em Six-Max ($200K Guaranteed)

| Buy-in | Entrants | Prize Pool |
| --- | --- | --- |
| $20+2 | 44,787 | $895,740 |
The first event on the schedule attracted an astounding 44,787 players, generating a prize pool of nearly $900,000. Brandon "oncommand" Meyers headlined the final table, but the poker pro fell short of the title in fifth place. The remaining four players agreed on a deal, and Canada's "88Xin88" went on to become the first champion in TCOOP history, collecting $67,903.
Event #2: No Limit Omaha Hi/Lo ($50K Guaranteed)

| Buy-in | Entrants | Prize Pool |
| --- | --- | --- |
| $30+3 | 4,337 | $130,110 |
The first non-hold'em event on the slate drew 4,337 players, more than doubling the guaranteed prize pool. Larry "BBOY3110" Sharp made a deep run, finishing in seventh, and Russia's "gazon7" claimed the title for $15,618 after a three-way chop.
Event #3: No Limit Hold'em Knockout ($250K Guaranteed)

| Buy-in | Entrants | Prize Pool |
| --- | --- | --- |
| $100+25+9 | 5,561 | $556,100+$139,025 |
Uraguay's Fabrizio "SixthSense19" Gonzalez claimed victory in the richest tournament of Day 1. The $134 knockout event attracted a field of 5,561 players, creating a prize pool of $556,100 and a bounty pool of $139,025. Andrew "RunThisTable" Lichtenberger was ousted from the final table in ninth place, and Gonzalez went on to win the tournament for $86,994.
Event #4: No Limit Hold'em ($100K Guaranteed)

| Buy-in | Entrants | Prize Pool |
| --- | --- | --- |
| $30+3 | 9,877 | $ $296,310 |
The last tourney on Thursday was the $33 no-limit hold'em freezeout. It took only five hours to crown the U.K.'s "Mongy" as the champion; he collected $23,134 after a six-way deal at the final table.
For more details on each event, check out the PokerStars Blog.
The SportMoose Round-up
On Thursday, the sports world was sad to learn that action sports star Sarah Burke passed away from injuries incurred during a skiing accident on Jan. 10, 2012. Burke was a pioneer in the sport and won gold medals at the Winter X-Games in four of the past five years.
SportMoose.com reports that Burke, 29, crashed during a training run in Park City, Utah. Tests revealed she suffered "irreversible damage to her brain due to lack of oxygen and blood after cardiac arrest."
For more on Burke and other big news stories in the sports world, check out SportMoose.com. The site also has the latest odds on up to 20 sports and reviews for a number of online sports books.
Randy Couture's Charity Poker Tournament
Mixed martial arts legend Randy Couture hosted the fourth annual Operation All In charity poker tournament last Saturday. The event drew several of the top MMA fighters in the world and raised money for the Xtreme Couture G.I. Foundation for injured troops.
MMA30 was at the Golden Nugget to speak with Couture and others in attendance:
Follow PokerNews on Twitter for up-to-the-minute news.