The Weekly Turbo: Chris Ferguson's Bank Accounts, WPT Returns to Television, and More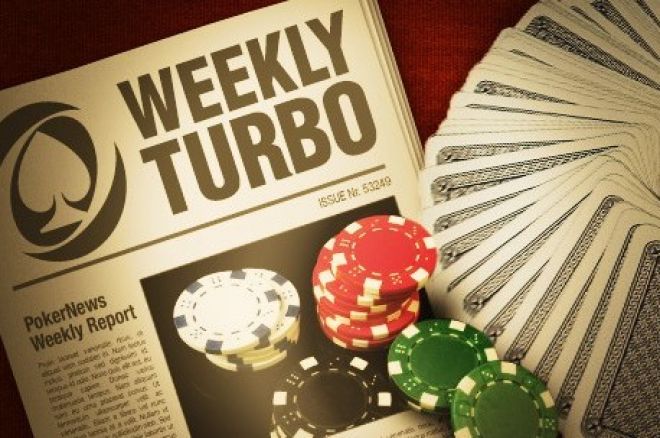 Miss any of the top poker news stories this week? We're here to get you caught up on everything from Chris Ferguson's alleged bank accounts tied to Full Tilt Poker, to the World Poker Tour's return to television, and much more.
Poker Business
Chris Ferguson's Secret Bank Accounts
On Wednesday, Subject:Poker released information regarding secret bank accounts belonging Chris "Jesus" Ferguson, a key figure and shareholder of Full Tilt Poker. The report claims that Ferguson funneled approximately $60 million of his FTP payments into his own bank accounts beginning in at least 2007, and he withdrew or spent around $45 million of the funneled money.
According to the article, Ferguson allowed for about $14.3 million of the funds to be used for the company's post-Black Friday expenses. Subject:Poker reports that Ferguson and his lawyer, Ian Imrich, have threatened to take steps that might obstruct the pending deal with Groupe Bernard Tapie and the Department of Justice if that money is not recovered.
Ferguson was brought into the spotlight last September when the Department of Justice amended its original civil complaint, alleging that Full Tilt Poker and board members Ferguson, Ray Bitar, Howard Lederer and Rafe Furst defrauded players. PokerNews learned this week that the four men, along with Black Friday payment processor Chad Elie, have been given another extension to respond to the amended civil complaint. It is the third extension granted by Preet Bahara since Sept. 20, 2011; the four will have until March 19, 2012, to respond.
Subject:Poker has the story.
Watch the World Poker Tour on FSN
Season X of the World Poker Tour is still going strong in the U.S. and across Europe, but the action is already set to hit television screens beginning next month. On Wednesday, the WPT announced that all-new episodes will air on Fox Sports Net beginning on Sunday, Feb. 12 at 8 p.m. and 11 p.m. local time.
Mike Sexton and Vince Van Patten will be back in the booth for the tenth year providing commentary for all 37 episodes of Season X. They will be joined by WPT anchor Kimberly Lansing, Raw Deal analyst Tony Dunst, and the Royal Flush Girls from the sidelines.
"WPT Season IX redefined poker programming and the response was overwhelmingly positive. Season X will see more new elements that we expect the audience will love and will further enhance the timeless appeal of our show," said WPT CEO Steve Heller. "World Poker Tour's sustainability is not only a testament to continual innovation, but also to co-hosts Mike Sexton and Vince Van Patten, who have been the best in the business for an incredible ten years."
Read more at PokerNews.com.
Playtech Prepares for New Markets
Playtech's new global strategy took a major step on Tuesday as the company announced three transactions that will help position the company for regulated online gambling markets. Playtech acquired U.K. sportsbook and lottery software firm Geneity for £11 million, and entered into joint venture partnerships with German gaming company Gauselmann and South Africa-based casino and resort operator Peermont.
Playtech CEO Mor Weizer said in a statement that the company is preparing itself for all new markets, including the United States. He discussed that opportunity with Reuters on Tuesday, saying, "We have lots of potential customers (in the U.S.) that approached us or that we approached that would like to have us as their suppliers of online gaming products when the market opens up."
Read the full story at PokerNews.com.
Poker Legislation
Senate to Revisit Online Poker Next Month
A recent decision by the Department of Justice to reverse its position on the Wire Act of 1961 will be one of the topics discussed during a hearing held by the U.S. Senate Committee on Indian Affairs on Feb. 9, 2012.
The hearing will be the second of its kind in less than three months. On Nov. 17, a Senate hearing titled, "The Future of Internet Gaming: What's at Stake for Tribes?" focused on testimony from representatives of various tribes and tribal groups. Poker Players Alliance Chairman Al D'Amato was one of the witnesses that testified before the Senate Indian Affairs Committee.
In regards to the hearing next month, Poker Players Alliance VP of Player Relations Rich Muny made the following statement in an e-mail sent to PPA members on Tuesday: "These continued hearings are hard evidence of the great work the poker community has been doing to ensure our elected representatives hear from us. I thank everyone for taking the steps necessary to ensure our elected representatives understand that we poker enthusiasts will not back down and will not simply go away!"
A list of witnesses for the upcoming hearing has not yet been announced. PokerNews will provide that information to our readers as soon as it is released.
Information on next month's hearing can be found at indian.senate.gov.
Online Gambling on Hold in D.C.
The District of Columbia was the first U.S. jurisdiction to pass online gambling last April, but officials in the nation's capital are still divided on whether the government should move forward with the venture.
Online gambling became legal in D.C. last year when a councilman inserted language into a budget bill that would allow poker and other games to be played on the Internet within the jurisdiction. A 30-day objection period ended without any obstruction from Congress, turning the bill into a law.
On Thursday, council member Jack Evans said at a public hearing that there is no rush to roll out an online gambling operation, even though D.C. lottery officials said they could potentially launch a website to offer a test run within 30 days. "Given where we are now, should we go back and revisit it or not? That's what I'll decide," Evans said, according to an Associated Press report.
Nevada and D.C. remain the only jurisdictions to approve online gambling within their borders, but a repeal bill introduced last year by D.C. council member Tommy Wells could ultimately amend the law in the District. Other states, including Nevada, have hinted at the possibility of offering online gaming by the end of the year.
Read more at the Washington Post.
Hawaii Introduces Gambling Bill
As of now, Hawaii is one of only two U.S. states without any form of gambling. However, a new bill co-sponsored by three state lawmakers could allow a newly introduced Hawaii internet lottery to run an online gambling operation that would include poker.
The bill, HB2422, reads: "To protect Hawaii residents who gamble on the internet, and to capture revenues generated from internet gambling in Hawaii, it is in the best interest of the State and its citizens to regulate this existing activity by authorizing and implementing a secure, responsible, and legal system for internet gambling. The State's interests are best met by doing so through an internet-only lottery and gaming corporation, which shall be a public instrumentality, operating for the sole benefit of the State, and accountable to the legislature and to the public through a system of audits and reports."
The Department of Justice's flip-flop on the Wire Act of 1961 has prompted several states to look into the possibility of online poker. With the Wire Act now only applying to sports betting, the line of states showing interest in an online gambling platform seems to be growing by the week.
For more on the new bill in Hawaii, visit capitol.hawaii.gov.
Live Poker
Trickett Earns Top Honor At European Poker Awards
The 11th Annual European Poker Awards returned to famous Aviation Club de Paris Wednesday evening. The event honored the best players in Europe for their performances during 2011. Among the players up for awards were Sam Trickett, Pius Heinz, Liv Boeree, Bertrand "ElkY" Grospellier, Eugene Katchalov and Jake Cody.
Trickett was given the most coveted honor of the evening. Although he wasn't on hand for the event, Trickett was named the 2011 "Player of the Year" for earning nearly $4.5 million on the tournament circuit in 2011. Other winners announced Wednesday were Grospellier (Poker Personality of 2011), Heinz (Best Tournament Performance), Andrey Pateychuk (Rookie of the Year), Ilari Sahamies (Online Player of the Year), Natalia Nikitina (Europe's Leading Lady), Warren Lush (Staff Person of the Year), and WSOP Cannes (Event of the Year).
Get all the details, along with interviews and footage from the event at PokerNews.com.
Jungleman Still Looking for Action
Dan "Jungleman" Cates didn't find any takers for his €100,000 challenge in Prague last month. His challenge to the world is still open, though, and he's getting some help from Tony G. to find an opponent while at the Aussie Millions Poker Championship this month.
Cates issued the original challenge last October. A contender would have faced Cates in a heads-up match at stakes of €200/€400 with a minimum buy-in of €100,000 at the Prague Poker Festival on Dec. 6. However, because nobody stepped up to the plate, the challenge is still in limbo.
Cates and Tony G. spoke with Nicki Pickering about the challenge and who Cates would most like to play heads-up:
Follow PokerNews on Twitter for up-to-the-minute news.