The Weekly Turbo: Duhamel's Ex Denied Bail, Randy Lew's Guinness World Record, and More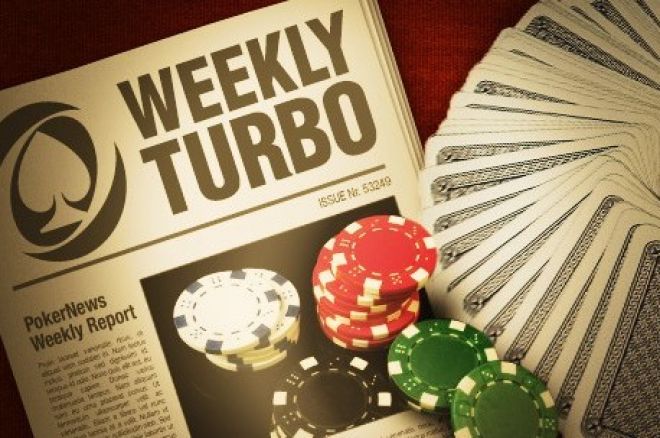 Miss any of the top poker news stories this week? We're here to get you caught up on everything from Jonathan Duhamel's ex being denied bail to Randy Lew's Guinness World Record, and much more.
Poker Business
Epic Poker in Talks with Potential Buyer?
The Epic Poker League is still toiling through its first season, but sources have told Wicked Chops Insider that the league is already in negotiations with a potential buyer. Wicked Chops Insider reported Wednesday that Pinnacle Entertainment is in discussions to acquire the EPL within the next 60 days. Details of the deal aren't known.
According to Wicked Chops Insider, several members of the Pinnacle staff are ex-employees of Harrah's, the host and sponsor of the World Series of Poker since 2005. Ginny Shanks, the marketing director at Pinnacle, worked alongside Epic Poker co-founder Jeffrey Pollack when he first arrived at the WSOP. An industry source told Wicked Chops Insider that Shanks and Pollack have maintained a close relationship throughout the years, which could explain the origin of the acquisition discussions.
PokerNews reached out to Pinnacle and the Epic Poker League on Wednesday. Pinnacle did not respond, and EPL Commissioner Annie Duke declined to comment.
Per player request, Epic Poker recently moved its fourth event from late January/early February to later in the spring. Duke said in a statement that the EPL is working to set new dates that do not conflict with tournaments around the globe.
For more, read the story at Wicked Chops Insider.
Epic Poker League Hits TV Screens in Europe
In more Epic Poker news, the league has announced a partnership that will bring the league's televised action to millions of homes across Europe.
The EPL has teamed up with The Poker Channel Europe to broadcast more than 70 hours of Epic Poker tournament coverage to more than 30 million viewers in Europe and a global audience online.
"Expanding our television coverage into Europe is a step forward for building a global fan base for Epic Poker," said Katherine Kowal, Vice President of League Operations and Programming for Federated Sports + Gaming. "Poker Channel Europe, with quality distribution and broad reach, will help us introduce our content to a very important market and audience."
The Epic Poker League will make its official television debut on The Poker Channel on Sunday, Jan. 15, 2012. A full TV schedule with previews and programming details can be found at www.pokerchanneleurope.com.
Bwin.Party Activities Labeled Illegal by Portuguese Court
Bwin.Party Digital Entertainment, the largest online gambling company in the world, has been ordered to remove all ads and sponsorship from sports competitions in Portugal because its activities were labeled illegal by a Portuguese court.
The Portuguese Professional Football League said in a statement Monday that the ruling was harmful to the national game, but it was obliged to remove all advertising that refers to Bwin, including the logo on the jerseys of all players competing in the Portuguese League Cup.
Bwin is in the middle of a three-year, €4 million deal as the title sponsor of the Portuguese League Cup competition. The company has been under fire since 2005 when the Portuguese Casino Association teamed up with national lottery operator Santa Casa to complain that Bwin's operation gave it an "unfair edge" over competitors.
For more, check out the story at PokerNews.com.
MGM Granted Injunction
Last Friday, MGM Resorts International was granted a preliminary injunction against six "cyber squatters" that had registered poker-related websites associated with names of MGM properties between 2002 and 2005.
The ruling came a month after MGM filed a motion against four individuals and two companies, alleging they were trying to capitalize on MGM's investment in each property. Attorneys for MGM Resorts requested a temporary restraining order against the defendants that would block them from using the domain names.
Federal Judge Philip Pro ordered three major domain hosting firms to place the following sites on hold: bellagioonlinepoker.com, circuscircuspoker.com, excaliburpoker.com, luxorpoker.com, mandalaybayonlinepoker.com, mgmpoker.com and ariapoker.com.
Read more at PokerNews.com.
Online Poker News
Two Suspects in Duhamel Robbery Denied Bail
Two of the suspects involved in the December robbery of Jonathan Duhamel were denied bail by a Quebec judge on Tuesday. Duhamel's ex-girlfriend, Bianca Rojas-Latraverse, and John-Stephen Clark-Lemay will remain jailed until the trial next month.
Anthony Bourque, a third member in the alleged robbery, was released on bail Tuesday. According to Duhamel's agent, the judge explained that in the case of Rojas-Latraverse and Clark-Lemay, the risk of a second offense was large and both had really nowhere to stay that could be considered stable.
A fourth suspect, André Robert-Perron, is accused of covering up the robbery and was released from custody last month with a promise to appear in court at a later date.
The hearings stem from the break-in at Duhamel's home in which the 2010 World Series of Poker Main Event champ was tied up and severely beaten before robbers escaped with his WSOP bracelet, a Rolex watch and cash from his condo in South Shore Boucherville.
Rojas-Latraverse and Robert-Perron are facing five charges, including grand larceny, kidnapping, breaking and entering, assault and battery, and conspiracy. Clark-Lemay is charged with seven counts, while Bourque faces eight.
The Montreal Gazette has more.
The Fastest Clicker on the Interweb?
Team PokerStars Online member Randy "nanonoko" Lew is considered by many to be the fastest poker player in the world. On Sunday, Lew set out to prove it.
Lew set a new Guinness World Record Sunday by playing the most hands ever recorded in eight hours while making a profit. Lew logged 23,493 hands while turning a profit of just $7.65, creating a tension-filled atmosphere in the corner of the PokerStars Caribbean Adventure tournament floor late Sunday evening.
"This is a great feeling. I finished it," Lew told the PokerStars Blog after achieving the feat.
"I had a crowd. Everyone clapped for me. I was reading chat while I was playing. I probably shouldn't have. But people were like 'Go, Randy, go!' So, it kept me pumped, and it is a good feeling when people want you to win."
Read more about Lew's record at PokerNews.com.
PokerStars on Your Phone
According to eGamingReview, PokerStars has released a real-money mobile application for players in Italy. Players at PokerStars.it will be able to play cash games, multi-table tournaments, and sit-and-gos directly from their mobile devices.
The PokerStars Mobile app is free to download and can be found on versions of the iPhone and iPad. PokerStars says it is working to expand the number of compatible devices. While most of the features of the mobile app will match the computer version, one major difference is that users cannot make deposits or withdrawals using the mobile app.
The real-money app follows up a play-money app introduced by PokerStars for Italian players in November 2011. PokerStars says it plans to release a similar real-money app in the United Kingdom and France in 2012, with Denmark and Spain to follow.
If you have a subscription, you can read more at eGamingReview.
Poker Tournaments
PokerStars Pros Cleaning Up the Side Events at PCA
There's certainly no shortage of side tournaments running for players who have busted out of the PokerStars Caribbean Adventure Main Event. The PCA is hosting 41 tournaments in the Bahamas this month, and several Team PokerStars Pros have already found their ways into the winners circle.
On Wednesday, 2010 World Series of Poker Main Event champ Jonathan Duhamel outlasted a 158-player field in the $5,000 no-limit hold'em event to collect nearly $240,000. Duhamel had to weave through a loaded final table that included fellow Team PokerStars Pros Jason Mercier and Pius Heinz, as well as online superstars Keven Stammen, Laurence Houghton, Kenny Hallaert and Owen Crowe.
Duhamel's predecessor, 2009 world champ Joe Cada, also won an event this week. Cada took down the $2,000 no-limit hold'em event for $175,000. It marked his biggest cash since his victory at the WSOP Main Event for $8.5 million.
Team PokerStars Online member Adrienne "talonchick" Rowsome won her first-ever live event by claiming victory over a 24-player field in the $1,000 Omaha 8/Stud 8 High-Low event. The part-time poker pro collected $10,900 after defeating Norway's Iversen Torsten heads-up for the title.
Results from the PCA side events can be found at the PokerStars Blog. And, of course, PokerNews.com is your best source for the latest updates from the PCA Main Event.
Bay 101 Announces WPT Shooting Star Bounties
One of the most popular events on the World Poker Tour schedule each year is the Bay 101 Shootout in San Jose, Calif. Bay 101 is hosting its 16th event this spring, and on Wednesday the casino announced the bounties for the $10,000 Main Event that begins on March 5.
Among the players with $5,000 bounties on their heads will be Phil Hellmuth, Antonio Esfandiari, Erick Lindgren, Mike Matusow, Jason Mercier, Tony G, Ben Lamb, Jonathan Duhamel, Eugene Katchalov, Bertrand "ElkY" Grospellier, Daniel Negreanu and Liv Boeree. One bounty will be seated at each starting table of the tournament. In addition, the chip leader at the end of Day 1a and 1b will receive $10,000.
The winner of the 2012 WPT Bay 101 Main Event is guaranteed a minimum of $1 million, including a $25,000 seat to the WPT World Poker Championship at the Bellagio in May. Last year's winner at Bay 101 was Alan Sternberg, who took home $1,039,000. Sternberg is also a bounty for the 2012 Main Event.
For more information, visit bay101live.com.
Follow PokerNews on Twitter for up-to-the-minute news.