The Weekly Turbo: Zynga Considers Online Gambling, Ira Rubin Pleads Guilty, and More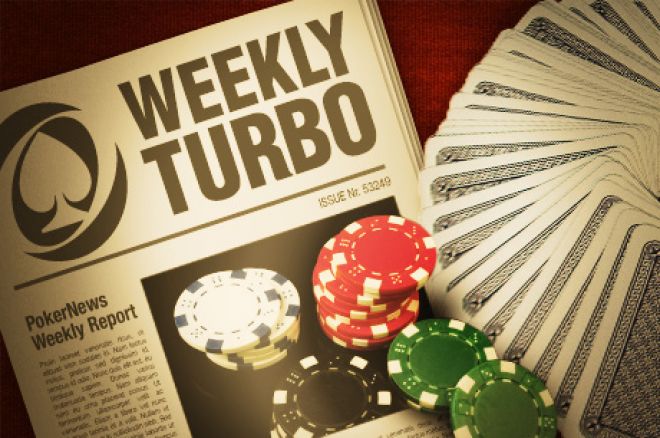 Miss any of the top poker news stories this week? We're here to get you caught up on everything from Zynga's sudden interest in real-money online gambling to Black Friday payment processor Ira Rubin's plea agreement, and much more.
Poker Business
Zynga's Flip-Flop
Is Zynga reversing its position on real-money online gambling? Well, that's what one company spokesperson told All Things D on Friday.
It appears Zynga has a sudden interest in the real-money space and is speaking with several potential partners about a shift into the market if legislation is passed in the U.S.
"We build games and experiences that our players want and love. Zynga Poker is the world's largest online poker game with more than 7 million people playing every day and over 30 million each month," the spokesperson said.
"We know from listening to our players that there's an interest in the real money gambling market. We're in active conversations with potential partners to better understand and explore this new opportunity."
Read more at PokerNews.com.
Ira Rubin Makes Plea Bargain
Black Friday payment processor Ira Rubin is set to face 18 to 24 months in prison after pleading guilty to conspiracy on Tuesday in court in Manhattan, N.Y.
Rubin, 53, had been charged with nine counts in assisting PokerStars, Full Tilt Poker and Absolute Poker with deceiving banks by disguising payments as transactions with phony Internet merchants. Rubin has been jailed since last April when he was arrested in Guatemala while supposedly attempting to flee to Thailand.
Rubin's plea bargain could potentially shave decades off his maximum prison sentence because he pleaded guilty to only three of the nine charges.

Read more at PokerNews.com.
Poker Pros vs. UB
Poker pros Brad Booth, Tom Koral and Dustin "neverwin" Woolf were among eight plaintiffs to file a RICO complaint against Excapsa Software, the former owners of Ultimate Bet. The players claim that the online poker site stole $20 million from players in a hole-card scam perpetrated by former employees.
The defendants in the complaint are 6356095 Canada Inc. (Excapsa Software), and 10 John Does. The players are seeking an injunction and damages for RICO conspiracy, conversion, interference with prospective economic advantage, intentional infliction of emotional distress, unfair business practices, and fraud and negligence, according to the complaint.
Booth has been very vocal about how the UB cheating scandal ruined his life. The Canadian pro told DonkDown Radio last February that he had about $2 million stolen from him during the super-user incident and lost even more money that he borrowed from his peers.
You can find the full complaint against Excapsa at PokerNews.com.
Taylor Caby Enjoying New Venture
Taylor Caby is arguably one of the most influential figures in the growth of online poker. However, after the Department of Justice killed "40 percent" of his business at CardRunners and Hold'em Manager on Black Friday, Caby has branched out to exercise his business expertise in a new venture: fantasy sports.
In September 2011, Caby launched DraftDay.com, a daily fantasy sports site that awards prizes similar to the payouts you'd find in an online poker tournament. Users can find daily games across each of the major sports in the U.S. with buy-ins ranging from freerolls all the way up to $500.
Caby told Mashable.com that while he wishes the online poker crackdown had never happened, it allowed the chance for his newest venture to succeed. The site has already attracted more than 10,000 users, and 2,500 of them play the games regularly.
Read the full story about Caby at Mashable.com.
Ladbrokes Purchases Las Vegas Casino Software Provider
U.K. bookmaker Ladbrokes has taken its first large step across the Atlantic. On Thursday, the company announced it had agreed to acquire a major stake in Las Vegas-based Stadium Technology Group, a software supplier for race- and sports-book operators in Nevada and Delaware.
The $3 million purchase give Ladbrokes a 65 percent stake in the company, with a retained option to buy the remaining 35 percent of the business over the next five years on a performance-related basis. It gives Ladbrokes access to technology for customers such as the Treasure Island, Golden Nugget and Hard Rock casinos.
"The size of the U.S. market and potential for positive regulatory change in the coming years make it a sensible place to establish a presence," said Ladbrokes CEO Richard Glynn. "Stadium Technology is already one of the key software suppliers to casinos in Nevada and Delaware and it has the potential to expand."
Read more at PokerNews.com.
PartyGaming Named in MegaUpload Indictment
The fight to protect intellectual property continued Thursday when online file sharing site MegaUpload.com and sister site MegaVideo.com were shut down by federal authorities.
The federal indictment showed that the site's owner, Kim Dotcom (yes, that's his name), made $42 million last year by hosting illegal copies of popular films and television shows. The indictment also shows that some of that money came from PartyGaming, the parent company of online poker site PartyPoker.
Financial Times reports that PartyGaming was a major advertiser for the site, paying more than $3 million for online ads that users had to view before watching a video. MegaUpload also had ad contracts with companies such as Goodle AdSense and adBrite.
The indictment can be found at sribd.com.
Online Poker
Melanie Weisner Lock'd Up
Former Full Tilt Poker Red Pro Melanie Weisner found a new home last weekend. Weisner was announced as the newest sponsored pro at Lock Poker, joining pros like Chris Moorman, Matt Stout and Leo Margets on the LockPro ELITE team.
Weisner, 25, has more than $1 million in online tournament earnings to go along with nearly $400,000 in live tournament earnings, placing her 74th in the Global Poker Index rankings as of Jan. 9, 2012. Her biggest live score came at the 2010 EPT Prague Main Event, where she took 12th place for $43,000. She also scooped a win at the 2010 EPT Monte Carlo Ladies Event for nearly $33,000.
"I am thrilled to join a team of world-class players and talented peers such as Chris Moorman, Matt Stout and Leo Margets," Weisner said. "I feel very honored to be a part of this exciting and growing brand, and look forward to representing Lock around the world."
Read the full release at 24-7pressrelease.com.
DJ Lady Maverick
As if she hasn't spent enough time in the classroom already, Team PokerStars Pro Vanessa Rousso is hitting the books once again. Rousso, who studied economics at Duke University before attending law school at the University of Miami, is taking classes at BerkleeMusic.com, the online extension school of Berklee College of Music, where she is pursuing a master certificate in Electronic Music Production.
Rousso recently appeared in a video endorsing Berklee, where she has been taking up to five classes at a time while balancing her poker career and other endeavors. Rousso says taking the classes online enables her to continue traveling the world as a professional poker player.
"If I were to think about where I would ideally like to end up with music, it would probably be where I'm traveling around the world playing tournaments, and in addition to tournaments I'm doing DJ gigs and performing songs that I've written recently," she says. "If that was my life, I think I'd be as happy as possible."
View the full video at berkleemusic.com.
Ch-ch-Changes
Phil Galfond's departure from Blue Fire Poker last month has prompted the high-stakes legend to launch his own blog at philgalfond.com. Galfond has already been busy; along with a video outlining his plans for the new site, he posted a blog this week that has captured the attention of the poker community.
Titled Let's Make Some Changes, Galfond makes several suggestions regarding the future of online poker. Galfond says he believes the following goals need to be considered to improve the online games:
Make playing poker an easy and fun experience for both pros and recreational players;
Close loopholes that allow unethical players to gain an advantage over those who choose to be more honest; and
Promote the play of more hands. Galfond then dove into each of the ideas with his own thoughts on how to improve the game.
The blog has been all over Twitter and even got a response from PokerStars:
@PhilGalfond Some really great points in that post Phil, thanks for sharing it with us all. Certainly plenty to consider :)

— PokerStars (@PokerStars)
You can find the blog in its entirety at philgalfond.com.
Poker Legislation
Iowa Lawmaker Pushing for Online Poker Legalization
On Tuesday, Iowa Sen. Jeff Danielson said he intends to draft a bill soon to legalize online poker in the state. Iowa has been one of many states to show support for online poker since the Department of Justice changed its position on the Wire Act of 1961 last month. Iowa lawmakers also commissioned a study last year to determine the practicality and potential income Internet poker could generate for the state.
Danielson added that the DOJ's decision could also allow states like Iowa to join jurisdictions that have already approved the activity. Nevada approved regulations for in intrastate online poker last month, and states like New Jersey and California are likely to follow.
"We believe that because of the Department of Justice ruling, we can now have a multi-state compact," said Danielson.
Read more at the PokerNews.com.
Northern Ireland Still Without Live Poker
The U.S. isn't the only country preventing poker players from hitting the felts. Despite allowing games of chance like bingo, slots and sports betting to be played for real money, Northern Ireland's ban on live poker is still in effect after more than five years.
Many residents hope that ban will soon be overturned. On Thursday, members of the Legalize Poker in Northern Ireland group appealed to the Social Development Committee to allow regulated poker clubs and tournaments.
Spokesperson Glenn McCabe explained to the committee that because many poker clubs had been closed down in Northern Ireland around 2006, many games had gone "underground." The Legalize Poker in Northern Ireland group added that poker could create up to 150 jobs in Northern Ireland
The BBC reported that the response from the committee was mixed, but it was still a step forward for the movement. Following the meeting, the committee agreed to write to the Department of Social Development to ask whether it is considering changing the gambling legislation.
The full story can be found at BBC.com. If you'd like sign a petition to support poker in Northern Ireland, visit gopetition.com.
Follow PokerNews on Twitter for up-to-the-minute news.