Goindi Making Waves Abroad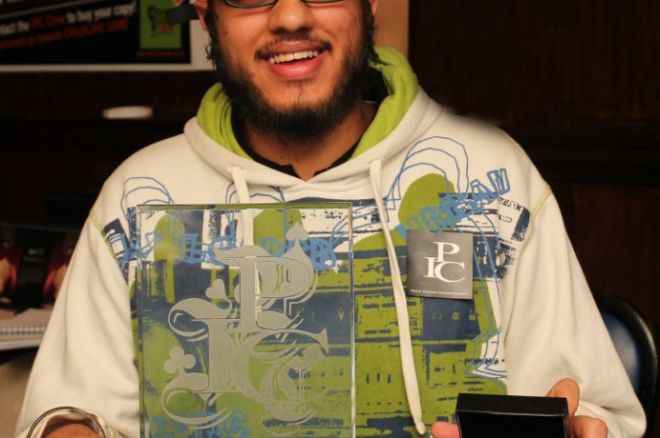 The ever consistent Abhishek Goindi, who is considered by many to be one of the best poker players on the Indian circuit, decided to take his poker skills abroad and make his mark on the international scene in the New Year.
First on his radar, was the APT Cebu, where he cashed at the PhP 5, 500 No Limit Hold'em, as well as the PhP 50,000 Main Event.
Next, was the Macau Poker Cup: Red Dragon. Here he outlasted 633 other players to make it to heads up play against Nicky Tao Jin. Both players had nearly equal stacks and decided to cut a deal and agreed to split the first and second place prize which totaled around HKD 2.2 Million.
They agreed to play for the title and the HKD $100,000 Asia Championship of Poker (ACOP) Main Event entry which was up for grabs.
Heads up play lasted only 3 hands, with both Goindi and Tao Jin folding a hand each. On the third and final hand, Goindi called his opponent's min raise to 200,000 and both players saw a flop of
.
The low flop saw a check from Abhishek and a bet of 260,000. Abhishek check-raised to 660,000 and he got re-raised by Tao Jin to 1. 2 million. Goindi instantly moved all in and got snap called by Tao Jin.
Abhishek shows his
for top two, but is behind Tao Jin's bottom set with
.
Both players are on their feet, and both they and their supporters are calling for the respective cards they want to see. The
on the turn moves Nicky Tao Jin a step closer and the
river seals the deal for him as he takes down the pot and the title of the first Red Dragon Champion of 2012, as well as the HKD $100,000 ACOP entry .
Though, he eventually finished in 2nd place, this deep run adds yet another feather to Abhishek Goindi's cap and serves as testament to his skill.
Image Courtesy: India Poker Championship