IPC's Big 2 Bash freeroll series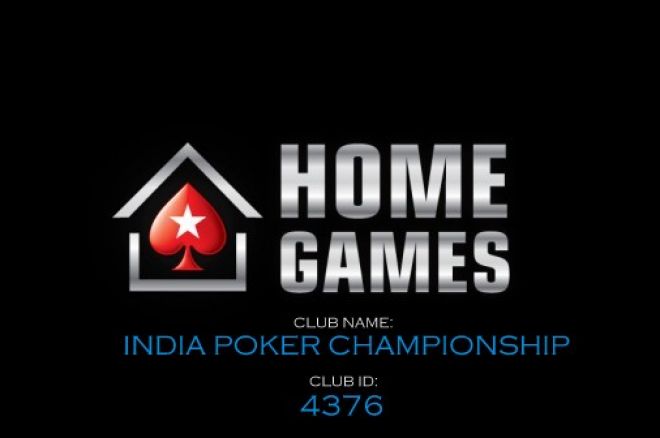 It all started for them back in March 2010 and come this March, the India Poker Championship (IPC) wants to celebrate its 2nd birthday with all its fans.
Starting this Sunday 12 Feb, as part of their second anniversary, the IPC will be hosting the Big 2 Bash - a series of 5 freerolls on PokerStars' Home Game platform. It's pretty simple really... all you need to do is sign-up for a PokerStars account and then click on the Home Game tab in the client.
The India Poker Championship club should be visible since it is a regional showcase club or you can find it through the IPC Club ID: 4376.
The Big 2 Bash Freeroll series on PokerStars Homegames allows members of the IPC club to win live tournament tickets worth INR 25,000 into the March edition of the Championship for absolutely free!
The winner of each tournament in the Big 2 series will receive a tournament ticket worth INR 5000 to use at any IPC tournament in the March edition.
And it does not stop there! If you place in the top 10 finishers, you will also earn points towards the series leaderboard. The player who gets the most mumber of points across the series, will win an additional ticket worth INR 5000! Now that's the way to celebrate turning 2 :D
So what are you waiting for?! Use your existing PokerStars account to join the IPC Club on Homegames or if you don't have one, get one HERE - http://www.indiapokerchampionship.com/online/pokerstars-download/
IPC Big 2 Bash Freeroll Schedule:-
12 Feb - 9:30 pm IST
14 Feb - 9:30 pm IST
16 Feb - 9:30 pm IST
21 Feb - 9:30 pm IST
23 Feb - 9:30 pm IST
Big 2 Bash Leaderboard points:-
| | |
| --- | --- |
| Position | Points |
| 1 | 100 |
| 2 | 90 |
| 3 | 80 |
| 4 | 75 |
| 5 | 70 |
| 6 | 65 |
| 7 | 60 |
| 8 | 55 |
| 9 | 50 |
| 10 | 45 |
How to join the IPC club for Home Games online
If you don't already have it, signup for your free PokerStars software from PokerNews India because there are loads of great promotions that happen through out the year and you do not want to miss out on them. For instance, the fantastic PokerNews $67,500 Freeroll Series. All this and more but you must download and sign-up through PokerNews India to avail of these amazing promotions. Remember to use the marketing code "INPNEWS" while setting up your PokerStars account to take advantage of 100% upto $600 bonus offer!
Now once you've signed up for your account, then follow these simple steps:-

Open the main poker lobby, then click on the Home Games tab
Click the 'Join a Poker Club' button
Enter my Club ID number: 4376
Enter my Invitation Code: IPCINDIA55
That's it! Once your membership request is approved, you will be able ready to start playing in this IPC freeroll series.
For any queries, please email info@indiapokerchampionship.com
Please note - these tickets cannot be transferred so make sure you send your ID with your real name when you win the coupon so it can be validated by the IPC team.