The Weekly Turbo: Brunson Defends Lederer, MGM CEO on Federal Online Poker, and More
Rohan Das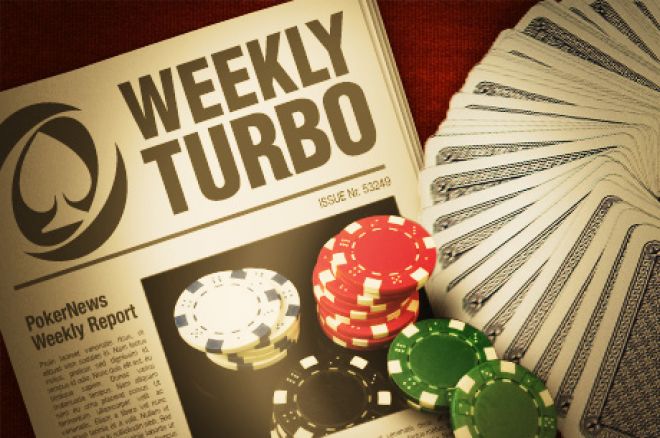 Here are some of the top poker stories of the week gone by from around the world. We're covering Doyle Brunson's blog about Full Tilt Poker, MGM CEO Jim Murren's comments about federal online poker in the U.S., and more.
Poker Legislation
MGM's Murren Optimistic About Federal Online Poker in 2012
Despite reports that federal online poker has more than likely been shelved until at least 2013, MGM CEO Jim Murren said in a conference call on Wednesday that he believes it will still be legalized at some point this year.
"It's not easy, not because it's a complicated issue," Murren said on the call, according to Reuters. "It's becoming a clearer issue. It's because Washington is becoming more complicated.
"We'll be one of the first horses out of the gate when it's approved."
Meanwhile, MGM's partner, Boyd Gaming, stated during a Q4 earnings call on Wednesday that federal online gaming in the U.S. appears "further off than we hoped," hinting that the joint venture between MGM, Boyd and bwin.party would have to enter the market at a state level first.
"We believe the best approach is for Congress to enact legislation that creates a national, well-regulated environment for Internet gaming," said Boyd Gaming CEO Keith Smart. "And while we believe federal legislation is profitable, we will consider entering the market on a state-by-state basis if that's how the issue plays out. We've already applied for an interactive gaming license in Nevada."
Where does the third component in this joint venture, bwin.party, stand on the issue? We'll be speaking with bwin.party CEO Jim Ryan in the coming days, so stay locked in to PokerNews.com.
Atlantis Internet Group Launches First Legal Intranet Gaming Platform
On Wednesday, the Atlantis Internet Group Corp. (ATIG), a Nevada-based gaming innovator, announced the launch of the first form of legal Intranet gaming within the United States.
The Coushatta Casino Resort in Louisiana and Coyote Valley Casino in California became the first two Indian casinos to sign with ATIG's Tribal Gaming Network, allowing ATIG to pioneer intrastate poker.
"We have a huge leg up on the competition, having mastered play-for-fun marketing sites since 2003," said ATIG President and CEO Donald L. Bailey. "Now, based on the NIGC opinion, to date ATIG is the only gaming company that can legally offer online linking games other than bingo, nationwide for live cash, such as poker and progressive jackpots. This is a new technology that has never been offered in the gaming Industry before today."
Read more at PokerNews.com.
Mississippi Joins Race for Online Gaming
According to LegalPokerSites.com, Mississippi Rep. Bobby Moak has filed Mississippi House Bill 1373, which seeks to legalize and regulate online gambling, including poker, within state lines.
The bill details the foundation of regulation for online gaming by establishing policy and procedures for applicants, licensees, Internet service providers, employees and players. Among the highlights included in the bill are age verification, deposit methods, security, and player inactivity.
Mississippi is now the fifth state to consider an intrastate poker bill, joining Hawaii, New Jersey, Nevada, and Iowa. Read more on the story at PokerNews.com.
Iowa Passes Online Poker Bill
Iowa took another step toward online gaming Wednesday when the Senate State Government Committee passed Iowa Senate Study Bill 3164, which seeks to legalize online poker in the state.
Members of the Senate State Government Committee voted 11-4 in favor of the bill. The Iowa Racing and Gaming Commission has now been given the green light to establish a structure whereby operators would partner with state-licensed casinos to provide access to online sites.
"I don't see this as an expansion of gambling," Sen. Rick Bertrand (R-Sioux City) said of the bill's passage. "I see this as an expansion of freedom."
PokerNews.com has more.
Poker Business
Doyle Brunson Talks Full Tilt Poker
Aside from a controversial joke he made on Twitter last April, Doyle Brunson had been relatively quiet about Black Friday — especially regarding the severe financial situation at Full Tilt Poker. However, after Daniel Negreanu verbally attacked the FTP shareholders (again) in a video blog last week, Brunson defended his friends in his own blog on Monday.
"It looks like Bitar, Ferguson and Lederer are taking all the heat," Brunson wrote. "Ferguson had a lot of faith in his friend Bitar. It is widely perceived that Howard Lederer was still heavily involved in running the company even though he retired two or three years earlier. I've been in contact with Lederer the last few months. When someone I've known for years, trusted and respected looks me dead in the eye and says he didn't know about the financial problems, call me a big old Texas sucker because I will believe them.
"I have not talked to Ferguson but I understand he says what Lederer told me, that they didn't know. There are at least four stockholders that own more of FT than Lederer. Where were they? The guilt should be shared IF it's true Lederer and Ferguson didn't know of the financial mess."
Doyle's comments got a rise out of several members of the poker community, including Negreanu.
@TexDolly your buddy Howard knew FTP was accepting deposits POST BF. That is shady and unforgivable. No excuse whatsoever justifies that.

— Daniel Negreanu (@RealKidPoker)
To read Doyle's full blog, check out doylebrunson.com.
Johnson Tabbed as Online Poker Payment Processor
According to the Salt Lake Tribune, Utah businessman Jeremy Johnson hid the $51.4 million he earned processing online poker payments in the U.S. by moving funds through a variety of shell companies.
A court-appointed receiver found that Johnson tried to conceal the funds after the Federal Trade Commission sued Johnson and his companies for scamming consumers out of at least $275 million. Investigators uncovered 65 previously unknown entities that were "involved in moving funds and concealing" assets, according to the report.
"A majority of these entities do not appear to have generated any business income and were used as conduits to reroute funds and to commingle and hide funds," the report said.
Johnson wasn't named in the indictments on Black Friday, but he has ties to John Campos and Chad Elie, both of whom are set to stand trial next month after a motion to dismiss the charges against them was denied by a federal judge.
Read the full story at the Salt Lake Tribune.
Bally Technologies Acquires Chiligaming B2B Platform
French gaming operator Chiligaming continued to expand its presence in the U.S. by agreeing to a deal with Las Vegas based slot machine manufacturer Bally Technologies on Thursday.
Bally's acquisition of the gaming company will allow it to integrate Chiligaming's solution for online poker, bingo, casino, and sports betting and social media into its existing management system of slot machines and casinos. Bally Technologies will now look into the option of performing multi-channel promotions, bonusing, and player-tracking across Bally's mobile, online, and traditional platforms.
"This acquisition provides an open, cloud-based platform for Bally Technologies to offer an integrated traditional and online casino solution to operators worldwide," said John Connelly, vice president of business development at Bally Technologies. "Equally as important, Bally Technologies has also obtained an experienced team of industry veterans from within the online gaming industry, which will help our customers optimize their use of this platform."
Read more at PokerNews.com.
Online Poker
Betfair Poker Signs Peter Eastgate
On Monday, 2008 World Series of Poker Main Event champion Peter Eastgate became the newest member of Team Betfair Poker. Eastgate will make his first appearance wearing a Betfair logo at the 2012 WSOP Main Event in July.
Eastgate left Team PokerStars in 2010, but made his return to poker at the 2011 NBC Heads-Up Championship. The London native has nearly $11 million in live tournament earnings, including $9,152,416 for his victory at the 2008 WSOP Main Event.
We have more on this story at PokerNews.com.
Happy Birthday, Sunday Million!
PokerStars is celebrating the sixth anniversary of the Sunday Million on March 11, 2012, and for one-week-only the site has increased the guarantee of its flagship event from $1 million to $6 million, with at least $1 million going to the champion.
The event will kick off at its regular time of 1430 EST (1930 GMT) with a direct buy-in of $215. As always, players can qualify for a seat by using their Frequent Player Points or through a wide variety of reasonably priced satellites. There will also be a special 1,000-seat guaranteed satellite running just before the big Sunday Million kicks off, with feeder satellites starting from only $1.
You can expect to see all of your favorite Team PokerStars Pros participating in the event, including Liv Boeree, Johnny Lodden, Lev Velduis, Bertrand "ElkY" Grospellier and Jason Mercier.
"When I think of the Sunday Million, I think back to being a 19- to 21-year-old kid, grinding mid-stakes, looking for that big tournament score," Mercier said. "I would get excited every week to play the Sunday Million, hoping that would be the day that I would have my first six-figure score."
For more information, check out our story at PokerNews.com.
Everleaf Confirms U.S. Authorities Seized Funds
Nearly two weeks after making a hasty exit from the U.S. market, Everleaf Gaming broke its silence with a statement to the media on Thursday. The company confirmed that player funds had been seized by U.S. authorities but reassured all affected players that all the funds will be refunded in full.
Everleaf players residing in the U.S. were prohibited from playing on any of the network's 100-plus skins beginning on Feb. 9, 2012. Everleaf did not release an explanation for the stoppage, but a representative from Minted Poker revealed that the network received a cease and desist order from the U.S. Department of Homeland Security and faced legal action if it continues to facilitate its services in the U.S.
Everleaf said in the statement that the seizure occurred in the U.S. and only affects U.S. players, and that business in other markets will continue to run as usual.
Everleaf's statement can be found right here at PokerNews.com.
Poker Tournaments
Seidel Joins PartyPoker Premier League
The lineup for the fifth edition of thePartyPoker Premier League continues to get stronger. On Tuesday, poker's all-time money winner, Erik Seidel, added his name to the mix of players who will put up $125,000 to compete in the televised event in Vienna, Austria, from April 4 through 10.
Seidel joinsPatrik Antonius, Tony G, Luke "Full Flush" Schwartz, Sam Trickett, Vanessa Selbst, Andy Frankenberger, and others for the PartyPoker.com Premier League Poker V. The 16-player event is part of the World Poker Tour Vienna festivities and will award the winner with a massive top prize plus entry into the $25,000 WPT World Championship at Bellagio.
"I am born to crush the Seiborg by the Danube," Tony G. said on Tuesday. "Forget Tony the Tiger I am Tony the Terminator!"
Visit Tony's blog for more information on the Premier League.
ISPT Planning Second Event
The International Stadiums Poker Tour (ISPT) still needs to get a gaming license in order to launch its inaugural €20,000,000 Guaranteed tournament at London's Wembley Stadium. However, that's not stopping ISPT co-founder and president Laurent Tapie from eying future stops for the tour.
According to eGaming Review, Tapie has plans to follow up the event in London with second event in Paris or Monaco. The ISPT's goal is to attract up to 30,000 players to each event, so it would need to find a stadium with that capacity.
Groupe Bernard Tapie's original plan was to have most or all of the 30,000 players qualify online, presumably at Full Tilt Poker after the sale of the site went through. However, with that acquisition still on hold, there's no telling how the ISPT will bring that number of players to London.
You can find more on this story over at eGamingReview (if you have a subscription, of course).
Stars Join Together for WPT Foundation
Daniel Negreanu, Maria Ho, Antonio Esfandiari, Vanessa Selbst, and other high-profile pros have team up with the World Poker Tour to create the WPT Foundation, an organization focused on "utilizing WPT's unmatched platform to influence positive change in the world."
WPT Foundation will hold a series of charity poker tournaments called WPT Playing for a Better World. The events will bring together poker pros and A-list celebrities like Will Ferrell, Woody Harrelson, Eva Longoria, Maria Bello, and Gerard Butler, to help raise money for WPT Foundation's global charity partners.
The inaugural event will take place at SLS Hotel Beverly Hills on March 11, 2012. The festivities will begin with poker training lessons from the pros followed by a round-robin style poker event, a raffle and an auction. Tickets for the launch event of WPT Playing for a Better World are $500 each, with raffle tickets beginning at $100.
Read our article at PokerNews.com for more information.
PokerStars LAPT Gears Up for Season 5
Season 4 of the PokerStars.net Latin American Poker Tour came to a close on Monday, but the tour is already getting arrangements in order for Season 5. The next season will get under way on March 25, 2012, from the Vina del Mar Enjoy Casino and Hotel in Chile.
The LAPT returns to Vina del Mar for the third time and has lowered the buy-in for the $1,000 Main Event in hopes of besting last year's field of 621 players.
"For this third visit to Chile, the capacity for the Main Event has been increased to allow up to 1,000 players, so we can cater for the entire Latin American and international poker community," said Carolina Elchiver, the venue's corporate marketing manager. "In addition, the seven side events will also have an increased capacity."
You can find the full Season 5 LAPT schedule at PokerNews.com.
Vanessa Selbst Wins Star-studded $5,000 LAPC Event
The $10,000 Main Event at the Los Angeles Poker Classic kicked off on Friday, but a prelim event was getting all the attention at the Commerce Casino late Thursday night. A stacked field in the $5,000 no-limit hold'em event played down to a winner, and Team PokerStars Pros Vanessa Selbst and Jonathan Duhamel were the last two standing from a field of 98.
After notables like Josh Brikis, Stephen Chidwick, Faraz Jaka, Matt Stout and McLean Karr exited the final table, Selbst and Duhamel decided to cut a deal. Selbst then went on to take down the title and a top prize of $140,295, while Duhamel collected $121,115 — his fourth six-figure score of 2012.
Here's a look at the final table results of the 2012 LAPC $5,000 no-limit hold'em event:
2012 L.A. Poker Classic Event #45 Final Table Results
| Place | Player | Prize |
| --- | --- | --- |
| 1 | Vanessa Selbst | $140,295 |
| 2 | Jonathan Duhamel | $121,115 |
| 3 | Josh Brikis | $61,790 |
| 4 | Stephen Chidwick | $42,780 |
| 5 | Faraz Jaka | $33,270 |
| 6 | Yuri Siniak | $26,140 |
| 7 | Matt Stout | $21,390 |
| 8 | McLean Karr | $16,640 |
| 9 | Jonathan Poche | $11,880 |
For an in-depth look at how the final table played out, read the recap here at PokerNews.com.
Get all the latest PokerNews updates on your social media outlets. Follow us on Twitter and like us on Facebook today!