The Weekly Turbo: Full Tilt Poker Owed Millions by Pros, 2012 WSOP Schedule, and More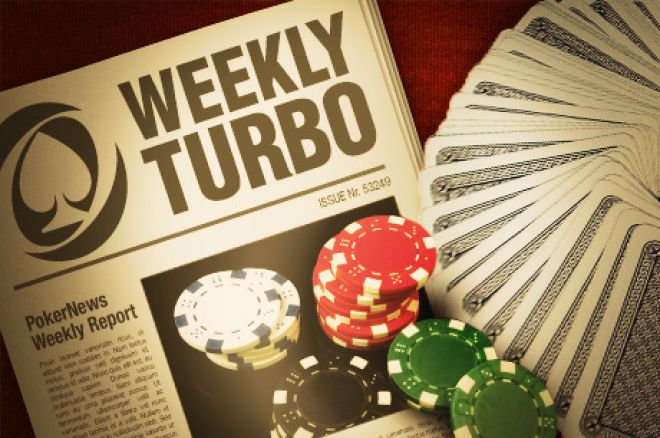 Miss any of the top poker news stories this week? We're here to get you caught up on everything from Full Tilt lending millions to well-known poker players, to the release of the 2012 World Series of Poker schedule, and much more.
Poker Business
Poker Pros Holding up Full Tilt Poker Deal?
The debts of poker players like Phil Ivey, David Benyamine, Erick Lindgren and others are holding up the deal between Full Tilt Poker and Groupe Bernard Tapie, according to GBT attorney Behnam Dayanim.
On Thursday, Dayanim told Gaming Intelligence that between $10 million and $20 million in loans is still owed to Full Tilt Poker. That amount was discovered while GBT was conducting due diligence to learn more about Full Tilt Poker's financial situation.
When asked about the investigation, Dayanim told the following to PokerNews: "The due diligence process has indicated to us, or resulted in us understanding that the financial situation of the company is worse than we had anticipated, and there are a few significant obstacles that we need to sort out in order to get to closure."
Read the full story at PokerNews.com.
888, Caesars Extend Partnership into U.S.
Last March, Caesars Interactive Entertainment and 888 announced a partnership that would see 888 provide Caesars with the equipment, software, and security measures to operate online gaming websites in the United Kingdom. At the time, Caesars said the relationship was meant to build the World Series of Poker brand overseas, but it also had plans to extend the agreement into other markets like the United States when online poker was legalized.
Those plans moved a step closer to completion Tuesday as Caesars and 888 announced they were extending their U.K. licensing agreement to the U.S. Dragonfish, the business-to-business division of 888, will power a selection of Caesars' poker brands once online gaming is legalized and regulated in the U.S.
"Utilizing 888's state of the art poker platform, the agreement will allow the launch of a real money offering immediately as either Federal or state based regulation is finalized and upon licensing by gaming authorities," 888 said in a statement.
Read more at PokerNews.com.
The Generous Alan Meltzer
Who said being a limo driver or a doorman wasn't lucrative?
According to a report in the New York Post, former music mogul and recreational high-stakes poker player Alan Meltzer left a total of $1.5 million to his chauffeur and doorman when he passed away last October. Meltzer, who lived in a luxury apartment building on New York's Upper East Side, left $1 million to his chauffeur, Jean Laborde, and $500,000 to his doorman, Chamil Demiraj.
"I appreciate it," Demiraj told the Post. "He was a generous guy. He was a really good friend of mine, and I was a good friend of his. It's a surprise. Peace and rest to him. That's all I can say."
"I don't know what to do exactly with the money, but one thing I know for sure — every year, I'm going to bring the guy some flowers at his grave," Laborde said.
Meltzer was a wealthy music executive who made regular trips to Las Vegas to compete in some of the toughest cash games in the world. In 2009, Meltzer made an appearance on High Stakes Poker and played against the likes of Tom Dwan, Phil Laak, Eli Elezra and Doyle Brunson.
Read more about Meltzer's generous gift at the New York Post.
Florida Casino Bill Withdrawn
An effort to build three Las Vegas-style casinos in Florida was put on hold Friday as a bill that could have brought 100,000 jobs to the state was withdrawn by its sponsor. Miami Republican Representative Erik Fresen asked that the bill be withdrawn from consideration by the House Business and Consumer Affairs Subcommittee panel.
Now, because the Florida House of Representatives prohibits the chamber from taking further action on a bill that has failed to pass at least one committee, the measure will have to wait at least a year before it can be revisited.
Most affected by the news was Malaysia-Based developer Genting Group, which paid $236 million in cash for the Miami Herald building last year and had since acquired the surrounding property to use as the site for its $3.8 billion Resorts World Miami. The developer planned to build 5,200 hotel rooms and projected to raise gaming revenues that would equal the Las Vegas Strip.
"Resorts World Miami remains committed to the vision of world-class destination resorts in South Florida, and will continue to work with the state Legislature and the South Florida community to bring this vision into a reality," said a statement issued by Genting on Friday.
The Las Vegas Review-Journal has more.
Fertitta Interactive Applies for Nevada License
Fertitta Interactive, the company that owns the UFC and Las Vegas-based Station Casinos, announced Thursday that it has submitted an application to the Nevada Gaming Control Board to expand its gaming licenses to include online poker in Nevada.
Last October, Fertitta purchased online gaming provider CyberArts Licensing LLC ahead of the approval of an intrastate online poker law in Nevada. It joins companies like 888 Holdings, Ball Technologies Inc., Cantor Gaming, and International Game Technology in the race for an online poker space within state lines.
"Nevada has always been the leader in gaming regulation and we're pleased to file our application here," he continued. "Our goal is to provide customers with the best online gaming experience in a safe and well-regulated online environment."
PokerNews.com has more.
Poker Legislation
Romney, Paul Talk Online Gaming
In an interview with 8 News Now in Las Vegas this week, Republican presidential candidate Mitt Romney made it clear that he does not support the idea of online gambling in the United States.
Romney, who was visiting Nevada ahead of this weekend's state caucus, said he's opposed to online gaming because of the "social costs and people's addictive gambling habits."
Last October, Romney vowed he would take a serious look into online gambling, telling the Las Vegas Sun that he would have his mind made up on the issue before the caucuses came around.
Romney's view opposes that of rival candidate Ron Paul, who told Face to Face's Jim Ralston this week that "people should be free and they should make their own decisions and there should be no regulation of the Internet." Paul has long been a supporter of the right to gamble online, a position that should help him in the Nevada caucuses.
For an in-depth look Romney and Paul's views, check out Jen Newell's piece at EpicPoker.com.
Washington, D.C. Moves Closer Toward Gambling Repeal
Poker players in Washington, D.C. received discouraging news Wednesday: the Finance and Revenue Committee voted 3-2 to send the jurisdiction's Internet gambling legislation to a full council vote for repeal.
"It gives [council members] an opportunity to vote up or down with full knowledge of what they're voting for," Council member Jack Evans told The Washington Post. Evans, who has long opposed online gambling legislation, voted to repeal on Wednesday.
The full council vote could happen as early as next week. The council remains divided on the issue, but nine of the 12 council members have reportedly told The Washington Post that they will vote or are leaning toward voting for the repeal.
Check out PokerNews.com for more.
Utah Stands Alone
Utah could soon be the only state opposed to any form of gambling within its borders. While Hawaii, the only other state without gambling, is considering a bill to legalize it, Utah Rep. Stephen Sandstrom has introduced H.B. 108 Internet Gambling, which is intended to prevent online gaming in the state.
The bill would not only prevent Internet gambling on computers and handheld devices, but it would also prohibit Indian casinos from entering the Utah market.
"Utah is only one of two states that prohibit any form of gambling, Hawaii being the other," Sandstrom said. "Unfortunately, this could change soon because Hawaii is currently considering legalizing gaming, leaving Utah to fight the principled fight against legalized gambling on its own."
Read more at PokerNews.com.
Live Poker Could Hit North Carolina
Last November, North Carolina Gov. Beverly Perdue and the state's Cherokee Indians signed an agreement that would allow for live poker and blackjack to be played in the tribe's casino. Now, after two months of negotiations regarding concerns raised by some state officials, the governor's office said this week it is close to a resolution.
The agreement would sanction Las Vegas-style card games and send a percentage of the money from Harrah's Cherokee Casino to the North Carolina education department. The proposal could bring up to 400 additional jobs to the Harrah's Cherokee Casino and Hotel — a point that legislative leaders hope can win over concerned lawmakers when they return to Raleigh for a mini-session next month.
The Charlotte Observer has more.
Poker Tournaments
November Nine Still On ... Sort of
On Tuesday, the World Series of Poker hinted on Twitter that there wouldn't be a November Nine in 2012. We took that as meaning the November Nine format would be scrapped completely. Well, we were duped.
The WSOP released the 2012 schedule on Wednesday, and with it came the news that the final table of the Main Event will be moved up a week to accommodate the U.S. presidential election. Rather than taking place in November, as it has in each of the past four years, the final table will be held on Oct. 28 and Oct. 30.
The 2012 WSOP will feature 61 events from May 27 through July 16, 2012, at the Rio All-Suite Hotel in Las Vegas. In addition to the highly anticipated $10,000 Main Event and $50,000 Poker Players Championship, the WSOP will unveil the $1 million buy-in One Drop event on July 1, as well as some other new tournaments to the schedule.
For more on the 2012 WSOP schedule, check out the article at PokerNews.com.
Breeders' Cup Sponsors DeepStacks Poker Tour
On Thursday, DeepStacks Poker Tour announced that the Breeders' Cup signed on as the presenting sponsor of Season 1.
"It is truly a great honor to be partnered with such a well respected brand and world class event in the Breeders' Cup World Championships. We feel this partnership aligns our mutual interests while offering our players the very best in televised poker," said DeepStacks Poker Tour CEO Chris Torina.
Breeders' Cup World Championships is one of the most influential events in Thoroughbred racing. As the presenting sponsor, the Breeders' Cup brand will be integrated throughout the DeepStacks platform and will be featured prominently through signage, have its logos on the poker tables, and have sponsored television segments.
"We were pleased with our initial foray into poker during this past year's event and this partnership with DeepStacks is the next logical step in progression as we continue to strive to reach the poker audience" said Peter Rotondo, Vice President of Media and Entertainment for the Breeders' Cup World Championships.
DeepStacks kicks off its inaugural season with a $1,500 buy-in event on Feb. 17 at the Seneca Niagara Casino and Hotel.
Check out the press release for more.
Macau Millions Postponed
On Thursday, PokerStars Macau announced that the 2012 Macau Millions has been postponed indefinitely.
"Our current agreement to operate PokerStars Macau events and tournaments at Casino Grand Lisboa will expire in March. As a result, the Macau Millions will be postponed for a later date," said Danny McDonagh, PokerStars director of live operations in Asia-Pacific.
McDonaugh added that the Macau Poker Cup:Red Dragon event scheduled for Feb. 18 through 26 will take place as planned, and the status of future events will be updated in the near future.
Last year, a record-setting 1,329 entrants took part in the HK$2,200 buy-in Macau Millions, with Hung-sheng Lin taking it down for HK$400,000. Justin Chan won the event in 2010.
Read the announcement at the PokerStars Blog.
Follow PokerNews on Twitter for up-to-the-minute news.