The Weekly Turbo: Nikolay Evdakov Passes Away, $16.5 Million Owed to FTP, and More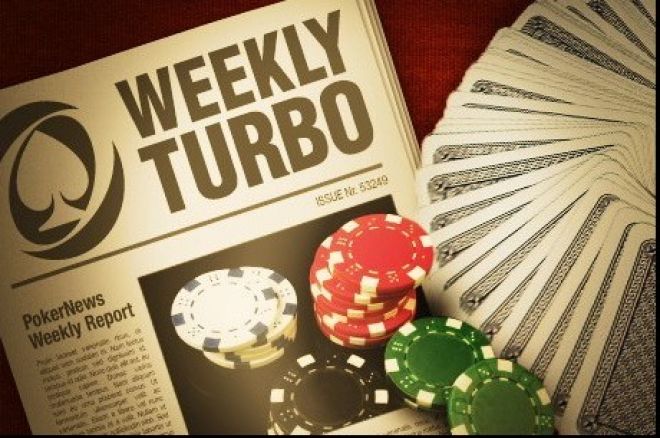 Miss any of the top poker news stories this week? We're here to get you caught up on everything from the $16.5 million owed to Full Tilt Poker, to the untimely death of Nikolay Evadakov, and much more.
Poker Business
Tapie Says FTP is Owed $16.5 Million
On Monday, Laurent Tapie confirmed reports that Full Tilt Poker is still owed millions of dollars by several high-profile professional poker players. Tapie, who has been working diligently to complete the deal between Groupe Bernard Tapie and Full Tilt Poker, told iGamingFrance that 19 players still owe FTP $16.5 million.
Tapie said that the massive amount is not an expense GBT is willing to take on, but that some of the players have worked with the investment firm to set up an installment plan for repayment. "We now hope that those who have not contacted us will do so quickly, to find the same type of solutions, so that the situation does not remain as it is," Tapie said.
To see all of Tapie's comments, check out the story at PokerNews.com.
Another Extension for the Big Three
PokerStars, Full Tilt Poker and Absolute Poker have been granted another extension to respond to the amended complaint filed by the U.S. District Court Southern District of New York on Sept. 21, 2011.
Three separate Stipulation and Orders filed on Feb. 8, 2012, state that the three sites have until March 19, 2012, to answer or otherwise respond to the amended complaint. The same extension date was given to Full Tilt Poker board members Ray Bitar, Howard Lederer and Rafe Furst last month.
For a closer look at the Order of Stipulations, visit PokerNews.com.
Palms Ordered to Pay $18,500 to Michael DeVita
As first reported by QuadJacks on Tuesday, the Nevada Gambling Control Board ordered the Palms Casino Resort to pay $18,500 to Micheal DeVita, the man who had an Epic Poker League Main Event seat stripped from him because he was a registered sex offender.
In September, in light of his criminal past, DeVita was barred from playing in the $20,000 Epic Poker League Main Event that he qualified for and was refunded his $1,500 buy-in for the Pro-Am event. DeVita, however, felt he was still owed the remaining value of the $20,000 seat. He then took the matter up with the Nevada Gambling Control Board on Oct. 4, 2011.
QuadJacks reports that the NGBC ruled in favor of DeVita on Jan. 12, 2012. DeVita said that he drove to Las Vegas Tuesday morning to collect the check from the Palms, which did not appeal the decision.
Read more about this story at QuadJacks.com.
PokerStars Granted Operating License in Belgium
PokerStars and Circus Groupe announced Wednesday that PokerStars.be has been granted a full operating license in Belgium where players will be allowed to take part in all of PokerStars' international tournaments, including the Sunday Million, World Championship of Online Poker and Spring Championship of Online Poker, as well as cash games.
PokerStars partnered with Circus Groupe in 2010 to offer online gaming to Belgian players under the guidance of the Belgian Gaming Commission. That agreement, which began as a test phase, now permits PokerStars.be to offer online gaming services while the Belgian Gaming Commission actively prevents unlicensed operators from accessing Belgian customers.
"PokerStars is proud to be among the first fully licensed operators in Belgium," said PokerStars Head of Business Development Guy Templer. "We are delighted to be able to offer a locally licensed product to Belgian players through our partnership with Circus Groupe. This furthers our goal to obtain licenses in all newly-regulated markets and we look forward to working with the Circus Groupe and Gaming Board."
PokerNews.com has more on this story.
PokerStars Adds Another Gaming License
PokerStars was granted an operating license in Malta this week, paving the way for the company to roll out a new site which will benefit players in several European markets.
PokerStars.eu is expected to launch in the next few weeks. The site will not be segregated from the other PokerStars sites; its purpose is to better serve the needs of its European players. More details on the new site are expected next week.
"We expect our Malta license will immediately benefit players who have told us they want to share in the benefits — such as clarity around taxation — that some jurisdictions offer to sites with a license from European Union nations," said Eric Hollreiser, head of corporate communications at PokerStars.
Read more at PokerNews.com.
Chiligaming Enters U.S. Gaming Market
In a joint statement on Friday, Chiligaming and the Golden Nugget announced a gaming partnership that will help position both companies for legalized online gaming in the United States. The deal will see Chiligaming provide a free-to-play online poker site for the Golden Nugget later this year.
"Chiligaming is thrilled to partner with Golden Nugget, which has a very strong brand presence across the U.S.," said Chiligaming founder and CEO Alexandre Dreyfus in a press release. "With its Las Vegas, Laughlin and Atlantic City properties, it is ideally and uniquely positioned for all of the online developments that lie ahead."
Read the full story at PokerNews.com.
Poker Players
Nikolay Evdakov Passes Away
On Tuesday, the poker world was sad to learn that high-stakes poker player Nikolay Evdakov had passed away at 47. Evdakov's death was made public by his wife, Nataliya, who posted the news at Russian poker forum cgm.ru. The funeral will be held on Wednesday, Feb. 8 at the Troekurov Cemetery in Moscow.
Evdakov's biggest claim to fame was his record-setting performance at the 2008 World Series of Poker. He cashed 10 times during the series, breaking the record of eight held by Michael Binger, Chad Brown, Phil Hellmuth and Humberto Brenes. Evdakov still holds the record today.
Several of Evdakov's close friends and peers expressed their condolences on Tuesday. For more on the story, check out PokerNews.com.
Isildur1 Blogs About PCA
It's nice to see Viktor "Isildur1" Blom coming out of his shell a bit more these days. On Monday, the high-stakes superstar posted a rare blog about his experience at the 2012 PokerStars Caribbean Adventure, where he took down the $100,000 Super High Roller event for $1.2 million.
Blom, who said he wasn't feeling well upon arriving at the Atlantis Resort, acknowledged that he "ran really well" during the two-day event. When it was over, he went back to his room to sleep, saving the celebration for later in the week.
"When I woke up the next day, I started to feel really good, and the win started to sink in," Blom wrote. "The win feels great. I hope it isn't my last."
We hope this blog isn't his last, either. You can find it at the PokerStars Blog.
Poker Legislation
Senate Revisits Online Gaming
On Thursday, the Senate Committee on Indian Affairs held an oversight hearing entitled, "The U.S. Department of Justice Opinion on Internet Gaming: What's at Stake for Tribes?" The hearing focused on the how the DOJ's new interpretation of the 1961 Wire Act will affect the gaming interests of Indian tribes.
Thursday's list of witnesses included Poker Players Alliance Litigation Support Director Patrick Fleming, who was speaking on behalf of poker players. During his testimony, Fleming stated clearly that online poker is very different than online gambling. He also said that Indian tribes are very important to the potential legalization and regulation of online poker, and that Internet poker can help bring patrons to land-based Indian casinos.
For a full recap, check out PokerNews.com.
Senator Responds to Online Poker Comments on Facebook
Since Black Friday, the poker community has been active in making its collective voice heard by lawmakers in regard to online poker legislation. On Tuesday, Sen. John Boozman (R-AR) posted a response to the pro-poker comments that he's been receiving on his Facebook wall.
Said Boozman, "Back in June of 2011, I noticed an uptick in posts on my Facebook page from advocates of online poker legislation. From the activity on my Facebook page in the past 24 hours, I can see that it this issue remains a concern to many Americans. I would like to thank you those of you from around the country for sharing your thoughts about this issue with me."
Read Boozman's full response at his Facebook page, and be sure to leave a comment!
Elie, Campos Denied Motions to Dismiss Charges
Chad Elie and John Campos, indicted by the Department of Justice on Black Friday, have been denied a motion to dismiss all counts under the Illegal Gambling Business Act (IGBA) and the Unlawful Internet Gaming Enforcement Act (UIEGA) by Federal Judge Lewis Kaplan.
Attorneys for Elie and Campos filed motions on Monday, arguing that the DOJ's new interpretation of the Wire Act placed poker outside the scope of the IGBA and UIGEA. They also claimed that poker is not gambling. In response, the DOJ submitted a supplemental memorandum stating that their opinion of the Wire Act "is not relevant to the Court's analysis of the pending motions and has no other meaningful implications for this case."
On Tuesday, Kaplan chose not to dismiss any of the charges against Elie and Campos, saying, "it would be inappropriate [to dismiss any count] for lack of proof at this point in time." Their trial is scheduled for March 2012.
Read more at PokerNews.com.
Poker Tournaments
EPT Grand Final Returns to Monaco
After months of speculation, PokerStars has announced that the European Poker Tour Grand Final will return to Monaco in 2012. The popular tour stop visited Madrid in 2011 after spending six years on the shores of Monaco, and it will now return to the Monte Carlo Bay Hotel & Casino from April 23 through May 1, 2012.
The full schedule of events has yet to be announced, but the Grand Final will be highlighted by the €10,000 Main Event. There will also be a €100,000 Super High Roller from April 23 through 25, which is expected to attract some of the top players in poker. The Super High Roller will be the first hosted by the EPT on European soil (a similar event has been played at the PokerStars Caribbean Adventure in the Bahamas).
"This will be the biggest and best EPT festival ever held, and we're putting together an incredible tournament," EPT President Edgar Stuchly said.
Read more about the Season 8 EPT Grand Final at PokerNews.com.
Macau Poker Cup: Red Dragon Returns
The race for the 2012 Asia Player of the Year award begins this month with the Macau Poker Cup: Red Dragon series from Feb. 18 through 26. The event, hosted by PokerStars Macau at Casino Grand Lisboa, will again feature a HKD$11,000 buy-in Red Dragon Main Event, which comes with a HKD$3,000,000 guarantee.
There will be nine events on the Macau Poker Cup schedule with buy-ins ranging from HKD$1,000 to $30,000. Last year's MPC had a total of 1,652 players and awarded HKD$9,553,323 (USD$1,225,000) in prize money. Both numbers set records for the MPC.
"The Red Dragon event went from 300 players in 2010 to an average of 478 players in 2011," said Fred Leung, PokerStars Country Manager for Macau. "February has traditionally been the largest MPC series each year and everything indicates that trend will continue."
The complete MPC: Red Dragon schedule can be found at pokerstarsmacau.com.
Global Poker Index Player of the Year Award
A new Player of the Year award was introduced to the poker world on Wednesday. PokerNews and Federated Sports + Gaming (FS+G) together announced the launch of the Global Poker Index Player of the Year Award, which will be presented annually to the player who has the strongest performance in live tournaments around the globe during the calendar year.
The GPI POY will track tournament results by using the USA Today Global Poker Index point system. The 2012 GPI POY will be awarded to the player with the most points between Jan. 1, 2012 and Dec. 31, 2012.
"We are thrilled to be able to apply the precision and quality of the USA Today GPI formula to a Player of the Year race," said Annie Duke, executive vice president of FS+G and commissioner of the Epic Poker League. "The 2012 GPI POY will showcase the single player at the apex of the game."
Read more at PokerNews.com.
APPT Returns to Cebu
The PokerStars.net Asia Pacific Poker Tour (APPT) is returning to Cebu, Philippines, for the final leg of the Season 5 schedule. Players will hit the felts from April 24 through 30 at the Waterfront Airport Hotel and Casino in Cebu for the PHP 100,000 buy-in Main Event, along with a series of side events.
Team PokerStars Pro Vivian Im will return to Cebu to defend her title in the Main Event. Last season, Im became the first woman to win an APPT Main Event by outlasting a field of 236, capturing a top prize of PHP 5.81 million.
Check out PokerNews.com for the full APPT Cebu schedule.
Follow PokerNews on Twitter for up-to-the-minute news.