Unibet's Gold Rush is Back this February

PNI Editorial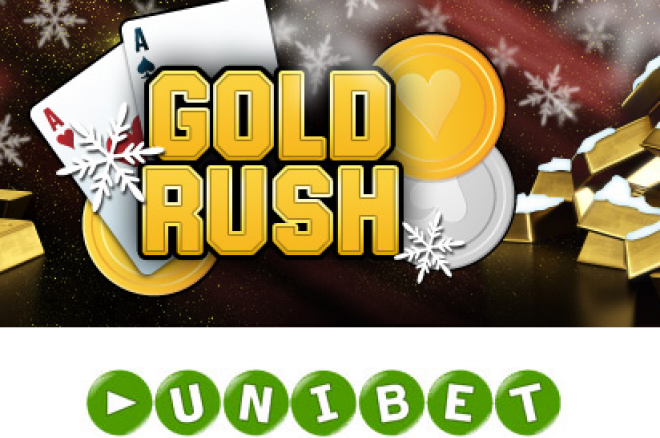 Don't miss your chance for the Gold Rush promotion, sign up for Unibet through PokerNews India today and receive an exclusive PokerNews' €1,000 New Player Sign up Bonus.
If you like to earn free cash simply by playing poker, then we have good news for you. Throughout February, Unibet will be hosting their popular "Gold Rush" promotion, which allows players to earn a reward by earning a minimum amount of daily target points on a minimum amount of days. The more you play, the more you'll earn!
In addition, 2012 is a rare leap year, and Unibet is awarding players with an extra day of points, match the points you earn on the 14th and/or 29th of February. As Unibet explains on their site: "If you earned 700 points for 3 days of the month, and you earn another 700 points on the 14th or 29th of February, we will count an extra day with 700 VIP points for you, making it a total of 5 days with 700 points for the end of the month, giving you a €25 cash reward."
The more points you earn per day, which is measured in five-day increments, the bigger your reward. For example, if you earn at least 35 VIP points on five different days, your reward will be an invite to a €2K freeroll. As you can see by the chart below, the more you play the more you'll earn: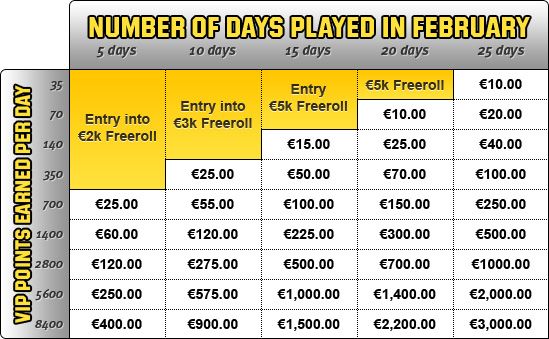 If you're interested in earning a reward, all you need to do is sign up for the promotion by registering for Unibet's Gold Rush Tournament, which you can find under "Tournaments" > "Register for Gold Rush" in the poker client.
To learn how many VIP points you have earned each day, simply go to My page > Bonus tab > Search VIP points. You can also learn how VIP points work by clicking here.
You will also want to be aware of a few of the Gold Rush Terms and Conditions:

The Gold Rush promotion will run from 00:00 CET on 1st February 2012, until 23:59 CET on 29st of February 2012.
The Gold Rush promotion is an opt-in promotion. Players must opt-in by registering for our "Gold Rush" tournament in the poker client between 1st- 29th February 2012.
Players can only earn one monthly prize promotion and in cases where they qualify for more than one prize will always be awarded the highest value prize.
Bonus VIP points are not valid for this promotion and will not be included towards points earned.
All players will be awarded their cash prize within 72 hours of the promotion finishing.
Sign up for Unibet through PokerNews India today and sign up for the Gold Rush promotion. You will also receive PokerNews' exclusive€1,000 New Player Sign up Bonus.
Stay up to date on all the latest news by following us on Twitter and liking us on Facebook.