Estrellas Poker Tour Valencia day 1B recap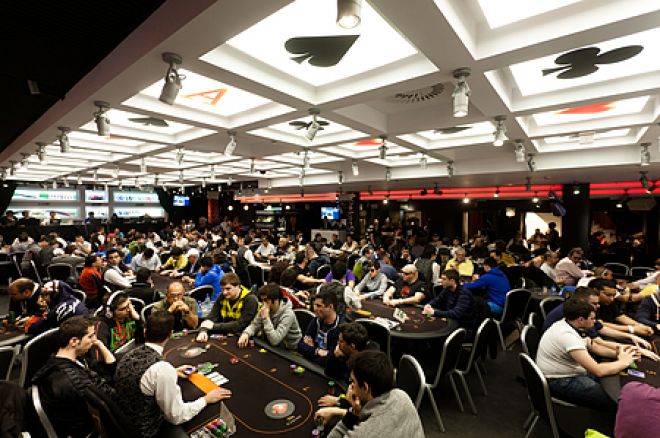 The second starting day 1B, of the PokerStars Estrellas Poker Tour de Valencia took place yesterday with 211 players putting up the €1,100 buy-in to participate on this prestigious poker tournament at Casino Cirsa de Valencia.
Eventually though it would be only 88 of from that starting field who would survive and get their pass to day 2. German Theodor Lothman ended the session as chip leader (105,400 chips) closely followed by the Spaniards Jorge de Pablo (104,200) and Ruben Velasco (90,600).
Also played day 1B players such as PokerStars Team Pro Ana Marquez and the professional golfer and PokerStars friend Sergio García 'el niño' but, unfortunately for him, he won't be able to repeat his performance in last PCA Bahamas as he busted out after a couple of levels.
Among the foreign surviving players we can find the Dutch Joeri Koen Zandlivent (74,300), Czech Petr Zalud (61,100) or Polish Lukasz Roczniak (58,500).
These are the Top 10 players from day 1B:
1 Theodor Lothman Germany 105,400
2 Jorge de Pablo Spain 104,200
3 Rubén Velasco Spain 90,600
4 Francesc Dávila Spain 88,300
5 Cristian Eduardo Marin Spain 76,800
6 Emilio Llano Spain 75,200
7 Joeri Koen Zandvliet Netherlands 74,300
8 Javier Celma Spain 71,600
9 Isaac Chapí Spain 62,900
10 Manuel Sadornil Spain 62,500
Day 2 will take place today with 172 players remaining on the field at Casino Cirsa de Valencia.