PokerStars.net Latin American Poker Tour Chile Day 3: Sergio Escobar Leads Final Table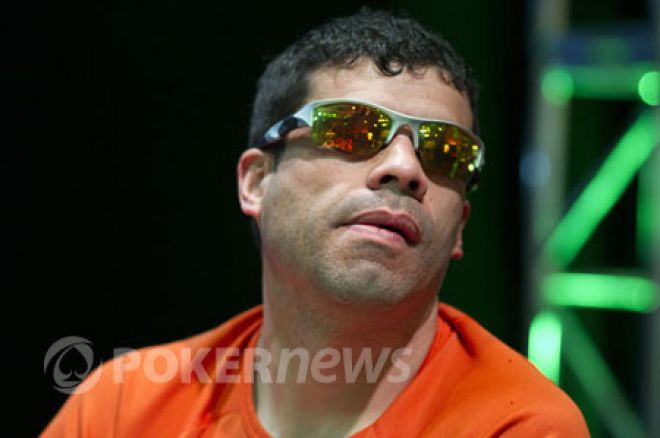 The PokerStars.net Latin American Poker Tour Chile continued on Saturday at the Enjoy Casino & Resort in Vina del Mar. The final 32 competitors from the 651-player field played down to the final table, and all eyes were on Daniela Horno. Last year, Horno finished in sixth place in this very event, and on Saturday, she began with the chip lead and was primed for back-to-back final tables.
Horno's day was not full of raking in pots. First she lost a chunk of her stack to Javier Venegas. Then during the middle of the day, action folded around to Horno on the button and she moved her 20-big-blind stack in the middle after looking down at
. It was enough to get the small blind to fold, but not Nicholas Batt in the big blind. He was holding
, and made the call.
The railbirds were on their feet as the flop came down
. Horno got a little help on the flop, but needed more. The
turn was not it, and neither was the
river. Horno, who began the day as chip leader, was eliminated in 17th place for $4,180.
Action was fast and furious at the start of the day as ten players hit the rail in the first hour. They included Hector Marambio (32nd - $2,840), Rodrigo Perez (31st - $2,840), Marcelo Bustamante (30th - $2,840), Marciano Sa (29th - $2,840), Jorge Barreto (28th - $3,070), Sebastian Rios (27th - $3,070), Eduardo Zalaquett (26th - $3,070), Juan Bravo (25th - $3,070), Ricardo Gajdemski (24th - $3,320) and Rene Manzano (23rd - $3,320).
The 22nd-place finisher was eliminated in a blind-versus-blind battle. Pedro Frankel put in a raise from the small blind only to have Jorge Guerra move all in from the big blind for around 140,000 total. Frankel made the call and the cards were turned up:
Showdown

The
missed Guerra, though it did give him a gut-shot straight draw; however, Frankel picked up a flush draw, meaning diamonds were useless to Guerra. In the end, Frankel's ace-high prevailed as the
appeared on the turn followed by the
on the river. Guerra was eliminated in 22nd place and took home $3,590 for his performance.
The flurry of eliminations didn't stop there as Santiago Hernandez (21st - $3,590), Alejandro Vargas (20th - $3,860), Jorge Mascaro (19th - $3,860) and Luis Montano (18th - $4,180) were all eliminated over the course of the next level.
Rodrigo Quezada (16th - $4,510), Yacin Vasquez (15th - $4,900), Edgardo Bastias (14th - $5,360), William Espinosa (13th - $5,900), Waldermar Barrientos (12th - $6,780), Alvaro Gonzalez (11th - $7,760) and Jose Luis Golin (10th - 9,130) were the next to go, bringing about the unofficial final table of nine.
It was there that action folded to Leonardo Olivares in the cutoff and he raised to 120,000. After the button and small blind folded, Pedro Frankel moved all in from the big blind for 425,000 total, which Olivares called. Frankel turned over
and was up against Olivares'
.
The players and railbirds were on their feet as the flop came out
. Olivares paired his king to take the lead and left Frankel in need of some major help. The
turn certainly wasn't it, and neither was the
turn. Frankel was dispatched in ninth place for $10,690 and the 2012 LAPT Chile final table was set.
2012 LAPT Chile Final Table

| Seat | Player | Country | Chips |
| --- | --- | --- | --- |
| 1 | Nicholas Batt | Columbia | 1,470,000 |
| 2 | Javier Venegas | Argentina | 855,000 |
| 3 | Halysson Sala | Brazil | 660,000 |
| 4 | Sergio Escobar | Columbia | 1,845,000 |
| 5 | Joao Lopes | Brazil | 755,000 |
| 6 | Leonardo Olivares | Chile | 1,100,000 |
| 7 | Felipe Velasquez | Chile | 1,840,000 |
| 8 | Aliro Diaz | Chile | 1,235,000 |
Action will resume on Sunday at 1200 CLST (0800 PDT) when the first champion of LAPT Season 5 will be determined, and the $129,470 first-place prize awarded. As always, you can follow the action right here on PokerNews.
Stay up to date on all the latest news by following us on Twitter and liking us on Facebook.