The Nightly Turbo: New Jersey Talks Online Poker, Laak Dunks Esfandiari, and More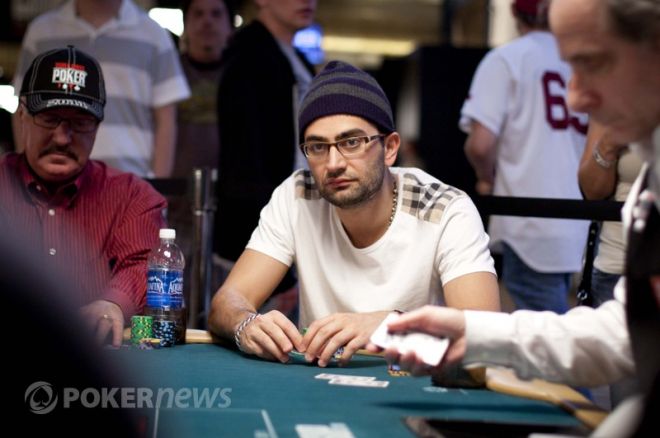 We see you've made it through the weekend. Now it's back to the daily grind. In this edition of the Nightly Turbo, we bring you New Jersey's latest talks regarding online gaming, a ridiculous prop bet involving Phil Laak and Antonio Esfandirai, and more.
In Case You Missed It
How did the Sunday Majors play out on PokerStars? Who took home the biggest win? Find out in the Sunday Briefing.
We all know what poker players do on the felt, but what about in "normal" life? In the latest from the Off the Felt series, we talk to Kara Scott about pick-up lines, photography, and more.
Did you miss Sunday's World Poker Tour coverage on FSN? Read our WPT recap to get caught up.
How did Team PokerStars Sports Star Fatima Moreira de Melo get her start in poker? Find out that and more in the latest edition of Seat Open.
New Jersey Discusses Online Gaming
On Monday, Senate and Assembly panels in New Jersey discussed a pair of revised bills that would open the door for legalized gaming within state borders. The bills, first introduced by Sen. Ray Lesniak last year, received support from the Senate panel on Monday, but the Assembly did not vote during a separate hearing.
Last year, the New Jersey legislature passed similar bills to legalize online gambling but Gov. Chris Christie vetoed the measure, citing "legal and constitutional concerns."
However, Christie's stance changed last December when the Department of Justice reversed its interpretation of the Wire Act of 1961.
"I think New Jersey should be in that business," Christie said in a press conference in January. "I think we should be an epicenter for that business, but I want to do it right. I do not want to rush and get legislation that either doesn't pass state constitutional muster, or creates other problems for us."
Read more at NorthJersey.com.
Antonio Takes a Cold Bath
They may be best friends, but Phil Laak and Antonio Esfandiari take great pleasure in causing emotional pain to one another. Esfandiari is the first to admit Laak has "run well" against him in that department. "The Unabomber" added another conquest over his friend this past weekend.
Laak won a last-longer bet against Esfandiari during the inaugural Laak and Esfandiari Open at Montreal's Playground Poker Club. Laak's triumph in the $2,200 heads-up event gave him rights to humiliate Esfandiari in front of everyone at the casino. We'll let the following video tell the rest of the story:
WSOP National Championship Added to ESPN Coverage
Before the start of the 2011-2012 World Series of Poker Circuit tour, the WSOP announced a big change to the format of the WSOP National Championship. The top 100 performers from WSOP and WSOP Europe events during the past two calendar years would be allowed to buy into the event for $10,000 to compete against the top 100 performers from the 2011-12 WSOP Circuit season.
On Monday, the WSOP announced the 100 players eligible to take part in the event. Michael Mizrachi, Ben Lamb, Jason Mercier, and many more of poker's top talents will have a chance to buy into the event for a chance at a gold bracelet and more than $1 million in prizes.
"This marks the first time we will take the best of the best from all our events to compete against one another to determine a true WSOP National Champion," said WSOP Executive Director Ty Stewart.
The three-day event will be filmed by ESPN and aired as part of the WSOP coverage later this year. For more information, read the story at PokerNews.com.
Obrestad Wynns
The 2012 Wynn Classic $5,170 Main Event is still a week away, but the prelim events have attracted several of the top pros in and around Las Vegas during the past two weeks. Notables like Annette Obrestad, Joe Kuether and Ken Lenaard have landed in the winner's circle, and more than $600,000 has been awarded over the first seven events.
Here's a look at the champs thus far:
| Event | Champion | Prize |
| --- | --- | --- |
| #1: $500 No Limit Hold'em Re-entry | Ting Ho | $51,876 |
| #2: $1,000 No Limit Hold'em | Annette Obrestad | $18,204 |
| #3: $500 Limit Omaha 8/OB | Martin Corpuz | $12,711 |
| #4: $500 No Limit Hold'em | Adam Taskinsoy | $16,260 |
| #5: $500 No Limit Hold'em | Paul Nguyen | $15,632 |
| #6: $500 Pot Limit Omaha 8/OB | Ken Lennaard | $15,632 |
| #7: $500 No Limit Hold'em | Joe Kuether | $21,139 |
For a detailed look at each event, go to wynnpoker.com.
PokerStars Tournaments are Sizzling
PokerStars is always ahead of the curve in terms of its tournament schedule, and on Monday the world's leading poker room added some more exciting tournaments to its daily slate.
PokerStars introduced a series of daily tournaments called the Hot Turbos, which offer a wide range of buy-ins and guarantees as big as $30,000. On top of that, all guaranteed prize pools will be doubled on Sundays.
Check out PokerNews.com for a full list of the Hot Turbos schedule.
Dan Druff Removing Scum
World Series of Poker bracelet winner Todd "Dan Druff" Witteles has launched a new site dedicated to keeping cheaters and scammers out of the poker community. PokerFraudAlert.com features an informative (and regularly updated) blog from Witteles, plus a forum where the community can discuss the poker's scumbags and how to avoid them.
"Why did I start this site? Because I love the game of poker. And because I hate what the scumbags and criminals are doing to it," says Witteles, who was a victim of the infamous Ultimate Bet/Absolute Poker superuser scandal.
"Prior to the 'boom' of 2003, the poker community was small and close-knit," Witteles continued. "Cheating was localized to a few people engaging in collusion or other small-time scams. Times have changed. Poker has become big business, and the massive amount of money involved has attracted many bottom feeders of our society."
The forum is already generating a lot of activity. Check it out at pokerfraudalert.com.
Liv-ing the Life
What are some of the perks of being a poker pro? How about taking a private jet to the World Poker Tour Bay 101 Shooting Star event in San Jose, Calif?
Or better yet. How about flying it?
Learning to fly a jet somewhere over California! Definitely a top 10 life moment. http://t.co/QhB8JkcD

— Liv Boeree (@Liv_Boeree)
Follow PokerNews on Twitter for up-to-the-minute news.