The Nightly Turbo: O'Dwyer Leads WPT Denmark, Top Pros Heading to Ireland, and More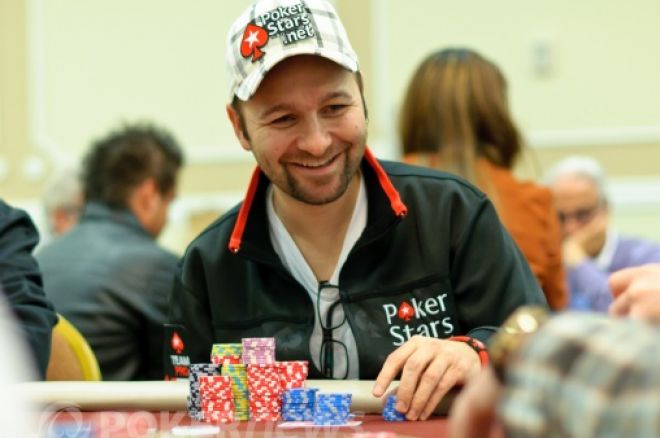 The weekend is finally here, which means we've survived a busy week of poker news. In the Friday edition of the Nightly Turbo, we'll cover Steve O'Dwyer's big lead at the WPT National Denmark final table, three of poker's biggest draws confirming their participation in the Irish Open, and more.
In Case You Missed It
How was the high-stakes action at the PokerStars tables this week? Read the Online Railbird Report to find out the week's biggest winners and losers.
As you probably know by now, Federated Sports + Gaming filed for Chapter 11 bankruptcy this week. Rich Ryan explains why the poker community should be rooting for the company to rebound.
Should poker players work on being better hosts at the table? Poker pro Alec Torelli explains that strategy in his latest blog.
Did you miss anything from the past week? Don't worry, we've got you covered. Sarah Grant and Kristy Arnett break down all the big stories in the PokerNews Weekly.
O'Dwyer Leads World Poker Tour National Denmark Final Table
A final table has been reached at the €1,650 buy-in World Poker Tour National event in Vejle, Denmark. American pro Steve O'Dwyer leads the pack of six after cruising through Day 3 and is in excellent position to capture the top prize of 893,960 kroner (about $159,000).
On the final table bubble, O'Dwyer eliminated Thomas Windtbjerg to bring the field down to six players. According to pokernyhederne.com, O'Dwyer raised to 32,000 from the button with
and a short-stacked Windtbjerg shoved from the blinds with
. O'Dwyer made the call and was in bad shape when the cards were table, but a queen on the turn sent Windtbjerg to the rail in seventh place.
O'Dwyer, who's been traveling around the world for tournaments since Black Friday, has nearly half the chips in play going into the final table. He is enjoying his visit to Denmark; last month he took seventh place in the PokerStars European Poker Tour Copenhagen Main Event for $51,265.
Here's a look at the chip stacks going into Saturday's final table:
| Place | Player | Chip Counts |
| --- | --- | --- |
| 1 | Steve O'Dwyer | 2,636,000 |
| 2 | Martin Tønnesen | 1,524,000 |
| 3 | Kenneth Laursen | 532,000 |
| 4 | Jan V. Sørensen | 443,000 |
| 5 | Justin Lund | 377,000 |
| 6 | Claus Uhrskov | 272,000 |
For in-depth coverage of the World Poker Tour National Denmark event, visit pokernyhederne.com.
Stars Flock to Ireland
The 2012 Irish Open will be getting some American flavor when the Main Event kicks off next month. Poker superstars Daniel Negreanu, Phil Hellmuth and Erick Lindgren will make the trek to Dublin for the country's most prestigious event, marking the first time the trio will play in Ireland together.
Poker agent Brian Balsbaugh represents all three players and confirmed their participation this week:
[TWITTER=" https://twitter.com/#!/Balsbaugh/status/175276216394330113"] img=http://a0.twimg.com/profile_images/1631516596/brian-balsbaugh-1_normal.jpg nick=Balsbaugh name=Brian Balsbaugh date=Thu Mar 01 17:48:01 +0000 2012 text=Clients @RealKidPoker @Phil_Hellmuth @EdogPoker participating in the @PaddyPower Irish Open next month- more announcements to follow [/TWITTER]
The €3,500 buy-in Main Event runs from April 6 through 9 at the Burlington Hotel in Dublin. The Irish Open is the longest running no-limit Texas hold'em tournament in Europe and second longest in the world after the World Series of Poker in Las Vegas. Past champions include Noel Furlong, Liam Flood, Joe Beevers, Marty Smyth, Neil Channing and James Mitchell.
For more, check out UK.PokerNews.com.
Zynga Inches Toward Real-Money Gaming
Zynga's possible move toward real-money online gaming took another step this week when the company announced the launch of Zynga.com. The new platform will allow users to play their favorite games without logging into Facebook, and may give Zynga the opportunity to employ a real-money social gaming site.
"It's our hope that our Platform partners, and eventually anyone in the industry, can extend the reach of their games and connect to even more players on Zynga.com," said Zynga CEO Mark Pincus in a blog post on Thursday. "Later this year we'll make our platform available for all social game developers through a Zynga API."
Pincus said Wednesday that real-money gaming would be a "natural fit" for Zynga, and that the company may partner with a major casino company in the coming months.
"We're definitely talking to all of the players that you would suspect," Pincus said. "We have incredible respect and admiration for brands and groups like the Wynn. I would expect that you'll see a lot of these players kind of figure out their go-to-market partnerships for sure before the end of this year."
Read more at PokerNews.com.
Charges Dropped Against Elderly Gamblers
Yesterday, we brought you a story about a group of elderly women who had been summoned to a Cyprus court to face gambling charges. On Friday, the charges against all of the women were dropped after the story received heavy media attention worldwide.
Gambling is illegal in Cyprus and, in 2009, police raided a low-stakes poker and bridge game that included 44 women. Forty-two of the women received a court summons this week and faced up to six months in jail or a $1,000 fine. Two of the women had died since the raid.
However, according to the Associated Press, Attorney General Petros Clerides found out about the case through media outlets and suspended the legal proceedings.
People around the world were outraged when 98-year-old Eftychia Yiasemidou was mentioned in the reports. Yiasemidou said the following to the Phileleftheros newspaper on Friday: "I still play cards. It gives me life and my friends feel the same."
Read the latest on the story at the Washington Post.
The Gold Standard?
Last December, World Series of Poker champ Jamie Gold was named the ambassador and spokesperson for the poker room at the Tropicana in Las Vegas. Gold makes regular appearances at the no-limit hold'em games in the room, which was even named after him.
Now, Gold is offering players a chance to learn how to play like him. For $400 per student, Gold will lead a one-day seminar revealing his "lifetime of poker education and experience, including secrets the pros don't want you to know." Gold's class comes with a money-back guarantee if students aren't satisfied with the lesson.
But that's not all. Everyone participating in the class will receive an autographed hat by Gold, which the Trop values at $200. We have to assume that it is made of gold, too.
Visit troplv.com for more information.
Follow PokerNews on Twitter for up-to-the-minute news.