The Nightly Turbo: Phil Hellmuth Wins at LAPC, FS+G Files for Bankruptcy, and More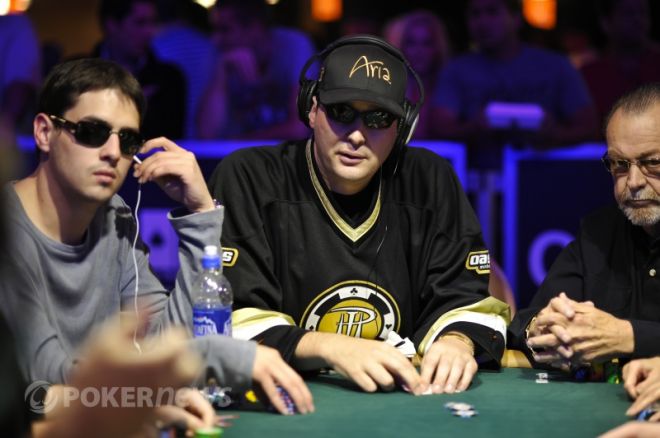 While you spend your evening listening to your favorite tracks by The Monkees (RIP Davy Jones), you can catch up on the day's biggest poker stories in the Nightly Turbo. In this edition, Phil Hellmuth wins a poker tournament (finally), Federated Sports + Gaming files for Chapter 11 bankruptcy, and more.
In Case You Missed It
Bwin.party is one of many gaming operators preparing for legalized poker in the U.S. In the latest edition of The Insiders, bwin.party co-CEO Jim Ryan sat down with us to talk about the company's plans once the new market opens.
Are you planning a trip to Campione, Italy, for the PokerStars.it European Poker Tour? Lynn Gilmartin tells you everything you need to know about the city in the latest PokerNews Jet Set.
A final table was reached at the 2012 World Poker Tour L.A. Poker Classic on Tuesday. Find out which six players will battle for the top prize of $1,370,240 in our daily WPT recap.
Hellmuth Wins at LAPC
Phil Hellmuth entered the 2012 L.A. Poker Classic having gone nearly five years without a live tournament win. The "Poker Brat" had been visibly pained by the slump, especially after being a bridesmaid three times at the 2011 World Series of Poker.
Early Wednesday morning, Hellmuth finally got the monkey off his back by winning the $2,080 buy-in 8-game mixed tournament at the LAPC. Hellmuth locked up around $22,000 after making a five-handed deal at the final table, and he went on to defeat Brian Tate heads-up to win the title and the trophy.
It's Feb 29, see u in 4 years (the NEXT Feb 29) to defend my title! #LeapYearWin

— phil_hellmuth (@phil_hellmuth)
The victory was the first for Hellmuth since the 2007 WSOP, where he won a $1,500 no-limit hold'em event for $637,254.
Epic Letdown
Last January, Federated Sports + Gaming exploded onto the poker scene by launching the Epic Poker Tour, a series of events designed to bring together the best of the best in poker. A little more than a year later, the company announced on its website that it has filed for Chapter 11 bankruptcy.
"There is no easy way to say this, but, at the end of the day yesterday, Federated Sports + Gaming filed for Chapter 11 bankruptcy," said FS+G Executive Chairman Jeffrey Pollack. "Our company needs a new start. This reorganization filing is an important first step in that direction and our goal is to keep the Epic Poker League and all of our key initiatives — including the Global Poker Index, epicpoker.com, the Epic Poker game on Facebook, and the Heartland Poker Tour — moving forward with a continued spirit of innovation.
"We will most likely accomplish this by entering into an agreement with another firm that shares our passion and vision — a process we had been working toward prior to the filing," Pollack said.
For more on the story, plus an exclusive interview with Pollack and Duke, check out PokerNews.com.
Dolly Defends Himself
Last week, Doyle Brunson took some heat from the poker community after defending his friend, Howard Lederer, in a blog post. Brunson blogged again on Wednesday, only this time he was defending himself.
"I'm being accused of defending Howard Lederer because of a personal friendship in lots of places." Brunson wrote. "I'm not backing down one bit from what I said or what I believe. I have the right to have my own opinion. I'm not saying Howard (and Chris Ferguson) have no guilt, but the degree of the guilt is misunderstood and that there was no intent to defraud anyone."
Brunson also touched some more on the Full Tilt Poker situation and even insinuated that Phil Ivey is the man to blame for spoiling any potential sale of the company.
"There were other rich people looking at acquiring FT also but when a major FT stockholder filed suit against the company, interest waned for the potential buyers. This is where guilt is. Where and when should FT have thrown up their hands and put the company in a distress sale?"
"Do I think the Tapie deal to buy FT will happen and we will get our money back? No, I don't think so but where there is life there is hope and the deal isn't completely dead yet," he added.
And, of course, it wouldn't be a Doyle Brunson blog entry without a bold closing: "My thanks to my Twitter followers who for the most part have been supportive of my right to give my opinion. To the forum posters who seem to be mainly a bunch of retards waiting to blast anything or anybody, please take a long walk off a short pier."
You can find Brunson's blog in its entirety at doylebrunson.com.
Become a Micro SuperStar
Next month, PokerStars.com will give players a chance to become the next Chase Berger. The world's leading online poker room has announced the MicroMillions tournament series, offering $5 million in guarantees across 100 events with buy-ins starting at just 11 cents.
The series will run from March 15 through 25, 2012, with events run around the clock. The series will end with a $22 MicroMillions Main Event with a $1 million prize pool on Sunday, March 25.
"MicroMillions is one of the best things I've seen so far," said Team PokerStars Pro Lex Veldhuis. "Back when I played penny and micro-stakes games, I was mesmerized by the big tournament series and always hoped to be able to play one day. MicroMillions actually offers players from those stakes the chance to be part of a great tournament series."
For more on the inaugural MicroMillions series, read the story here at PokerNews.com.
Iowa Lawmaker Opposes Online Poker
The prospects of legalized online poker in Iowa improved greatly last week when the Senate State Government Committee passed Iowa Senate Study Bill 3164 by a vote of 11-4. The approval gave the Iowa Racing and Gaming Commission the green light to establish a structure whereby operators would partner with state-licensed casinos to provide access to online sites.
But according to Iowa Rep. Dan Huseman, the bill is a long shot to gain any further traction. In an op-ed for the Chronicle Times, Huseman cited a poll which showed that 70 percent of Iowans are opposed to legalized online poker, even though it could generate up to $13 million in tax revenues for the state.
Huseman also showed his disapproval of the bill, saying, "If it comes over to the House, I do not believe it would pass. But if it did, it would not have my support."
Read Huseman's piece at the Chronicle Times.
Daniel's Weekly Rant
Like his buddy Doyle, Daniel Negreanu was back with a weekly blog this week. Negreanu's entry was a little less volatile than in recent weeks, but he still touched on the latest from Full Tilt Poker, as well as his trip to L.A. for the LAPC, and more.
Get all the latest PokerNews updates on your social media outlets. Follow us on Twitter and like us on Facebook today!