The Weekly Turbo: Bodog's Calvin Ayre Indicted, FS+G Files Chapter 11, and More

PNI Editorial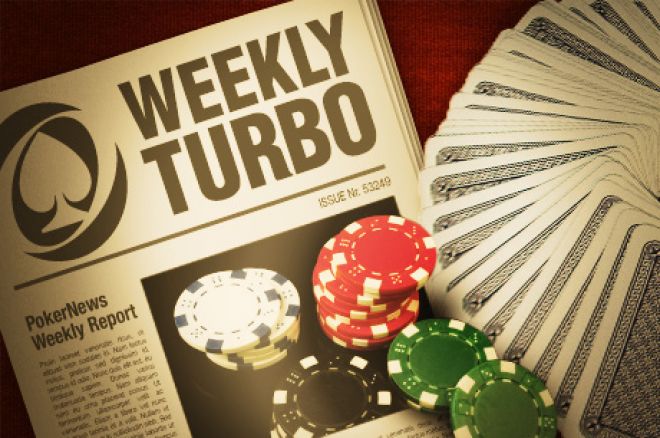 Did you miss any of the top poker news stories this week? Well you've come to the right place to get caught up. We're covering Bodog founder Calvin Ayre's federal indictment, Federated Sports + Gaming filing for Chapter 11 bankruptcy, and more.
Poker Business
Calvin Ayre Indicted; Bodog.com Seized
One day after the Bodog.com domain name was seized by the U.S. Department of Homeland Security, Bodog brand founder Calvin Ayre was indicted by the federal government on charges of operating an illegal gambling business and conspiring to commit money laundering.
Federal prosecutors claim that Ayre and three other men — James Philip, David Ferguson and Derrick Maloney supervised an illegal gambling business from June 2005 to January 2012 in violation of Maryland law. According to the indictment, Bodog used payment processors in Switzerland, England, Malta, and Canada, and then directed the processors to send at least $100 million by wire and by check to gamblers in Maryland.
The company is also under indictment after its domain name was seized. Bodog.com was no longer operational after the U.S.-facing business was rebranded to Bovada.lv last December, and CalvinAyre.com reports that other Bodog Brand properties won't be affected by the seizure of the inactive domain.
For more, read the story here at PokerNews.com.
EPL Parent Company Files for Bankruptcy
Last January, Federated Sports + Gaming exploded onto the poker scene by launching the Epic Poker Tour, a series of events designed to bring together the best of the best in poker. A little more than a year later, the company announced on its website that it has filed for Chapter 11 bankruptcy.
"There is no easy way to say this, but, at the end of the day yesterday, Federated Sports + Gaming filed for Chapter 11 bankruptcy," said FS+G Executive Chairman Jeffrey Pollack. "Our company needs a new start. This reorganization filing is an important first step in that direction and our goal is to keep the Epic Poker League and all of our key initiatives — including the Global Poker Index, epicpoker.com, the Epic Poker game on Facebook, and the Heartland Poker Tour — moving forward with a continued spirit of innovation.
"We will most likely accomplish this by entering into an agreement with another firm that shares our passion and vision — a process we had been working toward prior to the filing," Pollack said.
For more on the story, plus an exclusive interview with Pollack and Duke, check out PokerNews.com.
Zynga Inches Toward Real-Money Gaming
Zynga's possible move toward real-money online gaming took another step this week when the company announced the launch of Zynga.com. The new platform will allow users to play their favorite games without logging into Facebook, and may give Zynga the opportunity to employ a real-money social gaming site.
"It's our hope that our Platform partners, and eventually anyone in the industry, can extend the reach of their games and connect to even more players on Zynga.com," said Zynga CEO Mark Pincus in a blog post on Thursday. "Later this year we'll make our platform available for all social game developers through a Zynga API."
Pincus said Wednesday that real-money gaming would be a "natural fit" for Zynga, and that the company may partner with a major casino company in the coming months.
"We're definitely talking to all of the players that you would suspect," Pincus said. "We have incredible respect and admiration for brands and groups like the Wynn. I would expect that you'll see a lot of these players kind of figure out their go-to-market partnerships for sure before the end of this year."
Read more at PokerNews.com.
Black Friday Principal Pleads Guilty
Ryan Lang, one of the 11 men indicted by the U.S. Department of Justice on Black Friday, pleaded guilty to conspiracy on Tuesday in federal court in Manhattan.
Lang, 36, was accused of facilitating the illegal transfer of funds from online poker sites to players in the U.S. Lang operated as a payment processor out of Canada from 2007 to 2010, assisting financial brokers who made false statements to the banks to trick them into processing payments. He was charged with money laundering and fraud, among other things.
Lang apologized in court for the crimes, which carry a maximum penalty of 30 years in prison.
Read more at the Wall Street Journal.
Chiligaming Merges with Poker770
It's been an eventful three weeks at Chiligaming headquarters. The French online gaming operator has been working hard to enhance its brand in the U.S., and on Thursday the company announced that its iPoker-based platform ChiliPoker.com was being moved over to Poker770.com.
Chiligaming CEO Alexandre Dreyfus announced on his blog that the migration over to Poker770 is expected to be complete by Friday, March 2. All Chilipoker accounts will automatically be transferred over to Poker770 as soon as players log in to the Chilipoker client, and Dreyfus assured players that all bankrolls and player points will be safe
The announcement comes just weeks after the company agreed to provide a free-to-play poker platform for the Las Vegas Golden Nugget, followed by a deal to offer its business-to-business gaming platform to Bally Technologies.
Read more at PokerNews.com.
The effects of Black Friday did a number on several televised poker shows in the U.S., including the popular Poker After Dark program on NBC. However, according to various reports, the NBC Sports Network will soon air 24 Poker After Dark episodes that were shot before the show was cancelled last September.
The broadcasts are expected to begin on March 5, featuring four weeks of a cash game and one week (six episodes) of a sit-n-go. There hasn't been an announcement about the taping of future episodes, but this is certainly a good sign that poker could ultimately make a comeback to mainstream television.
PokerNews spoke with Mori Eskandani of Poker PROductions on Tuesday. Check out the interview at PokerNews.com.
Elie, Campos File Another Motion Before Trial
When Black Friday principles John Campos and Chad Elie appear in court next month, they hope they'll be allowed to plead their case to a jury that poker is a game of skill.
According toLegalPokerSites.com, Elie and Campos have filed a motion in limine that requests that they be allowed to present evidence to the jury that online poker is a game of skill. The two men face charges of money laundering, fraud, and violating the Unlawful Gaming Enforcement Act (UIGEA) and Illegal Gambling Business Act (IGBA), among other charges, for their roles in the illegal transactions between offshore poker sites and players in the U.S.
Attorneys for Campos and Elie argue that poker is not gambling; therefore, both men should be excluded from the charges regarding the IGBA and UIGEA.
Early this month, Campos and Elie submitted files to motion for dismiss based on the Department of Justice's opinion that the Wire Act of 1961 pertained only to sports betting. That motion was denied by federal judge Federal Judge Lewis Kaplan, who said the following: "The defendants' argument that poker is not gambling fails, at least at this stage."
Read more at LegalPokerSites.com.
Poker Legislation
California Introduces Online Poker Bill
California took a big step toward legalizing intrastate online poker last Friday when Sen. Darrell Steinberg (D-Sacramento) and Sen. Roderick Wright (D-Inglewood) introduced Senate Bill 1463.
After numerous failed attempts to push an online poker bill through the legislature, this latest effort could see success because of recent changes in the Department of Justice's interpretation of the 1961 Wire Act.
The bill states that only online poker would be permitted for the first two years of regulation. Upon becoming a law, operators will be able to apply for a 10-year license once the regulatory framework is in place. If approved, operators will pay licensing fees of $30 million, credited against gross gaming revenue proceeds for the first three years of operation.
Read more at PokerNews.com.
Gambling Firms Blocked From Offering Games in Holland
According to numerous reports, the Dutch Supreme Court has ordered online gaming operators like Ladbrokes and Betfair to implement software that blocks residents in Holland from accessing their sites.
The ruling is the latest in a long battle between online gambling firms and the Dutch government. Currently, the Dutch Lotto is the only organization with a license to run online gambling in the state. The government has attempted to block foreign companies from offering their services in Holland since 2003 to keep them out of the market.
The ruling took 10 years because the Dutch Supreme Court waited for a judgment from the European Court of Justice, which declared in 2010 that the country is within its rights to ban foreign operators as long as the ban is aimed at reducing fraud and discouraging people from gambling.
NL.PokerNews has more.
Poker Players
Hellmuth Wins at LAPC
Phil Hellmuth entered the 2012 L.A. Poker Classic having gone nearly five years without a live tournament win. The "Poker Brat" had been visibly pained by the slump, especially after being a bridesmaid three times at the 2011 World Series of Poker.
Early Wednesday morning, Hellmuth finally got the monkey off his back by winning the $2,080 buy-in 8-game mixed tournament at the LAPC. Hellmuth locked up around $22,000 after making a five-handed deal at the final table, and he went on to defeat Brian Tate heads-up to win the title and the trophy.
It's Feb 29, see u in 4 years (the NEXT Feb 29) to defend my title! #LeapYearWin

— phil_hellmuth (@phil_hellmuth)
The victory was the first for Hellmuth since the 2007 WSOP, where he won a $1,500 no-limit hold'em event for $637,254.
Dolly Defends Himself
Last week, Doyle Brunson took some heat from the poker community after defending his friend Howard Lederer in a blog post. Brunson blogged again on Wednesday, only this time he was defending himself.
"I'm being accused of defending Howard Lederer because of a personal friendship in lots of places." Brunson wrote. "I'm not backing down one bit from what I said or what I believe. I have the right to have my own opinion. I'm not saying Howard (and Chris Ferguson) have no guilt, but the degree of the guilt is misunderstood and that there was no intent to defraud anyone."
Brunson also touched some more on the Full Tilt Poker situation and even insinuated that Phil Ivey is the man to blame for spoiling any potential sale of the company.
"There were other rich people looking at acquiring FT also but when a major FT stockholder filed suit against the company, interest waned for the potential buyers. This is where guilt is. Where and when should FT have thrown up their hands and put the company in a distress sale?"
"Do I think the Tapie deal to buy FT will happen and we will get our money back? No, I don't think so but where there is life there is hope and the deal isn't completely dead yet," he added.
And, of course, it wouldn't be a Doyle Brunson blog entry without a bold closing: "My thanks to my Twitter followers who for the most part have been supportive of my right to give my opinion. To the forum posters who seem to be mainly a bunch of retards waiting to blast anything or anybody, please take a long walk off a short pier."
You can find Brunson's blog in its entirety at doylebrunson.com.
Daniel's Weekly Rant
Like his buddy Doyle, Daniel Negreanu was back with a weekly blog this week. Negreanu's entry was a little less volatile than in recent weeks, but he still touched on the latest from Full Tilt Poker, as well as his trip to L.A. for the LAPC, and more.
Get all the latest PokerNews updates on your social media outlets. Follow us on Twitter and like us on Facebook today!