PokerStars Estrellas Poker Tour: Rodriguez leads Day 2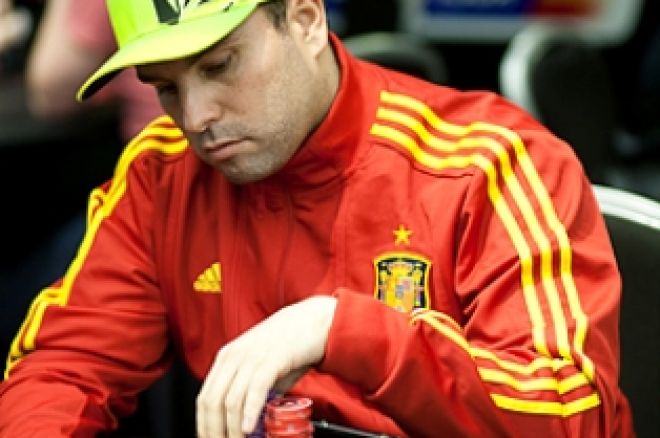 Yesterday, 168 of the initial 387 players played the day 2 of the PokerStars Estrellas Poker Tour Valencia at Casino Cirsa de Valencia. Only 33 of them survived to move onto the next day.
The Spaniard Miguel Angel Rodriguez ended the session as the chip leader with 574,400 chips closely followed by the Finn Jarkko Ilari Mammela (426,500) and the Dutch Joeri Koen Zandvliet (378,000).
Also, heading to the next day are a couple of well-known names such as PokerStars Team Online Javier "El_cañonero" Dominguez (299,00) or Team PokerStars Pro Ana Marquez (64,000) among others.
The unfortunate bubble guy was Alvaro Tortajada, being eliminated in 47th position by Dan Owston.
These were the 33 participants qualified for day 3:
1. Miguel Ángel Rodríguez Bermúdez España 574000
2. Jarkko Ilari Mammela Finlandia 426500
3. Joeri Koen Zandvliet Países Bajos 378000
4. Uwe SpatlichAlemania 345000
5. Javier Domínguez Gómez España 299000
6. Mauricio Pazos España 280000
7. Rubén González Porcel España 240000
8. Jaume Niell Alomar España 228500
9. Valentín Martínez España 213000
10. Richard Van Schendel Países Bajos 196000
11. Justin Lund Dinamarca 173000
12. Manuel Jiménez Cecilia España 169500
13. Raíl Molano Gil España 159000
14. Randar Sikk Estonia 153500
15. Miguel Jesús Moreno Vico España 152500
16. James Irwin Reino Unido 139000
17. Emilio Domínguez Muñoz España 135000
18. Javier Contreras Crespo España 130500
19. Dan Owston Reino Unido 126000
20. Wim Eduard Jneys 119000
21. Matei Kalcic Eslovenia 113000
22. Frederic Van Der Mersch Bélgica 110000
23. Juan Jesús Moreno Martínez España 103000
24. Adrián Belenguer Alonso España 100000
25. Isaac Chapí Tolosa España 99500
26. José Raúl Giménez Sáiz España 91000
27. Emilio Peiro Monsalves España 84000
28. Charles Edward Combes Reino Unido 83000
29. Ángel Ruiz Ibáñez España 68000
30. Emilio Llano Pérez España 66000
31. Joaquín Augusto Serrano Cano España 65000
32. Ana Laura Márquez Esteban España 64000
33. Kevin Callebaut Bélgica 28500