Thrilla in Manila IV - APT Philippines Day 1b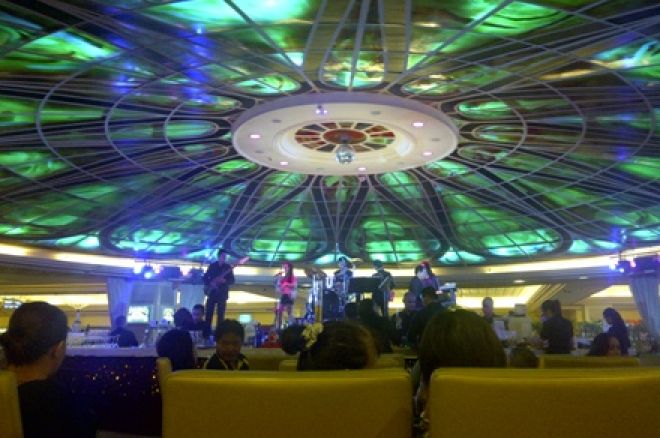 Peter Abraham is in the Philippines for the APT and APPT and this is the fourth of in a series of posts he will be writing as part of this poker+travel blog.
Day 1b of the $2700 Main Event at Asian Poker Tour Philippines was second and final starting day for the Main Event. As I was speaking to Tournament Director Lloyd Fontillas at the end of Day 1a, he said Day 1b was expected to draw more participants given that re-entries were allowed on this day. And so it was; when 134 players took to the felt making it a total of 254 entries for this Main Event. That accounts for a very juicy prizepool of US$ 615,950 with the first place winner getting US$ 197,000 (INR 1.03 crore).
While Australia's Oliver Speidel finished Day 1a with about 94,000 chips, it was American pro Alan Engel who ended as chipleader on Day 1b with stack of just shy of the 100k mark. Its been a good series thus far for Engel who, earlier in the week, also took down the high roller event for about US$ 38,000. He had a bit of battle during the day however when he found himself down to a third of his 15,000 starting stack. He fought back and ended the day strongly and ended the day with a stack of 98,900 chips.
As for the Indian contingent, 4 out of 5 players who took part in the Main Event move onto Day 2. These include Abhishek Goindi, Bobbe Suri, Sangeeth Mohan and Sameer Rattonsey. Sam of course came in only for Day 1b whereas the rest of these players along with Amit Varma had played the first starting day. While Goindi and Varma busted out, and Goindi decided to re-enter on the following day.
Both Sam and Goindi struggled with their stacks in the early half of the day with Sam losing about 50% of his starting stack and Goindi about 70%. However both players put their heads down and grinded away and managed to survive the day with fighting stacks. Goindi was left with about 27000 and Sam 18000 at the end of play on Day 1b.
There have been side events happening over the course of this APT but none of the Indian lads finished in the money. But hey one big score at the Main Event will more than balance that out. Missed my chance last night to click a pic with Joe Hachem of whom I am a big fan of. I think he's been a tremendous ambassador for the sport of poker from the time he became World Champion. Very classy guy, not to mention a great player and I'm sure his new association with the APT as their ambassador will do them and this region a world of good.
And that's that for this Day 1b update from the APT Main Event. It will be interesting to see how the rest of Team India does over the course of the next couple of days. Till tomorrow...
Click here to read previous posts and for more pictures.