Thrilla in Manila - Part I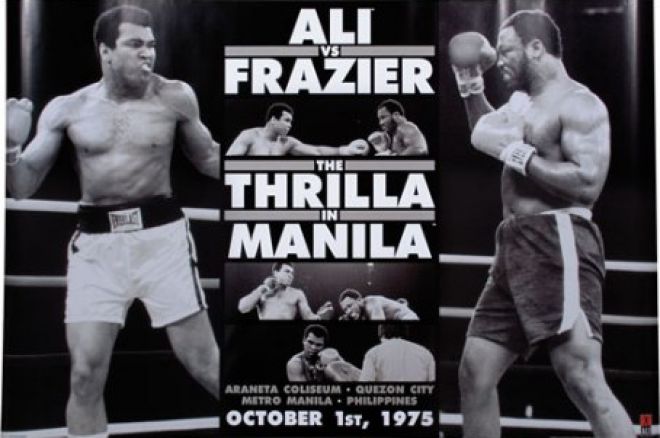 Peter Abraham is in the Philippines for the APT and APPT and this is the first of in a series of posts he will be writing as part of this poker+travel blog.
Right! Just to state the obvious, that picture up there has absolutely no connection with poker other than the fact that somedays I feel just as beat up on the poker table, as those two gentlemen felt in the ring many many years ago. And for those interested in trivia, the Thrilla in Manila was an (in)famous match fought between Muhammad Ali and Joe Frazier back in 1975 for the Undisputed World Heavyweight Championship. I figured since the site of that historic match was less 15 kilometers from where I will spending the next 7-8 days, it made for a good connection with the title of this series. Also, and more importantly, it rhymes.
And now after satiating the trivia fans, let's jump into this first post. So it's has been an interesting and a bit of a life changing road over the past 2 years. For those of you who don't know me, I am one of two Directors at the India Poker Championship; the other one being Sameer Rattonsey.
Sam and I have been buddies for almost 15 years and now have been working together for the last couple of years as well. We both 'discovered' poker at around about the same time back in 2003-04. In the decade that has gone by, we've gone from poker noobs who barely knew the game to operating a pretty successful tournament poker brand.

This pic you see here was taken at 4 am on a Sunday morning at Casino Pride, Goa. We were glassy eyed and dead-tired but the smiles are a fair indicator of that successful weekend. From that inaugural event, we went from strength to strength and today we are fortunate to be in a situation where poker is part of our lives on a near-daily basis. While 2010 was a promising start and 2011 was positively golden, an abundance of operators has slammed the calendar. This overcrowding has lead to us take a break till the next IPC event in August.
Which brings me to the main purpose behind this blog. These are pretty exciting times for Indian poker. From players who didn't know jack (there's a pun here somewhere right?!) about the game to becoming well respected pros on the circuit, the Indian poker scene has tremendously improved in the last 12 months especially. And this recognition is starting to flow in internationally too. And that is precisely what I am hoping to accomplish with this poker+travel blog. A contingent of Indian pros has been hitting some international tournaments in the last 6 months and this time around too they intend to head to the Philippines for the Asian Poker Tour (APT) to be held in Resorts World Manila and that will be followed by the Asia Pacific Poker Tour (APPT) which takes place on the island of Cebu also in the Philippines. Some of them like Abhishek Goindi and Sangeeth Mohan have done exceedingly well for themselves on the Indian and international circuit. After that initial taste of international success, it will be very interesting to see how these pros do this time around because they will no doubt be more aware and confident after that first outing.
While websites like PokerNews India are providing an insight into what happens within the Goa and India poker scene, I know there are a lot of people out there who are curious about these pros heading outside the country to take on bigger tournaments. What's it like being on the road? How do these places look? etc etc. That's what I am hoping to do on a daily basis with my reports - right from the time we take off to the tournament venue itself and finally if possible some travel/touristy aspects of this trip. This is my second visit to the Philippines after the one I took back in June last year. Manila feels almost like my city Mumbai in some instances - concrete jungle, crazy traffic and everyone on-the-move. But the Filipino people are mostly a cool bunch, respectful, well-spoken and a lot of fun if my last trip was any indication. They know how to have a good time which suits me just fine!
Well that's about it for this first post. Sam and I will will be flying out later tonight so time to get my bags packed. Early AM flights are both good and bad. It is sleeping time so you can hope for a few hours of Zzzz. But if you've seen me in person, you'd know that most economy class seats and I share a hate-hate relationship. But one can always pray to the Upgrade Fairy and get lucky. Will know that a few hours from now.
In the meantime if you have any questions or suggestions about what you'd like to see and know about, please feel to put it down in the comments section below or send me a message at my blog and I'll answer them as soon as I can.
Till the next post... hold on to that pokerface!