Thrilla in Manila - Part II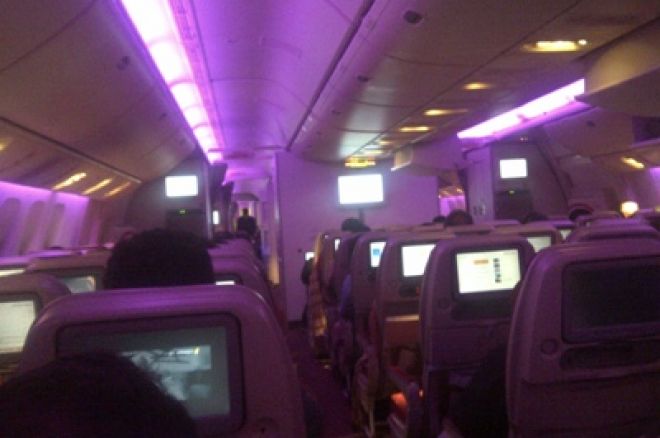 Peter Abraham is in the Philippines for the APT and APPT and this is the first of in a series of posts he will be writing as part of this poker+travel blog.
As we head into Mumbai airport, we are exposed to the typical chaos of the Chatrapati Shivaji International airport. And this is way better than this airport used to to be! We follow dumb illogical interesting naming conventions which will confuse the heck out of a new visitor to the city. Case in point both the domestic and international airports in Mumbai are named after the founder of the Maratha empire, Shivaji Maharaj. Now the good Maharaj himself would have been thrilled to have a huge amount of acreage named after himself, where technology allows long cylindrical tubes take-off and land all day long. But even he'd commiserate with people who have no clue about the duality of our city's airports.
As we check in at the counters, it still surprises me just how seemingly urbane Indians who are traveling abroad still behave like they've just arrived from the villages. Nothing wrong with actual villagers being a bit confused about the whole process but people who've obviously traveled abroad ought to know better. It's therefore hardly surprising that we are seen in poor light when we travel abroad. It's come to a point where basic courtesies are not followed. I think Courtesy 101 should become a mandatory part of any Indian education course. And that shall be the end of this post's ranting.
So we took off from Mumbai after an hour's delay, our flight path being Mumbai - Hongkong - Manila. I usually don't travel by Jet Airways to Asian sectors but need to reconsider this strongly after seeing the kind of seating space they have in economy. For once, my knees were not bumping into the seat ahead of me and it was quite a comfortable flight in that sense. I am never really able to sleep fitfully on flights so the varied range of entertainment on offer was another plus in keeping me occupied for the duration of the flight. A bit of a giggle when we took off - the pilot was called Driver.
Me and Sam are firm believers in keeping our humour levels up to combat the stress of all the annoyances that come with a long flight experience so there were many driver/chauffeur made over the course of the flight .
"Arre stewardess, zara Driver kol bolna thoda slow chalaye"
Yes, admittedly we have set the bar quite low ;)
I don't know how but Driver must have really put the pedal to the metal because he managed to make up the 60 minute delay and landed us in fact 5 minutes ahead of schedule! Shortcut se liya hoga...
So here we are sitting in Hongkong airport waiting for our Philippines Air flight. Next stop - Manila!
Click here to read Part I.