Unibet Launches Fast Poker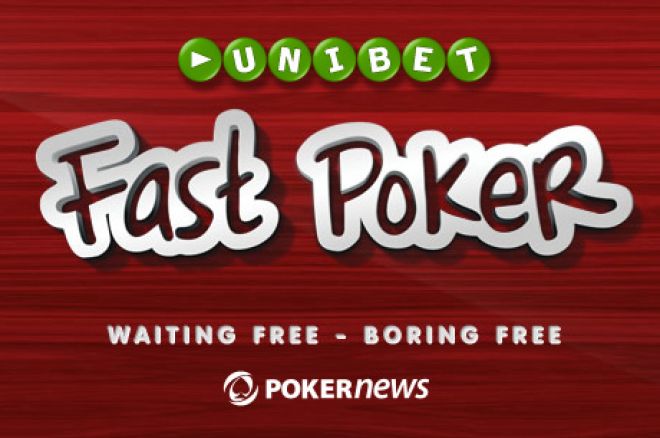 Unibet has proudly announced the launch of its latest innovative online poker product — Fast Poker!
What Is Fast Poker?
Fast Poker is the latest craze to hit online poker. With Fast Poker there is no need to wait for the next hand to be dealt and everything speeds up so you are literally a second away from being involved in a new hand!
Using cash games as an example, a standard game would see you seated at a two, six, or nine-handed table against the same opponents until one of them left the table and was replaced by a new player. But in Fast Poker the focus is on player pools instead, so once a hand has been completed, you are instantly whisked away to a new table where a new hand is dealt against new opponents! You can even fold your hand before it is your turn to act, without your opponents knowing, and be dealt a fresh hand.
This fast and furious form of poker eliminates the need to play multiple tables simultaneously because you can play many more hands than a standard table in the same period of time. The sheer number of hands you can plow through playing Fast Poker means bonuses are cleared faster because VIP Points are generated at a much faster rate.
Fast Poker Bonuses
To celebrate the launch of Fast Poker, Unibet is giving customers not one but two bonuses! The first is a €10 No Deposit Bonus that is only available to to the first 4,000 Unibet players who create a Fast Poker alias. If you are eligible for this free €10 you will need to generate €10 in rake within 60 days in order to have it converted from bonus money to real money.
The second bonus is a €200 reward bonus that is available to everyone. For every €25 you generate in rake, €5 in cash will be added to your Fast Poker account up to a maximum of €200. You have 60 days to generate enough rake to release the full €200 but we do not think you will have a problem in doing this as the speed of the games are so fast!
Sign Up For Fast Poker Now
If you wish to play Fast Poker then you need to create a Fast Poker alias. You can log in with your Unibet account and this is how your Fast Poker account is funded, but you need a new Fast Poker specific alias to play.
Don't have a Unibet account? Then download Unibet though PokerNews India and help yourself to a €1,000 bonus and gain access to the latest online poker craze, Fast Poker.