APT Goa Series Recap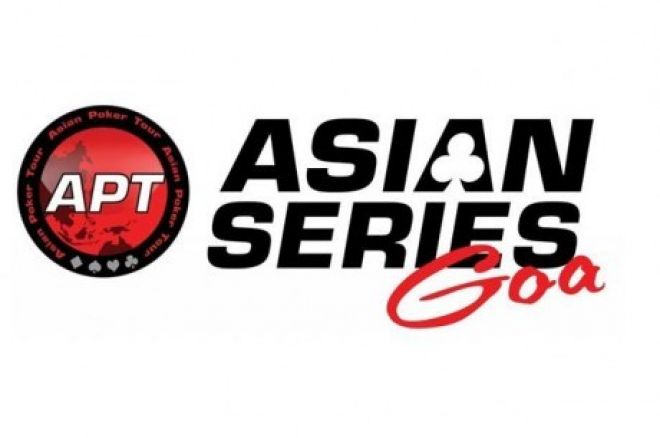 After a very successful inaugural event in 2011 which saw record breaking numbers, the Asian Poker Tour came back to host the APT Asian Series Goa at Casino Royale in Panjim, Goa from the 21 – 27 May, 2012.
It kicked things off with the INR 10,000 Freezeout. A field of 58 players took to the felt and the final table saw a lot of well known faces from the Indian tournament circuit, including last year's APT Goa Main Event Champion Sangeeth 'Samoh' Mohan and Macau Poker Cup: Red Dragon Main Event runner up Abhishek Goindi. When it came down to heads up, it was last year's champ taking on Aditya 'Intervention' Agarwal. Their duel lasted about 6 hands after Mohan lost a significant amount of his stack and shoved with
and he got called by Agarwal's
. The flop
put out a straight flush draw for Agarwal. Mohan was still ahead on the turn
. However, the river
made Agarwal trips and he went home with an extra INR 182,700 in spending money.
The next day, 52 runners put up the INR 15,000 buy in for the Fundoo Poker Head Hunter. This event too saw a bunch of Goa tournament regulars make it to the final table, including Pulkit Kalia, Aditya Sushant and Rishi 'Banta' Mishra. Mohan made his presence felt again, finishing 3rd in the event. After he handed over his bounty, Anil Adiani and Siddharth Singhvi were left to dish it out. In the last hand of the hour long duel, Singhvi jammed his short stack into the middle holding
and he got called by Adiani's
. A rag board of
didn't connect with either hands and Adiani shipped his first APT title, scoring an INR 209,300 first place payday, in addition to the 8 bounties he picked up along the way.
Event #3 of the APT Asian Series Goa saw 9 players depart with the INR 150,000 buy in for the High Rollers. Harshad Barve took on Indian pro Ramandeep Singh Gujral. Barve had been chipping up steadily throughout the tournament and held a chip lead over Gujral. In the last hand, Barve made it 4500 preflop which got called by Gujral. The latter checked on seeing
hit the flop and Barve bet out 6000 which was matched by his opponent. On the turn
, Gujral check-called Barve's bet of 12000 to see the river
. Gujral checked for a third time and Barve moved all in, having Gujral covered. Gujral tanked for a bit and eventually made the call showing
for trip Aces. However, Barve had him beat as his
had turned a straight and with that Barve took down the APT 150k High Roller for a score of INR 834,000.
Later on that same afternoon, 49 players took their seats in the INR 15,000 Freezeout. Clawin D'Souza and Ishwar S took on each other in a back and forth heads up duel. In the final hand, Ishwar S moved all in holding
and D'Souza called holding
, along with the chip lead. The board
paired D'Souza's Queen on the flop and with that, had all the chips in play. He walked away with an INR 264,000 available for buy ins for the rest of the week.
Players were of course, anxiously awaiting the arrival of Day 4 of the APT Asian Series Goa. That day arrived, and brought with it the big tamale – Day 1a of the INR 50,000 Main Event. All eyes were on defending champ Sangeeth 'Samoh' Mohan, who beat Sameer Rattonsey in heads up action last year to take down the title. He took the felt along with 63 other players hoping to repeat last year's performance. He would however, bust just post midnight when his
got outdrawn by Sonu Singh's
.
Other notable names who busted on Day 1a included high roller tournament winner Harshad Barve, Bobbe Suri, Maurice Noronha, Pranav Bagai, Rahul Melwani, Rohit Bhalla, Ramandeep Gujral and MPC Red Dragon runner up Abhishek Goindi. Of the 21 players who advanced to Day 2 from the original 64, Varun Vimal finished ahead of the pack with 113,800 in chips, followed by Sweden's Martin Nilsson who ended the day with 76,400 chips.
On day 1B, had a bigger field than the first starting day with 67 players taking to the tables and bringing the total number of entries to 131.
Mohan shipped it all in against Frederick Hallen holding
but unfortunately for him, his Big Slick got outdrawn yet again as Hallen's
made a full house on the flop. He definitely was hoping for back-to-back titles but it seems that the poker gods had something else in mind for the big man from Kochi. With his elimination and no more starting days in the Main Event, a new APT Goa Champion was guaranteed.
Another well known pro who didn't make it past Day 1B was MPC Red Dragon runner up Abhishek Goindi, who got it all in against Ravi Goel holding
. Goel's
caught up as the dealer laid out
giving him a flush and the pot as Goindi headed over to rail the rest of the players left in the Main Event.
Last year's runner up Sameer Rattonsey was determined to make it another final table, if not better his performance and take down the main event. He finished the day strong and his stack of 65,000 meant that he ended 2nd in chips. His stack was only bettered by Rishabh Jhunjhunwala who doubled his stack in a race against Himanshu Laul. Jhunjhunwala's
held up against Laul's
and the latter busted out of the tournament. Jhunjhunwala would finish the day with 73,500 in chips.
For those players who had already qualified for Day 2 of the Main Event, there was still plenty on offer as the INR 25,000 Freezeout was scheduled alongside Day 1B of the Main Event. Martin Nilsson showed tremendous consistency as he bested the field and had took down the tournament raking in INR 146,200 even before he started playing Day 2 of the Main Event.
The following day, 48 of the remaining contenders took to the felt for Day 2 of the Main Event. Chip leader from Day 1A Varun Vimal lost most of his stack when some early bluff attempts didn't go his way. He finally jammed all in holding
and was dominated by Rohit Sekhsaria's
.
Rishabh Jhunjhunwala, who finished in the chip lead on Day 1B, too couldn't hang on to his stack. However, he did manage to make it in the money, finishing in 14th place and taking home INR 83,000.
Martin Nilsson was the first player to cross the 200k chip mark when Rohit Sekhsaria moved all in with pocket Kings against his pocket Aces. Nilsson would finish the day as chip leader going into the final table with a chip stack of 347,000.
Not far behind was last year's runner up Sameer Rattonsey who ended the day with 325,000 chips. He had a bit of a scare when on the bubble, with the flop showing
, he moved all in holding
. It was almost over for him as his opponent Astad Randeria called and tabled
. The turn kept Randeria ahead but the river
gave him some serious heartbreak as he would bust on the bubble and Rattonsey would double up, securing his place on the final table.
Rounding up the top 3 chip stacks at the final table was Aditya 'Intervention' Agarwal who had amassed 284,000 chips. The other players who made it to the final table included Japan's Hisashi Ogi, Rahul Byraju, Nikhil Maheshwari, Manan Khetan, Ravi Goel, Sonu Singh and Prabhat Mukherjea.
As those players were dishing it out for a berth on the final table, APPT Cebu Main Event final tablist Amit Varma was busy raking in the moolah at the FundooPoker INR 30,000 Freezeout. He took down the tournament taking home the winner's trophy and a score of INR 313,500. Other known players who made it in the money of that tournament included Jasven Saigal (3rd) and Amit Jain (4th).
Higashi Ogi was first to fall at the final table. His Cowboys were no good against Ravi Goel's Bullets. Next to fall was Aditya Agarwal as his Cowboys too were no good when they got cracked by Prabhat Mukherjea's pocket Tens.
Rahul Byraju was down to his last 1000 chip the previous day and had a sort of dream run, doubling up several times to make the final table. As much as he would have liked to have had his Jack Straus 'chip and a chair' moment, that dream was cut short by Manan Khetan's
when Byraju shoved with
.
Ravi Goel and Nikhil Maheshwari were next to exit in 7th and 6th place respectively. Soon after their departure, Sameer Rattonsey moved all in with
and got called by Martin Nilsson's
. The poker gods weren't kind to Rattonsey as the board
gave Nilsson top pair and the pot, leaving Rattonsey severely short stacked. With that, his hopes of bettering his runner up finish were crushed and had to be content with a 5th place finish.
Next, Prabhat Mukherjea made short work of Sonu Singh before busting in 3rd place himself. When heads up finally came along, Manan Khetan had a commanding chip lead over Martin Nilsson. However, he didn't use this advantage well and his button limps and bad bluffs saw Nilsson holding a 3:1 chip lead going into the last hand. Khetan limped yet again from the button, trying to trap with
. This move seemed to work as Nilsson raised and called his 3-bet to see
on the flop. Nilsson then check-called his opponent's all in shove with
. Bricks on the turn
and river
meant that Nilsson's top pair would take down the APT Asian Series Goa Main Event. The Swede bagged the winner's trophy, along with a whopping INR 1,942,000 payout.
Closing out the weekend was the INR 15,000 6 Handed Freezeout. Sumit Asrani beat his fellow countryman and Goa tournament regular Rakesh Sharma in heads up action to take down the INR 189,000 first place prize.
According to the announcement made by Tournament Director Lloyd Fontillas at the end of the event, the APT will be back in India in the first week of December. This will be the season finale for the APT and will count towards their Player of the Year 2012 rankings.
Follow PokerNews India on Twitter for up-to-the-minute news.