Five Thoughts: Saying Goodbye to a Legend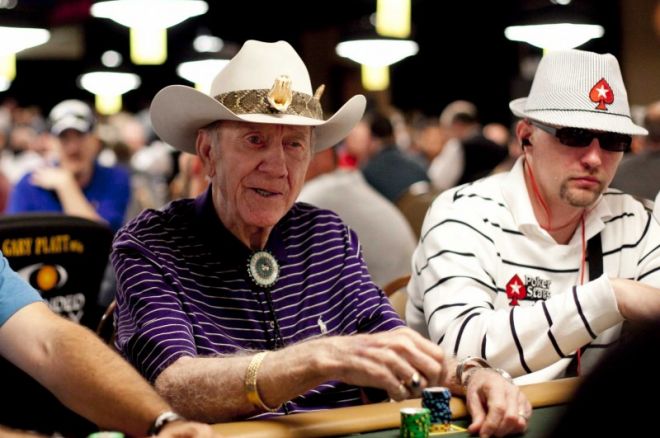 In 1972, well before the Moneymaker Effect, the World Series of Poker was still in its infancy. Seven rounders played the $10,000 No-Limit Hold'em World Championship, including Roger Van Ausdall, Johnny Moss, Jack Straus, Crandell Addington, Doyle Brunson, Puggy Pearson, and, the eventual winner, Amarillo Slim. After winning, Slim became the first poker celebrity, making appearances on The Tonight Show starring Johnny Carson, Good Morning America, and several game shows.
In 1973, the WSOP expanded from two events to eight, and the Championship Event nearly doubled in size, attracting 13 entrants. CBS Sports broadcasted the WSOP for the first time that year, exposing poker to a national audience. Slim's effect on the game may not be as celebrated as Chris Moneymaker's — nor is it as widely known — but it should be. His good humor and kind smile showed that poker isn't just a game for hustlers or degenerate gamblers, and his frequent appearances with Carson brought the game of poker into millions of American homes. Slim's impact cannot be ignored, nor should it be forgotten.
Slim, born Thomas Austin Preston, Jr., passed away on Sunday at the age of 83.
1. A legendary story
Rather than continue to list Slim's countless accomplishments, I thought it would be more appropriate to share a story about the first time I encountered him. Less than three months after turning 21, I found myself at the 2009 WSOP working for the very popular forum PocketFives. Our job wasn't to cover the big name players — although the fanboy in me came out more than once — rather our job was to shed light onto the online grinders who posted on our forums. Most of the players really appreciated our work because they wouldn't receive coverage otherwise, and it was comforting because most of the players were younger and less intimidating.
One day, someone in the media room said that Doyle Brunson and Amarillo Slim were going to have a scooter race outside the Brasilia Room. I was on a dinner break at the time, so I grabbed our camera and made my way over. There were dozens of people crowded to watch the race, and both Brunson and Slim were laughing and smiling — I later learned that they had bet $2,000.
The race was less exciting than I thought it would be. The two began in the middle of the hallway where all of the Player of the Year banners now hang, and crept down into the large open space outside of the Pavilion Room. There were cones set up in the middle, and the two raced around them in a circle. Slim beat Brunson handily, but not because his scooter was faster or he was a better driver, it was because Slim was slimmer. Brunson's extra hundred pounds or so slowed him down.
The two laughed and smiled as if it was their first WSOP — which is perhaps why I enjoyed the race, even though it was painfully anticlimactic. Rest in peace Slim, you and your legacy shall never be forgotten.
2. TwoPlusTwo down
On Thursday, I saw a tweet from TwoPlusTwo moderator Noah "NoahSD" Stephens-Davidowitz explaining that the website had been hacked. He offered a link to his blog, where he provided further information about the situation. NoahSD's main concern was that TwoPlusTwo members who used their password for other sites should change the password immediately. Apparently, whoever hacked the website has access to a list of usernames, emails, passwords, and private messages.
That's where the situation gets dicey. While most people are upset that they can't flame Kevmode or bump old Photoshop threads, there are dozens of high-stakes players who should be sweating because their private messages are now in the hands of a hacker. And, if this person (or people) is willing to hack into one of the biggest forums in the world, I'd wager that the hacker willing to commit blackmail. Or, if money isn't the objective, maybe just trolling the poker industry is, and soon, incriminating information will be leaked.
If you've sent a private message that is in any way potentially damaging, I would certainly be worried.
It's safe to say that life goes on without TwoPlusTwo, but there were major issues when The Marketplace suddenly disappeared. Buying and selling shares for packages and individual tournaments is standard in today's poker world, and TwoPlusTwo is one of the safer places to conduct business because the community policies itself, and the moderators do a good job of limiting the riffraff.
With the site down, players with packages listed are in limbo. For example, the €25,000 PokerStars and Monte-Carlo Casino® European Poker Tour Grand Final High Roller event kicked off this past weekend. I can guarantee that one or more people had packages listed on The Marketplace, looking to sell action. When the site went down, all the records went with it (temporarily), so sellers and investors had to find away to ensure that everything was OK.
The moderators expect the site to relaunch by the end of the week. Hopefully, there will be no issues stemming from private messages, and The Marketplace can go back to business as usual.
3. Aussie! Aussie! Aussie!
On Monday, the WSOP and Crown Casino in Melbourne, Australia, announced the World Series of Poker Asia-Pacific (WSOP APAC) will begin in April of 2013. The multiyear series will include five bracelet events in its maiden voyage, will be filmed for television, and is expected to air on ESPN. The announcement was met with praise from all corners of the poker world, especially Australia, where the 2005 Main Event champion Joe Hachem has helped the game grow immensely.
Aussie Aussie:WORLD SERIES OF POKER ANNOUNCES PARTNERSHIP WITH CROWN FOR MAJOR POKER SERIES DEBUTING IN MELBOURNE, AUSTRALIA IN 2013

— Joe Hachem (@JosephHachem)
When I first heard about the news in early March, it made so much sense. The WSOP has already expanded to Europe and Africa — why not tackle Asia? Both the PokerStars Asia Pacific Poker Tour and the Asian Poker Tour have been steadily growing, the Aussie Millions is one of the "can't-miss" stops on the circuit, and Macau is quickly becoming a Mecca for high-stakes cash games. Also, both the WSOP and Crown Casino are wildly successful individually, so together they're sure to crush.
If the WSOP series in South Africa continues to grow, or the WSOP decides to expand to South America, we may be inching closer to the prospect of four majors. Tennis and golf are arguably the two biggest individual sports in the world (sorry auto car racing), and they both have four major tournaments. The poker media has recently created a "Triple Crown," which consists of wins at the WSOP, EPT, and World Poker Tour, but there are some grey areas, including invitational events. If the WSOP establishes four different major main events, then it could create its own definitive Grand Slam.
Just something to think about.
4. Charania binks biggest score
To members of the poker media, Mohsin "chicagocards1" Charania is a very familiar face. He travels the circuit and plays dozens of WSOP events each year. Before Monday, however, Charania only had one six-figure score, finishing sixth in a WPT event for $104,741.
Now, Charania has his first seven-figure score.
On Monday, Charania found himself heads up with Lucille Cailly for the EPT Grand Final Main Event title. The two agreed upon a deal, whereby Charania received €1,150,000, Cailly €1,050,000, and the winner would receive an additional €200,000 to go along with the title, the Shamballa bracelet, the glory, and a seat in the Tournament of Champions.
On the final hand, Charania five-bet shoved holding
, and Cailly snap-called with
. The board ran
, and Charania was the champion. A plethora of poker players tweeted their congratulations to Charania, but there were also plenty of jests and jibes. Cliff "JohnnyBax" Josephy's tweet was probably the best of the bunch:
If @chicagocards1, one of twitter's greatest all time whiners, continues to complain, I'll have to unfollow. Congrats! #1yearnowhining

— Cliff Josephy (@JohnnyBaxPoker)
Charania isn't the first online player to struggle for success in the live arena, nor will he be the last. There is certainly more variance because there are fewer tournaments, the structures are a lot deeper, and the play is altered slightly. Adaptation is necessary, and so is running good. Fortunately for Charania, he got the monkey off of his back.
Let's see if he can parlay this win into a big WSOP.
5. PokerStars Mobile
PokerStars Director of New Platforms Jeffrey Haas shows our own Lynn Gilmartin the PokerStars Mobile app. Look away, fellow Americans.
Stay up to date on all the latest news by following us on Twitter and liking us on Facebook.