Marcelo Ramos Da Fonseca Wins 2012 PokerStars.net LAPT Punta del Este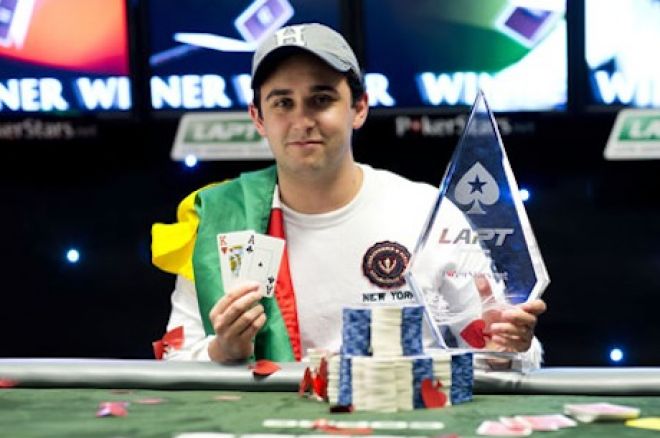 The PokerStars.net Latin American Poker Tour Punta del Este Main Event has officially reached a conclusion. Marcelo Ramos Da Fonseca was able to defeat Team PokerStars Pro Angel Guillen to pocket $144,240 in first place prize money as well as an LAPT title.
LAPT Punta del Este Main Event Final Table Payouts

| Place | Player | Prize |
| --- | --- | --- |
| *1 | Marcelo Ramos Da Fonseca | $144,240 |
| *2 | Angel Guillen | $126,240 |
| *3 | Francisco Baruffi Neto | $116,240 |
| 4 | Pablo Joaquin Melogno | $60,420 |
| 5 | Ivan Luca | $46,000 |
| 6 | Osvaldo Silvio Resquin | $35,970 |
| 7 | Vladimir Dobrovolskiy | $26,770 |
| 8 | Guido Ruffini | $20,080 |
| 9 | Carlos Leoncio Mironiuk | $15,390 |
*Denotes three-handed deal
Action started out slow for the first hour. Any player who was brave enough to make a preflop three-bet usually took the pot down. Carlos Leoncio Mironiuk, however, proved this theory incorrect when he three-bet his way to becoming the first casualty of the final table. Action folded to Marcelo Ramos Da Fonseca in the small blind who raised to 58,000 and Mironiuk three-bet all-in for 510,000. Ramos Da Fonseca snap called with
and was far ahead of Mironiuk's
. Mironiuk failed to improve and was sent home, collecting $15,390 in prize money.
The next elimination came on the final hand before the first break. Ivan Luca opened to 51,000 and was called by Francisco Baruffi Neto. Guido Ruffini three-bet to 132,000 from the cutoff. Action folded back to Luca who pondered for over three minutes before the clock was called and he was forced to fold his hand after failing to come to a decision. Baruffi Neto tagged along and the two saw a flop of
.
Baruffi Neto checked and Ruffini bet out 136,000 and Baruffi Neto called. The turn was the
and Baruffi Neto checked again. Ruffini continued his aggression with a 200,000 chip bet and Baruffi Neto responded by moving all-in. Ruffini snap called and the hands were turned over.
Showdown
Baruffi Neto:

Ruffini:
The river brought the
and Ruffini was sent home in eighth place. This was the biggest pot of the tournament thus far and gave Baruffi Neto a commanding lead over the field, boosting his stack to over 2,400,000.
Russian online qualifier Vladimir Dobrovolskiy was the next victim of Baruffi Neto's control of the table. Dobrovolskiy's
lost the preflop all-in race against Baruffi Neto's
. Soon after, Angel Guillen was able to score a key double up through Ivan Luca when his
was able to best Luca's
.
Pablo Joaquin Melogno began to ramp up his aggression during six handed play, most notably raising eight pots in two orbits. When Osvaldo Silvio Resquin decided to push back by moving all-in, Melogno made the call with
and was crushing Resquin's
. The board ran out
and just like that Resquin was our sixth-place finisher, pocketing $35,970 for his efforts.
Ivan Luca, who was the chip leader coming into Day 3 of this event, was the next to go. Luca adopted a sort of villainous role in his final few orbits at the table, as his tanking was viewed by others at the table as excessive. One such instance occurred when Luca tanked for over a minute after action folded to his small blind. Baruffi Neto called the clock on him and Luca let the entire clock drain before the dealer pulled his cards into the muck.
A few hands after this incident, Luca moved all-in for his final 401,000 holding
and was called by Baruffi Neto's
. Luca failed to improve his hand and he was forced to settle for a fifth-place finish.
Four-handed play seemed to stretch on, as the players were doing most of their work preflop. Melogno was the short stack at the table, and he used this to his advantage, moving his stack around and collecting blinds and min-raises often. This strategy got the best of him, however, when he moved all-in against a raise from Angel Guillen. Guillen called and the hands were exposed to the table:
Showdown
Guillen:

Melogno:
The flop came
and Guillen's ace-king high retained the lead. Melogno picked up a ton of outs, however, when the
turned. Fortunately for Guillen, the river was not a queen, jack, eight, or diamond. The
bricked out for Melogno and his fate was sealed as the fourth-place finisher.
The final three players made a deal, guaranteeing each remaining player at least $116,240 with $38,000 saved for heads up. It was soon after this deal was struck that a large hand transpired between Guillen and Baruffi Neto.
Baruffi Neto raised to 175,000 from the button and Guillen three-bet to 425,000 from the big blind. A
flop was spread out before the players and Guillen continued out for 275,000. Baruffi Neto called.
The turn was the
and Guillen bet out 400,000. Baruffi Neto announced all-in and Guillen quickly called with his
. Guillen was well ahead of Baruffi Neto's
, a lead that Guillen kept through the
river. The next hand Baruffi Neto moved all-in for his last 135,000 with
but was unable to improve against Ramos Da Fonseca's
. As per the deal that was struck, Baruffi Neto collected $116,240 in winnings.
Another deal was made heads up, giving an additional $10,000 to second place and $28,000 to the champion. Guillen began the heads up battle with the chip lead, but that was quickly relinquished to Ramos Da Fonseca. Play slowed down between the two, often taking down pots with either a min-raise or a small bet on the flop. Eventually, however, the match came to a head when Marcelo Ramos Da Fonseca raised to 200,000 and Guillen moved all-in for his final 2,800,000. Ramos Da Fonseca snap called and the hands were flipped over.
Showdown
Guillen:

Ramos Da Fonseca:
The board ran out
and Team PokerStars Pro Angel Guillen became the last casualty of the tournament. Marcelo Ramos Da Fonseca, on the other hand, was awarded the $144,240 in prize money and the LAPT Punta del Este Main Event championship trophy.
Follow PokerNews India on Twitter for up-to-the-minute news.