Poker in Paradise: Time to head home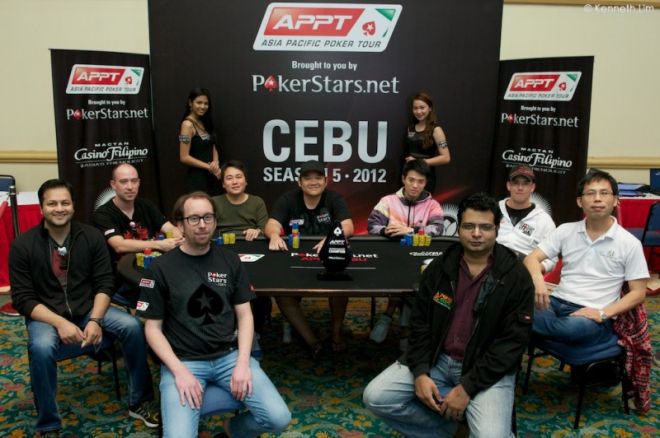 Peter Abraham is in the Philippines for the APT and APPT and this is the final post in the series he will write as part of this poker+travel blog.
What an incredible trip it has been! About 2 weeks ago a small Indian contingent left Indian shores to try and stamp their mark once again on the Asian circuit as had been done in past 12 months by a few players.
A couple of those in Abhishek Goindi and Sangeeth 'Samoh' Mohan are well-known names on the Indian circuit. While Mohan's heroics from APPT Macau and APT Goa back in November 2011 is still fresh in the minds of Indian poker fans, Goindi too has recently provided the fans with much to cheer about with his 2nd place finish in the MPC Red Dragon back in February this year. So it was not surprising that the Asian Poker Tour in Manila and the Asia Pacific Poker Tour in Cebu would be targeted by these players to repeat their terrific past perfomances. Joining them were more known faces in Bobbe Suri, Amit Varma, Amit Jain and my good mate Sameer Rattonsey. All of these players have proven themselves on the Indian circuit with Suri taking down the World Gaming Festival, Varma and Jain scoring multiple titles and of course Sam is the current India Poker Champion.
When we planned this trip, my primary purpose was to try and get a feel for what the Indian pro or serious hobbyist does when he is traveling on the circuit and playing away from home. If there's one thing that I can take back from this trip, its the fact that so many different people who perhaps don't share many things in common, can come together so strongly with just one commonality - their love for poker. An author, a movie producer, the head of a media agency, an actor and a couple of corporate slaves-turned-poker pros. I'll let you figure out who's who but it is a strangely curious mix of folks who suddenly are in complete sync when the topic is poker. And I gotta tell you - it's a beautiful thing! The way these guys railed one another at the tournament was brilliant and the camaraderie shared over the highs and lows of this trip was the highlight for me.
While the APT in Manila did not throw up any major results for the Indian crew, it seemed like a trial run of sorts going by the eventual results that were achieved in the second leg of the trip in Cebu. Abhishek Goindi crashed out rather early in the Main Event and he paced a heavy groove in the carpeting of my room after his beat. He did bounce back though scoring a 7th place finish in the 50k 6-max event. Amit Jain chopped top prize in the 30k Knockout Bounty event after brutally dominating the rest of the field for most of that tournament. But the highlight of the APPT was Sam and Amit Varma making the final table of the Main Event. It was an almost surreal feeling at the end of Day 3 when Amit ended the day as the dominating chipleader and Sam close behind holding the second biggest stack on the table. Of course every Indian at the venue was railing these two not to mention all the virtual railing that was happening from the folks back home following the live updates on PokerNews India.
This story did not have the fairy tale ending we all wanted - a 1-2 finish for India but even though Amit (5th) and Sam (6th) did not win, what they have accomplished is admirable. Along Sangeeth and Abhishek's past finishes, their accomplishments have put India on the global poker map. That's no small feat given how niche this sport is in India and how for the time being at least there seems to be a downswing of interest in local (Goa) tournaments. But perhaps this is just the boost that's required to kickstart that lost momentum. Maybe these performances will encourage players back home to start honing their skills, to test themselves in the Goa tournament arena and then take on the world and bring glory to the country and themselves.
You see that picture up there?! That, dear reader, is just the beginning...
Click here to read previous posts and for more pictures.