2012 WSOP: A Look at the Biggest Hands From Week 2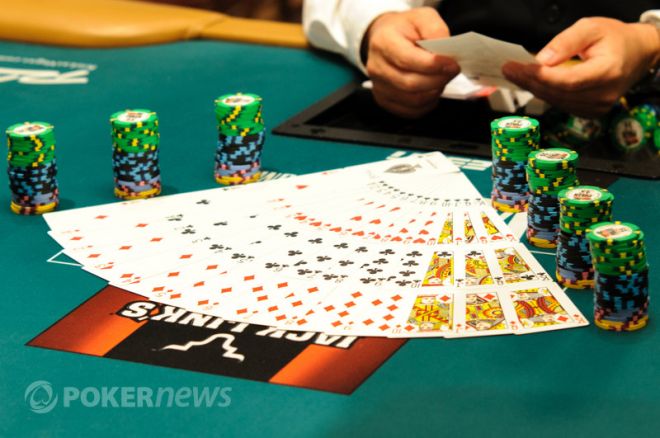 As crazy as it sounds, the 2012 World Series of Poker is rapidly approaching its halfway point. It's been an exciting few weeks with Phil Hellmuth capturing his 12th WSOP bracelet, Phil Ivey making three final tables, and more.
One of the biggest hands from the past week involved Andy Frankenberger and helped propel him to his second bracelet, defeating one of the game's best in the process. With that said, it wasn't the only influential hand of the week. Other hands directly influenced the outcome of their respective tournaments, and some were highly entertaining.
Big Three-Way Hand in Limit Poker Propels 66-Year-Old David Arsht to Winner's Circle
When you think of excitement in poker, you don't think of limit hold'em, and we admit the early stages of Event #13: $1,500 Limit Hold'em were pretty monotonous. Over the course of two days, the starting field of 730 was whittled down to the final 25, all of whom returned on Day 3 to play down to winner.
At the time, 66-year-old retired urologist David Arsht was overshadowed by bigger names in the field like Jennifer Harman, Isaac Haxton and Roland Israel.
One by one those players fell by the wayside and allowed Arsht to fly under the radar all the way to the final table. It was there that he played an unexpected, albeit impressive, aggressive game.
Slowly but surely Arsht built a stack and became a contender for the bracelet. Standing in his way were Al "Sugar Bear" Barbieri, Donald Auger and Stephen Hung, all of whom were well-positioned to make a run. Luckily for Arsht, his aggression paid off as he raked in pot after pot.
Four-handed play was a long and arduous affair, but a truly captivating hand not only put a stop to it, but skipped three-handed play altogether.
Here's the hand as reported in our Live Blog:
After a few hours where Al Barbieri was the only thing keeping the rail awake, we have just had a ridiculous hand that sent the whole rail and the players into a frenzy. David Arsht raised it up, and Donald Auger raised all-in. Barbieri said, "Well, I ain't missing out on this. I'm in," and made the call, with just 20,000 behind. Stephen Hung folded, and Arsht put in one more raise to get Barbieri all in. He made the call, and the three players showed their hands.

Barbieri had more chips then Auger, and confirmed with the floor that he would get third place if both players lost the hand. Once he got that confirmation, he celebrated, and started shadow boxing, saying, "I love my hand I'm ready to triple up baby!" Well the board couldn't have been written any better if someone was trying.

The flop gave Auger a set to take the lead. What could have been the perfect turn card? The sounds pretty good huh? That gave Barbieri a flush draw and Arsht a straight draw, though Auger was still ahead. Wouldn't you know it, the slammed down on the river, and the whole rail erupted. Auger stood in disbelief, while Barbieri started celebrating, even though he knew he lost the hand. He said, "That's a $23,000 eight of diamonds right there!"

When the dust settled, Auger took fourth place, Barbieri took third, and Arsht scored the double knockout to get to heads-up play.
Needless to say, Arsht had a massive chip lead at that point and used it to dispatch Hung in second place and collect the $211,921 first-place prize.
From Poker to the Military and Back Again
Last Friday, Brandon Schaefer captured the attention of the poker world when he won Event #14: $1,500 No-Limit Hold'em Shootout for $311,174. The win was impressive, but it was the story behind it that was truly captivating. If you don't know Schaefer's story, be sure to check out the PokerNews' article, Brandon Schaefer Wins WSOP Bracelet Weeks Before Enrolling in U.S. Army Flight School.
Schaefer ended up defeating Jon Cohen in heads-up play, and one couldn't help but empathize with the latter as Schaefer was clearly the fan favorite. While Cohen put up a valiant fight, Schaefer had a date with destiny.
The decisive moment came in dramatic fashion, as describe in the PokerNews Live Blog:
Jon Cohen opened the pot to 90,000 and Brendan Schaefer called to see a flop appear. Schaefer check-called a 105,000 bet to head to the turn where he faced a 230,000 bet.

His response was to check-raise all-in. Cohen stood up out if his chair and this caused the rail to pile forward. He hadn't called yet though but that came 30 seconds later. He had 1,800,000 chips when he called all-in.

Schaefer: for a an open ended straight draw.
Cohen: for top pair.

The river came to complete Schaefer's straight. He stood there staring at the board and there was an eerie silence that seemed to last for a minute but was more like three seconds. The silence was interrupted by the floor man who confirmed Schaefer the victor. Half the rail wet crazy, half consoled their broken man.
Frankenberger vs. Deeb in a Rollercoaster of a Hand
Sunday was a "Tale of Two Phils" as Phil Hellmuth and Phil Ivey went after bracelet No. 12 and nine respectively. The two dominated the headlines and it seemed as if both were preordained to succeed. While Hellmuth managed to break his second-place curse from last year and make poker history, Ivey wasn't so fortunate as Andy Frankenberger pulled what some would consider an upset in Event #17: $10,000 Pot-Limit Hold'em.
The funny thing is, Frankenberger almost didn't make it to heads-up play. When action was still six-handed at a final table that included Ali Eslami and Shaun Deeb, Frankenberger became involved in a hand that would have left him on life support; instead, it ended up leaving him with a big pile of chips.
Once again, we revisit the Live Blog for a recap of the hand:
Andy Frankenberger made it 125,000 on the button and Shaun Deeb moved all-in from the big blind for 425,000. Back to Frankenberger who made the call and we had a showdown.

Another showdown, another flip…were we going to see another double up?

Flop:

Frankenberger spiked a set to take the lead, but Deeb has the Broadway straight-draw.

Turn:

BOOM! Deeb does what Deeb does best! His cards just refuse to be beaten. He has once again avoided defeat to hit the Broadway straight and Frankenberger looked distraught.

River:

BOOM! BOOM! We are in the river, Frankenberger has hit the boat and Deeb is left to drown without a paddle. Terrible news for Deeb fans, great news for Frankenberger fans and that was the last hand of the level.
It wasn't smooth sailing for Frankenberger after that hand as his chip stack proceeded to fluctuate up and down, but if it wasn't for that win, he probably wouldn't have captured his second WSOP bracelet by defeating the great Phil Ivey.
Kelly Hits One Outer in Monster Pot in Event #24 $5,000 Omaha Hi-Low Split 8-or-Better
Whenever Phil Ivey makes a deep run, it captures the attention of the poker world. That happened yet again in Event #24 $5,000 Omaha Hi-Low Split 8-or-Better as the eight-time bracelet winner made his third final table of the 2012 WSOP; however, one story that slipped through the cracks in that event was a big hand between Dan Kelly and Eric Crain that happened on Day 2. The PokerNews Live Reporting Team didn't actually catch the action, but Crain did take to Twitter to explain what happened:
I raise dkj's bb, he asks how much I have left. I say "about 100k less than when you f**ked me."

— Eric Crain (@EricCrain)
That pot allowed Kelly to cruise into Day 3 where he eventually finished in 12th place for $21,020.
Be sure to follow all of the action from the 2012 World Series of Poker in the PokerNews Live Reporting Blog.
Get all the latest PokerNews India updates on your social media outlets. Follow us on Twitter and like us on Facebook now!