Stay Stacked: Poker Mental Game Strategy Through Golf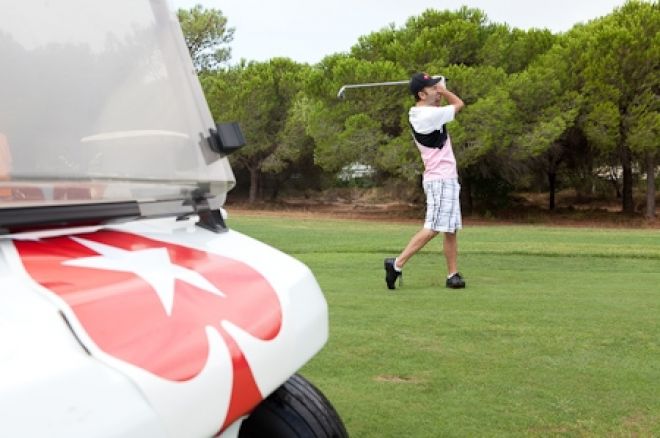 I recently had a conversation with David Carrion, president of the PokerStars.net Latin American Poker Tour, and he told me how, for most of his life, he has played golf competitively. He explained how much the game ties in with poker and helps him carry over techniques and strategies to the poker table. This got me quite interested in the topic because we're always hearing about poker pros who love to take to the golf course. PokerStars even sells golf accessories, and, of course, it ran the popular Fairways and Felts program during EPT7.
I reached out to Jamie Glazier, a well-known Mental Game Coach in Australia, who works with the likes of World Champion Joe Hachem and online young-gun Brendon Rubie. Glazier's business, Dare2Dream, originated in working with golfers on their mental game. Thanks to his wife, Jackie Glazier, one of the best female poker players to come out of Australia, he moved his focus to working with poker players. He has now tied the two fields together for a new program he is running during this year's World Series of Poker, so I asked him a few questions on the topic.
"When a player is so involved in their own game, at times there vision is clouded. Working with a player in a different game, makes it easier for me to point out aspects of the mental game, as they don't have anywhere near as much emotional attachment, which create the ability for them to see things with a clearer mind." - Jamie Glazier
How does mental game strategy in poker correlate with that in golf?
The mental game for poker and golf are similar for many reasons. Having the result be out of your control is a big one. Poker players and golfers could do a lot right in a hand or a shot, but receive an undesirable result. Players that have a specific process they follow from the start to finish of every hand, or shot, and can stick with that process for a large percentage of the time, will end up playing the best quality poker/golf over a larger volume of hands/rounds. So the basic mental game fundamentals are almost exactly the same.
How can poker players benefit from learning how to play golf?
There are many reasons. Learning to play golf can enhance a player's mindset for poker, as the basic mindset fundamentals are the same, and the challenging nature of golf will help poker players build their mindset quickly as there can be a lot of resistance.
The physical nature of golf can bring improvements to a person's overall health. Being outside in a beautiful environment can have such a calming influence on a person, at times being the total opposite to the common work environment for a poker player.
To also perform well on the golf course, we teach the players to tap into their powerful right brain, which I think is another side of poker that players can learn to utilize. At times, poker is played too much on mathematics and not enough on instincts, especially in a live arena.
What are some of the most common mental game weaknesses you've found in poker players that you've been able to successfully tackle on the golf course?
Emotional control, and focus management. In the game of golf, being able to process the shot in an empowering manner in the five to seven seconds after they hit a shot is key to maintaining an optimum emotional state.
The same goes for poker! A player must learn to build a specific routine or process after each hand to help them to learn from what happened, as well as be able to move onto the next hand with a clear and calm mind. This is even more of a key for poker as the time you have to reset for the next hand is extremely short.
In regards to focus management, in both games there is a lot of time in between playing hands, this is the time a player needs to learn how to manage their focus levels so that they can have a good level of focus left for the last few levels of play, or day five, six, or seven of the Main Event where focus management becomes extremely important and profitable.
Do you also think golfers can benefit from learning how to play poker?
Absolutely! The calculative nature of poker will help a golfer take more time, and analyze a situation before they react. I also believe that poker can be a great way for golfers to improve their emotional control as well as become more focused on their process and decisions, as that is all they have total control over in poker.
How exactly do you work with players in both settings?
As humans, we all have our own dominant way of learning, once I gain the information and knowledge of what that person's learning style is, I deliver all of my content and information in a way that will help them understand what I am saying. This will ensure a faster development and in turn be able to achieve results in a shorter period of time.
When working with a poker player on a golf course, as I'm giving them advice on their golf game, I directly relate it back to poker and how they can begin to look at themselves as poker player's, in a slightly different way.
The games are so similar, but when a player is so involved in their own game, at times there vision is clouded. Working with a player in a different game, makes it easier for me to point out aspects of the mental game, as they don't have anywhere near as much emotional attachment, which create the ability for them to see things with a clearer mind. This is when we can then relate things back to poker and start to really achieve some progress.
Tell us about the program you're running right now in Las Vegas.
The golf/poker program I have for the WSOP is one that takes a poker player out on to the golf course, or range, showing them some mental game fundamentals. We then put these fundamentals into play on the golf course, putting them under pressure. During this round, we begin to relate everything back to their poker game.
Once we finish the round, I will then have enough information to build a specific mental game program for poker. The program will then consist of some one-on-one sessions and railing time to help them fine-tune their mental game and set up some specific processes that they can follow which will help them increase their level of performance.
The other benefit is that the program will get the player outside and active, strengthening their minds and developing their poker, but without thinking about poker. This is great as it helps the players eliminate physical & mental burn out during a long grueling series.
For more information on the Glazier's golf/poker program, which is sponsored by Callaway Golf Center, contact him directly, jamie@dare2dream.com.au, or send him a tweet @JamieGlazier.
*Image courtesy of PokerStars Blog.