There Is Less Than A Week Left If You Want To Become A Skrill VIP With PokerNews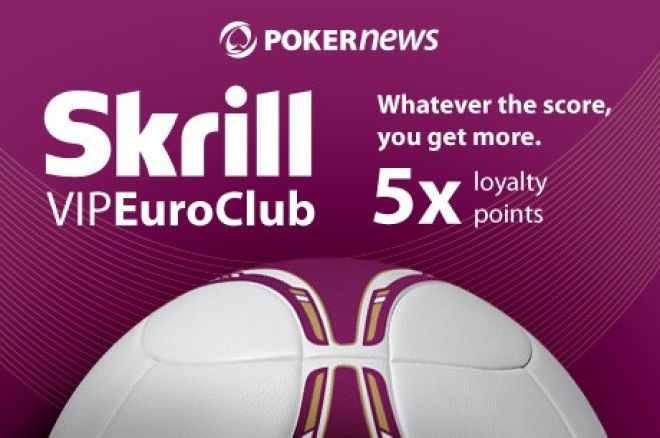 Skrill (Moneybookers) is giving PokerNews customers the chance to earn five times as many loyalty points as usual by becoming a Skrill VIP. But hurry, as this fantastic offer has to come to an end on July 1 - in less than a week's time!
Earn Five Times As Many Loyalty Points!
Skrill rewards its customers by awarding loyalty points every time they make a transaction from their Skrill account. Usually these loyalty points are awarded at a rate of one loyalty point per €1 but if you become a VIP through PokerNews you will be awarded fives times as many points up until the final of the 2012 European Championships on July 1.
The table below shows how many loyalty points you can expect to earn during the promotional period.
| | | |
| --- | --- | --- |
| Transaction | Usual Loyalty Points Earned | Loyalty Points During Promo* |
| €1,000 | 1,000 | 5,000 |
| €10,000 | 10,000 | 50,000 |
| €100,000 | 100,000 | 500,000 |
| €1,000,00 0 | 1,000,000 | 5,000,000 |
Any loyalty points you earn can be used on a whole host of products and rewards. These include replica Euro 2012 football shirts, LG 3D Smart TVs, iPads, laptops and a cash bonus the equivalent of 1% cash back. You can see the full rewards and the cost in loyalty points here. Please be aware that some Euro 2012 related rewards may no longer be available after July 31.
Is Becoming a Skrill VIP Easy To Do?
In a word, yes. Becoming a Skrill VIP is extremely easy to do it, in fact there are only four simple steps to follow. All you need to do to become a Skrill VIP is:
Enter the promotional code — 16258124
Register for a Skrill (Moneybookers) account or click "participate" if you already have one
Transact at least €3,000 before July 1
Enjoy five times the number of loyalty points!
This promotion cannot and will not last forever so head over the Skrill promotion page today and start accumulating your extra points!
Follow PokerNews on Twitter for up-to-the-minute news.
If you experience any problems with this or any of our promotions, please contact our Ticketed Promo Support System.