2012 PokerStars.net ANZPT Queenstown Day 1a: Allan Leads Record Single-Day Field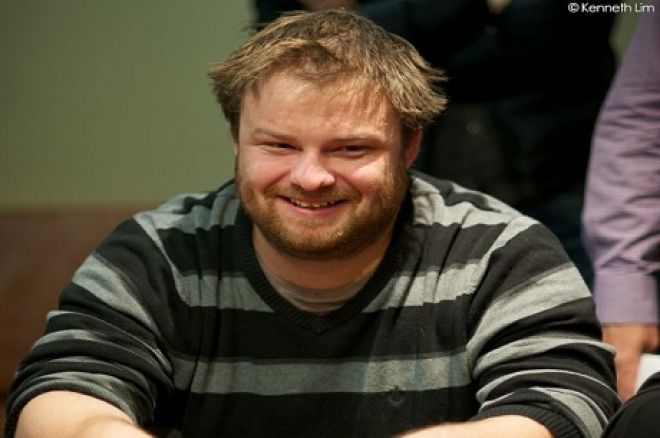 Tuesday saw the first of three day one flights at the 2012 Australia New Zealand Poker Tour Queenstown Snowfest Main Event kick off with a bang. A capped field of 51 players took to the felt, making it the largest single-day field in this event's history. This amount of players also puts this year's tournament on target to surpass the 127-player field from last year. At the end of the first Day 1 flight, just 27 players secured a Day 2 berth and it was Australia's David Allan who finished up as the chip leader.
Allan is perhaps better known for his tremendous online poker resume, with his screen name "dave798111" one of the most feared in the region. The majority of Allan's chips were added to his stack late in the night when the following hand took place.
We arrived on the turn, but it was recalled to us that Allan had bet 1,200 on the flop of
and Lancaster called in position from the button. The turn brought the
and Allan let go with another bet, this time for 3,350. Lancaster responded with a raise to 7,500 and Allan spent a few minutes in the think-tank before making the call.
The river brought the
to put four to a straight on the board. Allan checked and Lancaster reached for 9,500 and tossed it forwards. Allan gave a shrug and quickly flicked out a call. Lancaster gave a smile through clenched teeth as he opened
for just ace high. Allan took a moment to make sure his opponent had nothing before he revealed
for just a lowly pair of fives. "That's why I don't win tournaments, because I can never call there!" exclaimed one player at the table as Allan raked in the very handy pot at the end of the day.
Plenty of the best players from around the region joined Allan at the tables at the start of the day, but as is standard in poker tournaments, not all players can survive. Some of those who hit the rail during the day include Michael Egan, Tristan Bain, Minh Nguyen, Daniel Neilson and Jackson Zheng.
Joining Allan with plenty of chips to scare come Day 2 include David Wonson, Richard Lancaster, Bobby Zhang and 2011 ANZPT Sydney champion, Michael Kanaan. Also still in contention are the likes of Fergus Spary, Ryan Boswell, Greg Familton and World Series of gold bracelet winner, Andrew Hinrichsen. Some of those who couldn't join these players in bagging up some chips at the end of the night include Michael Egan, Tristan Bain, Jackson Zheng, Minh Nguyen and Daniel Neilson.
All of the above players will be looking to join last year's winner Marcel Schreiner as an ANZPT Queenstown champion. Schreiner, who took home NZD$94,300 for his effort, was an unlikely international victor hailing from Germany. This year's event continued the multicultural trend of tournaments in New Zealand, with a total of five nations were represented on Day 1a. The field included players from the Czech Republic , Australia, New Zealand, Taiwan and Lithuania, with four of these countries seen below in the top ten chip stacks from Day 1a.
| Name | Country | Chips |
| --- | --- | --- |
| David | Allan | Australia |
| David Wonson | Australia | 92,575 |
| Michael Kanaan | Australia | 88,350 |
| Laurynas Levinskas | Lithuania | 84,625 |
| Antonin Duda | Czech Republic | 79,450 |
| Fergus Spary | New Zealand | 67,250 |
| Gregory Familton | New Zealand | 51,325 |
| Bobby Zhang | Australia | 47,700 |
| Cole Swannack | New Zealand | 37,950 |
| Richard Lancaster | New Zealand | 35,700 |
The 27 surviving players from Day 1a will continue their quest for the ANZPT title on Friday, while Day 1b will begin on Wednesday at 1230 NZST (1700 PDT). Join the PokerNews live reporting team as they continue to bring you all the action from the 2012 ANZPT Queenstown Snowfest Main Event.