Five Thoughts: King of the Castle
PokerNews Staff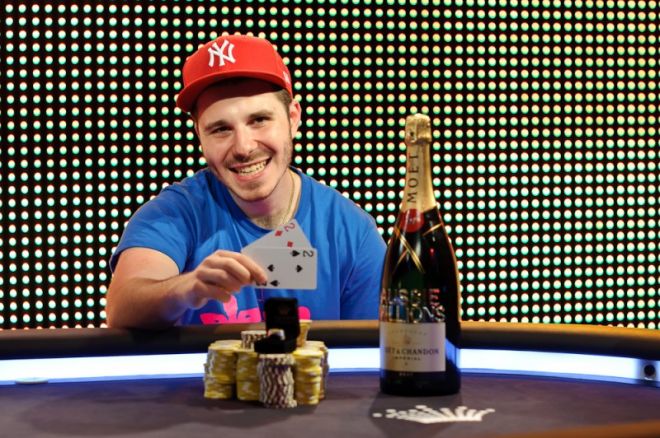 Winning five live tournaments is very difficult. According to the Hendon Mob database, Eugene Katchalov won his fifth tournament just last year at the 2011 World Series of Poker. Andrew Lichtenberger has four live tournament wins. Erik Cajelais has two live tournament wins. And Kyle Julius, who's earned nearly $2.2 million in 2012 has never won a live tournament.
So, if winning five live tournaments is difficult, then winning five in one year must be impossible, right?
Don't tell "King" Dan Smith that.
Smith started 2012 off with a bang, winning the Aussie Millions $100,000 Challenge, and taking home $1 million. Then, at the end of April, he went on one of the most impressive runs in the history of tournament poker, winning three €5,000 side events at the PokerStars and Monte-Carlo® Casino European Poker Tour Grand Final.
King Dan was unable to capture his first WSOP bracelet during the summer but recorded five cashes, including three top-17 finishes and a third-place finish in Event #50: $5,000 No Limit Hold'em ($368,943).
Smith didn't have to wait too long for his next victory however, because on Sunday he took down the EPT Barcelona €50,000 Super High Roller, earning $1,183,100 and his fifth victory of the year.
When Smith reached heads-up play against JC Alvarado, Jonathan Aguiar tweeted the following:
If Dan wins 2 super high rollers for 100k, 3 consecutive 5ks, +his absurd WSOP runs in huge fields, greatest year in poker history?

— Jonathan Aguiar (@JonAguiar)
Let's take a look at that in our first thought.
1. 2012 Dan Smith vs. 2011 Erik Seidel
Like Smith, Erik Seidel's insane year began down under at the 2011 Aussie Millions. Unlike Smith, Seidel didn't win the $100,000 Challenge, but he did finish third.
Oh yeah, and then he won the $250,000 Super High Roller.
Here are Smith and Seidel's top-20 finishes in their respective years of dominance:
2011 Erik Seidel
| | | | |
| --- | --- | --- | --- |
| Event | Field Size | Finish | Prize (USD) |
| Aussie Millions $100,000 Challenge | 38 players | 3rd | $618,139 |
| Aussie Millions $250,000 Super High Roller | 20 players | 1st | $2,472,555 |
| L.A. Poker Classic $5,100 Heads-Up Championship | 48 players | 5th | $14,500 |
| L.A. Poker Classic $25,100 High Roller Event | 18 players | 1st | $144,570 |
| $25,000 NBC National Heads-Up Championship | 64 players | 1st | $750,000 |
| WPT Hollywood Park Open $9,600 Main Event | 97 players | 2nd | $155,103 |
| WPT Five Star World Poker Classic $100,000 Super High Roller | 29 players | 1st | $1,092,780 |
| WSOP $5,000 No Limit Hold'em Shootout | 387 players | 17th | $13,368 |
| WSOP $10,000 Seven Card Stud Hi-Lo Championship | 168 players | 13th | $32,057 |
| Epic Poker League $20,000 No Limit Hold'em Six-Handed | 137 players | 2nd | $604,330 |
| Epic Poker League $20,000 No Limit Hold'em Eight-Handed | 97 players | 4th | $184,100 |
| WSOPE €10,000 Mixed No Limit Hold'em | 125 players | 12th | $35,558 |
| Averages/Total Money Won | 102.3 players / event | 5.2 average finish | $6,117,060 |
2012 Dan Smith
| | | | |
| --- | --- | --- | --- |
| Event | Field Size | Finish | Prize (USD) |
| Aussie Millions $100,000 Challenge | 22 players | 1st | $1,041,828 |
| EPT Berlin €1,000 No Limit Hold'em | 270 players | 8th | $8,824 |
| Monte-Carlo® Casino EPT Grand Final €5,000 No Limit Hold'em Six-Handed Turbo | 101 players | 1st | $201,972 |
| Monte-Carlo® Casino EPT Grand Final €5,000 No Limit Hold'em | 175 players | 1st | $330,724 |
| Monte-Carlo® Casino EPT Grand Final €5,000 No Limit Hold'em Six-Handed | 98 players | 1st | $155,790 |
| WSOP $1,500 No Limit Hold'em | 2,101 players | 17th | $18,890 |
| WSOP $1,000 No Limit Hold'em | 2,799 players | 10th | $25,367 |
| WSOP $5,000 No Limit Hold'em | 1,001 players | 3rd | $368,943 |
| EPT Barcelona €50,000 Super High Roller Event | 55 players* | 1st | $1,183,100 |
| Averages/Total Money Won | 735.8 players / event | 4.8 average finish | $3,335,438 |
* Denotes that there were five rebuys
It's easy to look at total money won and say that Seidel's 2011 run was more impressive, but Smith conquered much bigger field sizes en route to his nine top-20 cashes. In fact, on average, the field sizes Smith competed in were 7.79 times larger than Seidel's, and Smith's average finish was still higher. Likewise, Seidel never finished in the top 20 of a four-figure field, while Smith finished 17th, 10th, and third against four-figure fields.
It's also important to remember that Smith has four more months to improve his 2012 résumé, and at the rate he's going there's no telling what event he's going to win next.
Seidel's run in 2011 was insane, and if you asked me to back either Smith or Seidel in the long run, I'd take Seidel because he's a much better mixed games player and he's proven that he can adapt as the game changes, but Smith's 2012 run has been more impressive thus far.
What do you think? Vote below and leave us a comment!
2. Final table deals
A new rule was created for Season 9 of the PokerStars EPT, and it states the following:
42. You acknowledge and agree that Finalists are only permitted to discuss any form of settlement deal or redistribution of any remaining prize pool whilst seated at the Final Table, and that an appointed tournament representative must be present during any discussions and subsequent decisions related to prize pool redistribution.
You can find this and every other rule on the EuropeanPokerTour.com website.
If you've ever watched EPT Live over on PokerStars.tv — which I suggest that you do because James Hartigan, Joe Stapleton and the production crew are fantastic — then you've probably seen players make deals on air. Neil Johnson, PokerStars' Live Poker Specialist, told me at the 2012 PokerStars Caribbean Adventure that he prefers that the deal-making process takes place in the open for two reasons: 1) it's an essential part of tournament poker, and 2) PokerStars can adjust the payouts if a deal is made and protect their customers from being cheated or scammed.
Johnson is spot on.
Deal making, and the ability to strike a good deal, is paramount in tournament poker. In May, I praised Nick "GripDsNutz" Grippo because he made a great deal in the $10,000 SCOOP Main Event. In a spot where Grippo could've easily caved and accepted a chip-chop, he stood his ground and was basically gifted $128,000 from his two opponents. If there wasn't a proper deal-making process established by PokerStars, Grippo could've taken two bad beats and finished in third place, costing him hundreds of thousands of dollars.
Unlike the EPT, and other PokerStars sponsored events, the WSOP doesn't even allow deal making. Whether it's to protect the prestige of bracelet events or avoid tax conflicts, the WSOP has no interest in facilitating chops, forcing players to take "unscheduled breaks" and possibly make deals on their own. This is both bad for the game and potentially dangerous for the players. Very few major tournaments are completed without some sort of a deal being made at the final table, so to force players at the WSOP to battle astronomically high amounts of variance is unfair. It's also unfair to force players, some of whom are amateurs, to make deals in back hallways or away from the table where they are vulnerable. I'm all in favor of a player driving a hard bargain, but it's a lot safer for deals to be made at the table with dealers, floor staff and media members watching.
To no one's surprise, PokerStars has taken the initiative to improve its tournaments and protect its players. Johnson and his staff are exemplary, and should be emulated by others.
3. One for the thumb
On Monday, Kyle Cartwright won the World Series of Poker Circuit IP Biloxi Main Event presented by Southern Comfort 100 Proof. Cartwright earned $107,992, a seat in the 2012 National Championship, and his fifth-career WSOPC gold ring.
Cartwright is now tied with Mark "Pegasus" Smith for the all-time ring record. Smith won his first ring in October 2006 at Harrah's Tunica Casino and Cartwright's first circuit victory was in February 2011 at the same venue. Cartwright won a second ring eight days later.
Jessica Welman, the managing editor of WSOP.com, tweeted a fun fact after Cartwright's win was announced:
Just learned Kyle Cartwright has shipped five @WSOP Circuit rings in 16 months. That is roughly 1 ring every 96 days.

— Jessica Welman (@jesswelman)
This win was only Cartwright's second career six-figure score. The first came in April 2011 when he won the $1,600 WSOPC Main Event at Harrah's St. Louis. Cartwright now has over half-a-million dollars in live tournament career earnings and seven live tournament wins.
2010 November Niner John Dolan finished third in Biloxi. Dolan won a ring in a $365 preliminary event earlier in the series ($12,265), and has two six-figure scores in 2012. Dolan won a $5,000 event in Biloxi in January ($336,105), and finished second in the $10,000 WPT Seminole Hard Rock Showdown in April ($459,360). Dolan lost a race against Cartwright when play was three-handed, earning $48,429 for third place.
We expect that Cartwright will be looking for ring number six at the next circuit stop at Horseshoe Bossier City, which beings on Sept. 13.
4. Blom and PokerStars split
Last Tuesday, Viktor "Isildur1" Blom and PokerStars parted ways. By all accounts it was amicable — Eric Hollresier, PokerStars' head of corporate communications called it a "mutual agreement," and Blom admitted that, "I just want to concentrate on playing poker."
The speculation on TwoPlusTwo began immediately, and the consensus seems to be that Blom could potentially be a member of the new Full Tilt Poker once it re-launches on Nov. 6. Personally, I highly doubt that Blom will become a member of Team Full Tilt or be a "Red Pro," because PokerStars has no incentive to pay Blom, and Blom doesn't want the responsibility.
When Full Tilt returns to the market, and the Ivey Thunderdome beckons the hyper-aggressive, once mysterious ninja from Sweden to grind the nose-bleediest nose bleeds once again, he's going to play. Immediately. Blom needs no incentive — although he could make a mint in rakeback because he plays so many tables — and PokerStars is going to get his business because there's no where else to play such high stakes. There's no need to pay Blom to do what he already does and nothing more.
And when I mean nothing more, I mean nothing more.
When Blom was "unveiled" at the 2011 PCA, it was anticlimactic. Had Bill Clinton or Tupac Shakur showed up in a navy blue PokerStars hoodie, then there would've been a story, but everybody knew it was going to Blom thanks to Tony G and others. Blom proceeded to play a silent, uneventful heads-up session with Bertrand "ElkY" Grospellier, then seemingly never said a single word for the better part of two years. Sure, there was the SuperStar Showdown, but you don't need to give Blom a sponsorship deal for him to play four or more tables of heads-up poker against great players.
Blom had no interest in speaking to the media — we were told that he was "camera shy." He frequently played the "can't speak English card," even though Luke Schwartz appears to be one of his best friends. And finally, he rarely (if ever) interacts with his fans.
You can't be a Team PokerStars Pro if you don't care about being a Team PokerStars Pro.
Blom deserves all the credit it the world for acknowledging this, because I'd much rather him admit that he just wants to play poker than half-ass being a pro. Thanks for being honest, Mr. Blom, and good luck in the Thunderdome come November.
5. Juanda talks Full Tilt Poker
On Day 2 of the EPT Barcelona €50,000 Super High Roller, Kristy Arnett got a chance to talk with former Team Full Tilt member John Juanda. Juanda told Arnett that though he wasn't involved with the management of the company, he felt bad for the people who had money frozen on Full Tilt.
At the beginning of the 2011 WSOP, Juanda was verbally assaulted by James Bord, who reportedly had a lot of money frozen on Full Tilt. Bord called Juanda a "thieving prick," a "disgrace," and threatened to "beat his ass" in the parking lot. Juanda quickly called the floor, and Bord was removed from the Amazon Room.
From watching his interview with Arnett, Juanda appears to be speaking both candidly and truthfully. The anecdote about him having to play super satellites to gain entry into the Main Event is a bit over the top, but there was a time when he, Allen Cunningham, Phil Ivey, and Daniel Negreanu were the "young crew" in Vegas, and were forced to grind their way to the top. All four obviously succeeded, and have since established themselves as top professionals in the game.
Juanda is very bright, and like a professional athlete, he said all of the right things to Arnett. This is a skill that's definitely helped him play in the biggest games in Macau, and it's probably helped him at the poker table once or twice.
We look forward to hearing from more members of Team Full Tilt in the wake of PokerStars' settlement with the Department of Justice, especially Tom Dwan who promised to write a blog several weeks ago, but has yet to do so.
Follow PokerNews on Twitter for up-to-the-minute news.