Indians dominating at APT Manila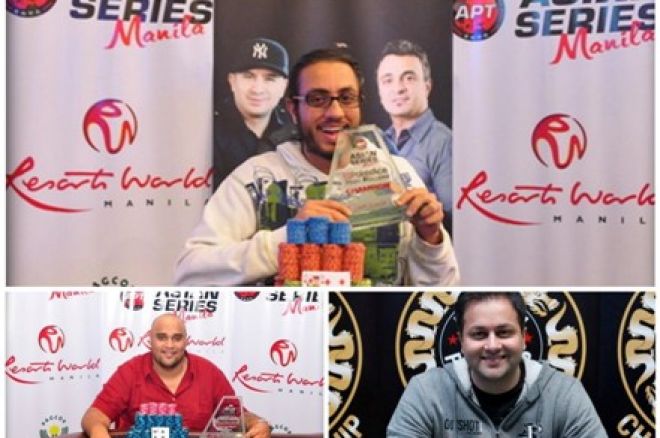 Indian pros and amateurs are participating in the Asian Poker Tour's latest leg in the Philippines. We will bring you daily updates as we get them from Resorts World Manila.
After what can be termed as a successful outing at the MPCC event in Macau, Indian players have now headed to Manila to participate in the APT Asian Series Manila which will go on from 19-25 September at Prosperity Court located in Resorts World Manila. This stop of the APT will feature a Main Event with a buy in of PHP 50,000 (INR 65,000) with 10 side events, 6 satellites as well as a Charity Event benefitting the Rotary Club of Makati North's Feed A Child, Build A Nation Program.
Day 7 Updates and Highlights
Always nice to turn a small investment into a profit and in the case of the Philippines' Jav Medina, small meant a Php 300 satellite (INR 384) and profit was a massive Php 35,21,000 (roughly INR 45 lacs).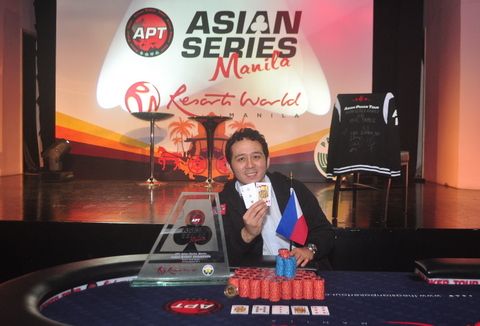 It was a good day for the locals as three Filipinos made it to the final table of eight. While Thomas Ward was the chipleader going in, Medina wasn't too far behind holding the second biggest stack. He played it quietly till they were down to five and then was forced to shift gears when he soon became one of the shorter stacks. After surviving a couple of all-ins and coming out with the better hand in some big pots later, he eventually went into headsup with a 2:1 over Japan's Tetsuya Tsuchikawa who eliminated Soo Seung Jeon from Korea in 3rd place. The final hand of the night saw some major raising and re-raising action on a flop of
before all the money finally went into the middle. Medina was well ahead with
making two pair against the
of Tsuchikawa.
and
on the final two streets meant that the Asian Poker Tour's Manila Main Event trophy would stay well and truly home in the hands of Jav Medina. Many congratulations to Jav on his victory.
There were no notable finishes by anyone from the Indian contingent in the final two side events of the APT schedule. And that's it for the live updates of this Asian Series from APT Manila. If there was any doubt that Indians are making their presence felt in the Asian region, its been blitzed by their superb performances in Manila and earlier in Macau. Three trophies come to our shores and these positive results should hopefully revitalise the live tournament scenario back home.
While this tournament has come to an end, there is more live coverage you can catch from the domesDon't forget to catch live coverage of the Golden Aces Poker League tournament from Goa from 11-14 October only on PokerNews India. Till then...
Day 6 Updates and Highlights
24 Sep, 22:20 IST - Well that's it for the Indian challenge in the APT Main Event as the players head off to either catch up on their sleep to be in time for the last side event which will happen alongside the final table of the Main Event. At the point, Thomas Ward seems to be the chipleader with just under a million in chips.
24 Sep, 21:57 IST - Just 3 short of the final table sees Rajeev Kanjani bust out in 11th place. He had been riding his short stack pretty successfully for the last 4 blind levels never really getting above the 10xbb mark but getting into the higher payout brackets as other short stacks fell around him.

Rajeev Kanjani, 11th in the Main Event

Finally Kanjani woke up with and committed his paltry stack into the middle and found he was ahead of chipleader Thomas Ward's . But the poker gods do not oblige the Mumbai player when the board runs giving Kings up to Ward and knocking out Rajeev Kanjani who will receive Php 242,000 (INR 3,10,000) for his efforts.

24 Sep, 21:15 IST - 13 players remain including Rajeev Kanjani and he needs to outlast another bustouts to make it to the final table.
24 Sep, 20:07 IST - The Indian challenge is now down to just one player as John Tech holding has eliminated Raul Fernandez who shoved all-in with when a flush possibility and bottom pair opened up on the flop . The pair is negated when Tech hits on the turn leaving Fernandez with slim hopes of hitting a Queen, Three or heart to give him the pot and survive elimination. There is paint on the river but not what he wanted. And so that will do it for Fernandez who exits in 21st place and takes home a payday of Php 128,000 (INR 1,63,000). Rajeev Kanjani is now the lone Indian hope in this field although with just about 40000 (4xbb) behind him, this will be an uphill task. 13 more knockouts till we reach the final table.
24 Sep, 19:38 IST - Rajeev Kanjani and Raul Fernandez have made the money in the Main Event which now has 21 players remaining. Play is expected to continued till the 8-handed final table is set. In side event news, Abhishek Goindi finishes in 8th position in the Pot Limit Omaha event.
24 Sep, 18:01 IST - With 38 players remaining, hand-for-hand play is now taking place because we will bust the money bubble with the next two eliminations.
24 Sep, 16:48 IST - 42 players still remain in the Main Event which means we are 6 eliminations away from the money bubble.
24 Sep, 16:36 IST - Along side the Main Event tables, there is also Event 8: Php 11,000 Pot Limit Omaha Hi taking place. With the 80 player field now down t 2 tables, Abhishek Goindi is hoping to make yet another deep run after a disappointing end to his Main Event campaign last night.
24 Sep, 15:41 IST - Rajeev Kanjani is also a bit of a spot with just about 10 big blinds behind him. But the other Indian remaining in the field, Raul Fernandez is sitting pretty deep at this moment.
24 Sep, 15:25 IST - It does not seem to be the Headhunter winner's day as Sangeeth Mohan crashes out of this Main Event. No traction for the big man as his Aces got cracked early on in huge pot. In his final hand, Mohan shoved all-in with when faced with South African Conrad Coetzer's raise of 6500 and would have won the pot too because he folded when Thomas Ward in the big blind made the call. Mohan sees he is in big trouble when is turned over by his opponent. And with the board showing him no love, that'll do it for Sangeeth Mohan in this Main Event.
24 Sep, 14:06 IST - Rajesh Goyal has busted in 58th place. Sangeeth Mohan has a decent sized stack however Rajeev Kanjani has now dipped below the 20BB limit.
24 Sep, 13:01 IST - A huge number of knockouts as we lose a third of the remaining field in a matter of three blind levels. Currently 81 players are left.
Day 2 of this APT Main Event is underway with 116 survivors of the two starting flights. Sangeeth Mohan, Rajesh Goyal, Raul Fernandez and Rajeev Kanjani seem to be the only Indians left in the field.
Day 5 Updates and Highlights
23 Sep, 19:32 IST - And as Day 1b draws to a close, its been a good outing for a couple of the Indians still remaining in this Main Event. At 5th position for the day is Sangeeth Mohan,well stacked at 73000 as is Rajeev Kanjani at 66000 holding on to 8th position. In the middle of the pack at 24th position lies Rajesh Goyal with 40500. They will be looking to not only survive Day 2 tomorrow but also make a deep run into the final 36 and therefore the money. But the big stack of the day belongs to Guam's Joshua Chargualf who holds a monstrous 148900, by far holding the heaviest stack across both starting days and certainly well ahead of Day 1a chipleader Raul Fernandez (118000). South Africa's Stuart Brodie (98200) and local player Jessie Leonarez (87500) complete the top 3 for this day.
23 Sep, 19:07 IST - Highroller event winner Abhishek Goindi has busted out of the Main Event. With the blinds at 400-800-100 in 10th and final level of play for the day, Goindi with pocket Sevens moved all-in against Andrew Nguyen who was more than happy to call with his pocket Aces. Needing to desperately hit that two outer, the board of however does not oblige and that will do it for Abhishek Goindi's run in this Main Event.
23 Sep, 17:02 IST - Sameer Rattonsey has been eliminated.
23 Sep, 13:59 IST - Jasven Saigal has busted from the Main Event. His co-Director at Aces Unlimited, Rajeev Kanjani is doing quite well though with a stack of 57000 chips.
23 Sep, 13:37 IST - Chipcounts of some of the players - Rajeev Kanjani leads with 35000, followed by Abhishek Goindi (25000), Sameer Rattonsey (15000), Sangeeth Mohan (14000), Jasven Saigal (12000) and Rajesh Goyal (7000).
23 Sep, 13:12 IST - Tournament Director Lloyd Fontillas has just announced the final prizepool which stands at Php 14,253,200 and the last 36 players who survive from the 316 strong field will make the money.
23 Sep, 12:33 IST - Raul Fernandez from India ended Day 1a as chipleader with 118,000 chips. Who will join him at the top of the chip counts at the end of Day 1b?! 10 levels of play will determine that soon enough.
23 Sep, 12:29 IST - The final count of players for today is 149 making it a combined total of 316 players. A fair dip from the August numbers but with the prizepool now standing at just under Php 15 million (about INR 1.8 crore), it still makes for a hefty first place purse of Php 35,21,000 (INR 45,21,000).
23 Sep, 11:01 IST - Sangeeth Mohan, Abhishek Goindi, Sameer Rattonsey, Jasven Saigal and Rajeev Kanjani will be taking to the felt today and we also have Rajesh Goyal who is taking his second shot at this Main Event today.
And here we are with Day 1b of the APT Manila Main Event. The final opportunity for busted players from yesterday to give it another go and of course we will have plenty of new players playing too including most of the Indian contingent who decided to play this second starting flight instead of the first. Update: There are currently 118 players who are in but that number should go up by the time late registrations end for this Main Event.
Day 4 Updates and Highlights
22 Sep, 21:11 IST - Well it seems the tricolour continues to fly high at the Main Event! At the time of publishing this, Raul Fernandez from India is the Day 1a chipleader with 118,000, followed two Aussies in Jhana Hale (99,100) and Paul Walter Satzke (97,800) rounding off the top 3. Hoang Anh Do, winner of APPT Cebu back in April is also in the Top 10 along with MPCC Main Event 2010 winner, Julian Hasse who are in 10th and 9th place respectively. We will be back to bring you more updates from Day 1b when action starts tomorrow at 1:00pm local time.
22 Sep, 19:45 IST - That's it for the end of Day 1a which saw a total of 167 runners at the end of which only 61 remain to carry on their fight to this Main Event title Monday's Day 2. Even with the expected increased turnout for Day 1b tomorrow, it seems unlikely that this Manila edition will break its August number of 396. But making the 350 mark is certainly a good possibility which will make for a very healthy prizepool in excess of 10 million pesos (a little over INR 2 crores).
22 Sep, 18:30 IST - Not a good day at the office for the Indians as they've all busted out of the side event as well as the Main Event. So tomorrow will be the big day when everyone turns up in force to take on Day 1b of the Main Event.
22 Sep, 13:17 IST - We weren't entirely wrong about the celebrations, probably one of reasons that most of the Indian players have decided to participate in Day 1b rather than today's Day 1a. However many of them are likely to play today's side Event 5: Php 11,000 Freezeout. One name which is waving the India flag today is Rajesh Goyal who came into Manila a couple of days back and has got into the action at the Main Event.
22 Sep, 11:11 IST - Well after the excitement of Abhishek Goindi's victory at the Highrollers last, we're quite sure some raucous celebrations must have taken place but today is the start of the Php 50,000 Main Event here at the APT and we expect at least a few of the Indian contingent to be participating today. Aside from Goindi, we expect Jasven Saigal and Sangeeth Mohan to take the felt today as these players like to take another shot tomorrow at what could potentially be a massive prizepool in case they bust out of today's Day 1a. Sameer Rattonsey is not playing today, preferring to play on Day 1b and we have yet to receive word on Rajeev Kanjani. Stay tuned as we will keep you updated on their progress.
This is it! What all the players coming to a poker event look forward to - the Main Event! And today is Day 1a of this APT Manila Main Event which features a buy-in of Php 50,000 (INR 64,000). Player receive a starting stack of 15000 chips and will play 45 minute blind levels. Along with a fresh set of players, tomorrow's Day 1b also allows the opportunity for busted players from Day 1a to re-enter.Update: There are currently 160 registered players generating today's share of the prizepool at Php 74,40,000 (INR 95,23,000). While that is certainly not the final number for today, this Main Event will have to crack the 400-mark across the 2 starting days if they are to break the Php 18.5 million that was generated during the August edition of this event. That edition's winner Vic De Guzman who won Php 53,59,000 (INR 68,60,000) will be back to defend his title and is in fact participating on Day 1a.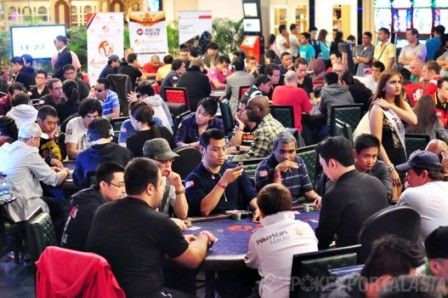 Php 18,500,000
Day 3 Updates and Highlights
22 Sep, 03:49 IST - Abhishek Goindi defeats Kiwi Daniel Francis in headsup to take down the Php 100,000 Highrollers title and trophy along with a first place prize of Php 16,04,000 (INR 20,53,000). He had been battling with a short stack for a significant part of the day but as he got closer to the title, Goindi went from strength to strength in chips and determination to take it down. And so he did highlighting yet another fantastic Indian performance at APT Manila. His victory means that Indian players have won 2 titles and a runner-up finish in last three days. Today is Day 1a of the Main Event set to start at 1:00pm local time and we can hopefully look forward to more deep finishes by the Indian contingent in this as well.

Abhishek Goindi, winner of Event 3: Php 100,000 Highroller

22 Sep, 00:12 IST - The money bubble has long since been busted and Abhishek Goindi continues to make his run at this Highrollers title with the final 4 players remaining in the hunt.
21 Sep, 18:51 IST - As we head to the money bubble, there are 8 players still left with the final 6 making the money. Goindi still in.
21 Sep, 20:48 IST - Sangeeth Mohan is knocked out in the 13th place.
21 Sep, 18:51 IST - Down to the final 2 tables and Mohan has a better-than-average stack but Goindi is nursing a lesser number of chips.
21 Sep, 17:59 IST - 22 players still playing in the Highrollers including Sangeeth Mohan and Abhishek Goindi.
21 Sep, 16:19 IST - Rajeev Kanjani has busted out.
21 Sep, 15:22 IST - With blinds at 500-1000, here are the chipcounts of the remaining Indian players in the fray leading the way with Rajeev Kanjani on 37,000 followed by Sangeeth Mohan on 30,000 and Abhishek Goindi is the shortstack with about 16,000.
21 Sep, 14:41 IST - Sameer Rattonsey has been eliminated from the Highroller event. Sangeeth Mohan, Rajeev Kanjani and Abhishek Goindi are still in.
21 Sep, 14:52 IST - Another big pot lost by Rattonsey when his flopped set is undone as his opponent hits runner-runner for a straight.
21 Sep, 13:17 IST - After building his stack to about 50000, Sameer Rattonsey's spiked the Ace on the flop in a big pot. Unfortunately for him, his opponent had and slashed Rattonsey down to half his stack.
21 Sep, 12:47 IST - And it seems Jasven Saigal's travels have caught up him. Saigal, who came in straight from the airport, to participate in the Highrollers is the first Indian casualty in this event.
21 Sep, 12:17 IST - Today the existing group of Indian players; Sangeeth Mohan, Abhishek Goinidi, Rajeev Kanjani and Sameer Rattonsey is joined by another pro, Jasven Saigal.
21 Sep, 11:51 IST - The final count of players in Event 3 is 49. So first place prize will be about Php 17,15,000 (INR 22,00,000). Starting stack for today's event is 25000 and blind levels will be 40 minutes in duration.
The start of the weekend has Event #3: Highrollers taking place side-by-side with Event #4: Ladies of Poker with the former featuring a buy-in of Php 108,000 (INR 1,38,500) and the latter with a buy-in of Php 5500. Update: The total prizepool for the Highrollers event is Php 49,00,000 (INR 62,85,000) so first place prize is expected to be about Php 17,15,000 (INR 22,00,000) and with only the top 6 making the money today. So min-cash will be Php 392,000 (INR 5,02,000)
Day 2 Updates and Highlights
20 Sep, 20:00 IST - Sangeeth 'Samoh' Mohan defeats his opponent in heads up and wins event 2 Php 8,800 Head hunter for a payday of Php 194,000.
20 Sep, 19:35 IST - Down to 3 and Mohan is still in the chiplead.
20 Sep, 19:24 IST - Sangeeth Mohan is very much in the hunt however and is in fact the current chipleader with 4 players left.
20 Sep, 19:09 IST - Well after that rough beat, Abhishek Goindi wasn't able to last for long getting knocked out in 7th place.
20 Sep, 18:53 IST - 7-handed play is currently on with Goindi and Mohan still making a go of it. Although in the last blind level, after having chipped well, Goindi was this time the recipient of a bad beat when his lost to .
20 Sep, 17:22 IST - Goindi and Mohan make it to the final table of Event 2. Mohan seems to be the second or third biggest stack on the table.
20 Sep, 15:57 IST - Goindi with gets some respite by knocking out a player who had . Unfortunately for India though, the player who received the bad beat was Rajeev Kanjani.
20 Sep, 15:20 IST - Mohan currently has 40,000 chips, Kanjani has 24,000 and Goindi is on the short stack.
20 Sep, 14:52 IST - 38 players remain from the intial 120 and the 3 Indian players are still in with Sangeeth Mohan on a good sized stack with Kanjani and Goindi battling it out with shorter stacks.
20 Sep, 13:02 IST - Sameer Rattonsey who finished 2nd in yesterday's tournament is the early casualty from the same Indian contingent as yesterday including Sangeeth Mohan, Abhishek Goinidi and Rajeev Kanjani.
20 Sep, 11:28 IST - The final count in Event 2 is 120 players which makes the prizepool a shade under the 7-figure mark at Php 960,000 (INR)
Thursday sees Event #2: Headhunter get underway at Resorts World Manila with a buy-in of Php 8,800 (INR 11,500). This event sets aside Php 1,500 from each buy-in as that player's bounty which needs to be handed over to the person who eliminates him/her. Update: The total prizepool for this event stands at Php 780,000 (INR 10,15,000) so first place prize is Php 191,000 (INR 2,48,500) and with the final 18 getting paid, these players can expect to take home a minimum of Php 13,500 (INR 17,500)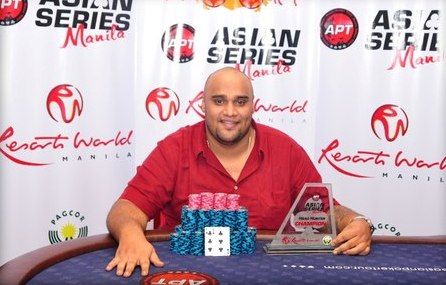 Day 1 Updates and Highlights
19 Sep, 20:07 IST - Sameer Rattonsey finishes in 2nd place in Event 1 of APT Manila and score Php 125,000 for his efforts.
19 Sep, 19:50 IST - Headsup is still on and while Rattonsey is still behind his opponent, he has managed to claw his way to a 2:3 ratio.
19 Sep, 18:56 IST - Rattonsey is now playing headsup but he is on the short stack.
19 Sep, 18:28 IST - Down to 3 players now.
19 Sep, 18:16 IST - The 5-handed final table is set. Rattonsey still in.
19 Sep, 17:10 IST - Money bubble has been busted. The remaining players are now guaranteed a min-cash of Php 32,000.
19 Sep, 16:58 IST - The money bubble is upon us as play is now running hand-for-hand with 10 players left. Average stack is 51000 and Sameer Rattonsey has currently got about 65000 chips.
19 Sep, 15:43 IST - Play has now moved into the 4-handed stage with 16 players remaining and Rattonsey has a pretty good stack at the moment.
19 Sep, 15:18 IST - 19 players remain with Rattonsey on a stack of about 40,000 chips.
19 Sep, 15:08 IST - Rajeev Kanjani is knocked out with 21 players left.
19 Sep, 13:11 IST - Kanjani and Rattonsey are shortstacked but gamely hanging on with 29 players still in it.
19 Sep, 13:18 IST - 41 players remain in Event 1 including Kanjani and Rattonsey.
19 Sep, 13:11 IST - Abhishek Goindi gets eliminated.
19 Sep, 12:44 IST - Sangeeth 'Samoh' Mohan is the first Indian to bust out of Event 1.
19 Sep, 11:15 IST - A total of 73 participants in Event 1: 10-6-4 Handed with a buy-in of Php 11,000 (INR 14,300 approx). As we understand, India is being represented today by Sangeeth 'Samoh' Mohan, Abhishek Goindi, Rajeev Kanjani and MPCC Event 6 winner Sameer Rattonsey.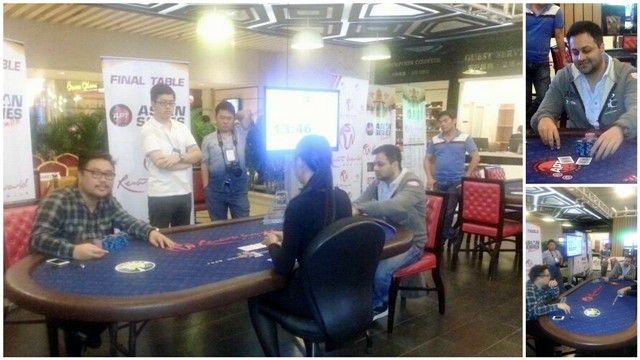 A midweek start to this leg of the APT Asian Series is kicked off with the introduction of a brand new event. Event #1: 10-6-4 Handed which starts at 1:00pm local time (+2.5 IST) has a buy-in of Php 10,000+1,000 for which players receive a starting stack of 7000 and will play blind levels which are 25 minutes long. This new format sees players play 10-handed at a table, then shift to 6-handed and yes, eventually ending it a 4-handed till we end up with a last man/woman standing. Update: The total prizepool for this event stands at Php 730,000 (INR 9,47,000) so first place should get about Php 202,000 (INR 2,62,000).
Image courtesy: www.theasianpokertour.com