Five Thoughts: A Six-Figure Hyper Turbo
Rich Ryan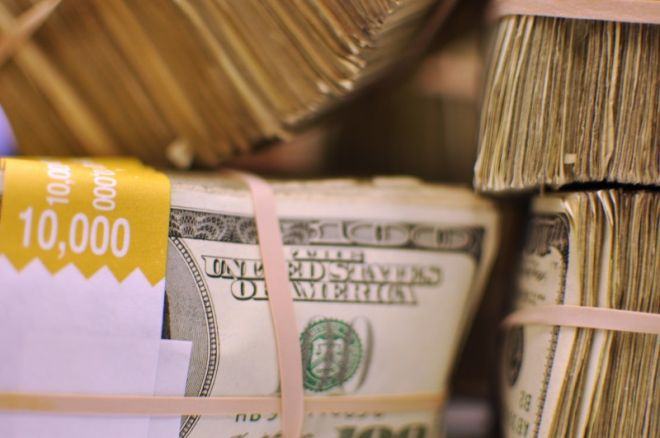 Who's up for a one-day, HKD$2,000,000 (USD$260,000) superturbo tournament?
On Friday, 73 sickos — including Phil Ivey, Sam Trickett, John Juanda, Brian Rast, and Andrew Robl — gathered the Starworld Casino's Poker King Club to compete in the Macau High Stakes Challenge. As if the six-figure buy-in wasn't high enough, 21 players fired a second bullet — yes, this was a re-buy event — creating a prize pool of HKD$182,360,000 (USD$23,511,000).
The poker world was on edge during the event — especially when Trickett, Juanda, and Ivey made the final table.
1. Flipping for millions
"Asian businessmen" who frequent Macau and Australia hate two things: publicity and long tournaments. PokerStars' super high-roller events tend to stretch over at least two days, but the two six-figure events at the Aussie Millions and this Macau High Stakes Challenge were one-day events. This was because the PokerStars events tend to have more grinders, while the events in Asia consist of these "Asian businessmen," who have no interest in sitting around and picking their spots. They're there to gamble.
Why waste dozens of hours to lose HKD$2,000,000 when you can lose it in an hour and start up a cash game? And when there's no cash game going, there's usually action heating up at the Baccarat table.
Even worse than long tournaments is publicity. Unfortunately for fan boys, neither Ivey (9th, USD$822,965), Trickett (7th, USD$999,213), nor Juanda (5th, USD$1,645,800) won the event on Friday. The winner was Stanley Choi, who earned USD$6,465,746 with his victory.Zhu Guan Fai (USD$4,349,735) heads up.
A quick Google search for "Stanley Choi" teaches us nothing about the winner of the largest non-WSOP prize in tournament poker history. Type in "Zhu Guan Fai," and you won't find anything meaningful on him either. Despite their relative anonymity, Choi and Fai are ranked 43rd and 98th respectively on Hendon Mob's All-Time Money List.
Neither player has a country flag next to his name. I'm surprised the hard working people at Hendon Mob didn't create an "Asian businessman" flag.
In the past, I've defended six-figure buy-in events. They're special, they create a lot of buzz, and there's a defined group of players who we enjoy watching that will always play in these events. However, this event rubbed me the wrong way because there was limited coverage. PokerAce fed the public bits and pieces about this massive event, but we weren't fully exposed. The vast majority of information about the tournament and its entrants was left on the poker room floor.
Anonymity is very important to some of these players, and if there are cameras everywhere, they probably wouldn't play, but you can't half-report a tournament as important as this one. Either welcome a real live-reporting team and camera crew to properly document the tournament or close the doors completely. The players can tweet and Tom Hall can leak information to TwoPlusTwo, but don't selectively release information and call it "coverage."
If this multimillion-dollar coin-flipping tournament was meant to take place behind closed doors, then close the doors. But don't crack the door open and show us only what you want us to see. That accomplishes very little, and is an insult to the relatively well-informed poker audience.
2. Negreanu vs. TwoPlusTwo…again
"Mason Malmuth and that kook moderator are greasy, slimy, nerdy, nutcases and they make me sick."
That's a direct quote from Daniel Negreanu, who blasted TwoPlusTwo on his own forum at FullContactPoker.com. "Kid Poker" — who's had problems with TwoPlusTwo in the past — is angry because moderators at the site deleted a thread regarding the 22Q Foundation.
According to The Examiner, starting Monday, the foundation began hosting a "50+ hour poker podcast dubbed 'The Ironman Podcast.'" To promote this event, members of the foundation went to TwoPlusTwo to promote the event but were met with opposition from moderators.
Malmuth posted the following in response to Negreanu's textual rant:
Hi Everyone:

It's our policy at 2+2 not to allow for solicitations of money on the website, and with very few exceptions, we enforce this strictly. If we didn't, it should be clear to everyone that www.twoplustwo.com would quickly be overrun with such requests.

By the way, if we were to allow this, the first charity that would appear is the Mason and Charmaine Malmuth Foundation. This is a private charity that my wife and I set up in January of 2007, and by the end of this year, we will have given away approximately $150,000.
The 22Q Foundation is wonderful, and they selflessly fight to improve the lives of people affected by 22q11.2 syndrome, but Malmuth has the right to protect the posters on the forum. Likewise, if someone created a fake foundation — in no way, shape, or form am I accusing the 22Q Foundation of being fake — then Malmuth would be liable for the damage.
Hopefully Negreanu isn't as angry as he was when he scripted his rant because thanks to his response (and this 208-post thread about the situation), both the foundation and "The Ironman Podcast" gained plenty of attention even without their own thread. The show will end at approximately 8 a.m. PDT on Wednesday, and according to the PokerFraudAlert.com, the guest list includes Greg Raymer, Jonathan Little, Greg "FBT" Mueller, Andy Frankenberger, Victor Ramdin, and our own Tony G.
3. Straddle drama
The World Poker Tour Legend of Poker Main Event wrapped up at the Bicycle Casino in Los Angeles last Wednesday. Josh Hale, who entered the final table with a massive chip lead, lost it, and then regained it during heads-up play and won the tournament. Hale pocketed $500,000, received some shiny hardware, and earned a seat into the illustrious 2013 WPT World Championship.
Hale survived a final table full of tough players, including notables Jeff Madsen (6th, $75,400), Greg Mueller (5th, $97,100), and Ali Eslami (4th, $133,700).
After the event, Allen Kessler accused Eslami, Ray Henson, and "I believe Dan Fleyshman and a few other pros" of agreeing to raise blind preflop. Henson posted on his Facebook page that there was no agreement, and it all began because Eslami was moved to the table and began raising blind under the gun for several orbits. According to Henson, "Another player decided he was going to do it, and another and another, pretty soon the entire table was goin it almost every time."
Eslami responded on Facebook, as well, saying, "I was just doing it to amuse myself. Anyone who plays with me knows I do lots of goofy things at the table."
This is 100 percent true, this past summer at the 2012 World Series of Poker, I watched Eslami and Maria Ho sing "A Whole New World" from Aladdin.
Eslami added that, "As a meta point, I think poker has lost a lot of the attraction that made the game one of the longest lasting successful games in history…It is designed as a social game where people can gather and chat and ball-bust and have an adventure."
In response to the drama, Matt Savage, the executive tour director of the WPT, contacted several poker rooms , including the Bike, to make sure this doesn't happen again. Kessler has since apologized to Eslami, Henson and other members of the table for wrongly accusing them of "agreeing" to blind-raise, yet he still thinks that what they did was improper.
Personally, I think that the straddling is good for the game, and calling it "collusion" is a very nitty interpretation of the rule. Eslami is right about the "fun factor" missing in poker, and Brian Rast added to this with a lengthy post of his own on a separate thread. The players who were straddling weren't negatively affecting the tournament, they weren't acting maliciously, and most importantly, they were having fun.
Rather than listening to music and grinding quietly, these players interacted and enjoyed one another's company, and it's unfortunate that Kessler had to go all Kessler and immediately complain. As long as it's not malicious, and it doesn't give a player a measurable edge, then I want as much fun as possible restored in the poker world.
4. WCOOP is upon us
Sunday marked the beginning of the 2012 PokerStars World Championship of Online Poker. "Rest of World" players and U.S. citizens willing and able to flee the country for a few weeks will be grinding from now until Sept. 23. The series will culminate with a $5,200 Main Event where the first-place prize is guaranteed to be at least $1 million.
Five events are in the books, and your 2012 WCOOP bracelet winners are "ezepoker90" (Event #1), "ASIAAN" (Event #2), "Utvekklo2" (Event #3), "Raaadzio91" (Event #4), and "RenRad 01" (Event #5). "Flush_Entity" has cashed in four of the five events thus far — Aaron "aejones" Jones and a dozen others have cashed in three — and six Canadian players have reached a final table.
With 2,756 players competing thus far, Russia has been the most well-represented country. Canada (2,605), Germany (2,316), United Kingdom (1,962), and Sweden (1,005) are the only other countries with four-figure representation.
For further coverage of the 2012 WCOOP head on over to the PokerStarsBlog, and check out PokerStars Radio.
5. Razavi conquers Melbourne
The 2012 PokerStars.net Asia Pacific Poker Tour Melbourne Main Event wrapped up on Sunday, and Sam Razavi was the winner. Razavi banked $339,745, which is his largest live-tournament score to date — his previous largest score came in January 2011, when he finished sixth in the AUD$10,000 Aussie Millions Main Event ($222,530).
Brendon Rubie, a hometown favorite in the event, entered the final table fourth in chips but was the first to exit, busting in ninth place ($27,175).
After winning, Razavi sat down with our own Lynn Gilmartin:
It's refreshing to see a poker player smile and hear them say, "I feel amazing" after winning a tournament. Seriously. I don't think I can truly express how happy I was watching this man be happy.
Razavi Tweeted this on Monday:
@WilliamPowell14 @WERRRRD @SenseiChanning Recovering from the $5K I spent on sushi and champagne last night :0-

— Sam Razavi (@Sam_Razavi)
Congrats to Razavi, who evidently invited some very deserving members of the poker media to the after party. The more excitable, smiling, media-friendly players we have nowadays the better.
Follow PokerNews on Twitter for up-to-the-minute news.