Five Thoughts: The Guarantee That Wasn't...Then Was – Again
PokerNews Staff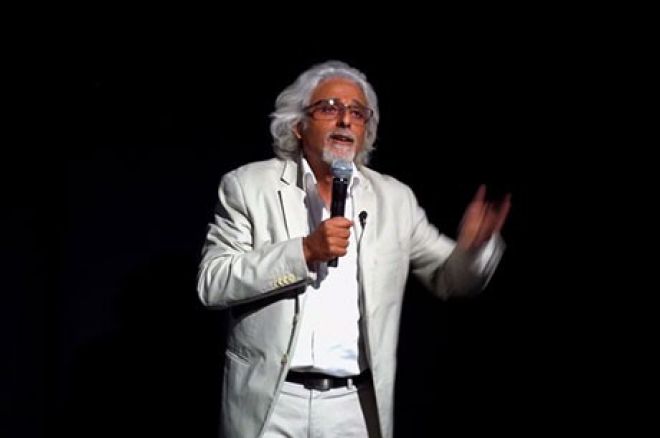 In 2012, it's nearly impossible to cover up lies or mistakes. Even if you don't use any of the popular social media platforms, the people that you interact with probably do and can quickly disseminate whatever you tell them. If you tell Person A that you can't hang out because you're staying at home, but instead you go hang out with Person B, it's very easy to get caught.
Just look on Facebook that evening when Person B posts: "OMG having the best day ever! – With Person C."
There are some things that are harder than lying. For example, riding a unicycle isn't easy. Rubbing your stomach while patting your head takes supreme concentration. And, perhaps most difficult of all, trying to make a €5,000,000 guaranteed prize pool disappear into thin air is nearly impossible.
Well, maybe not impossible — Patrick Partouche would've gotten away with it if it hadn't been for those meddling poker players!
1. No overlay for you!
Last week, the Partouche Poker Tour (PPT) Main Event attracted 573 players, creating a prize pool of €4,264,580. This figure was €735,420 short of the €5 million guaranteed prize pool, but Patrick Partouche, the CEO of Groupe Partouche, and other members of the PPT staff, told players there was never a guarantee.
Well, the players went bananas.
I can definitely "guarantee" one thing. The 57 players that cash partouche aren't going to be tipping. #pardouche

— Jason Mercier (@JasonMercier)
Everyone we need as much proof as possible that the Partouche ME has a 5 million guarantee, please gather as many screenshots as you can.

— Todd Terry (@toddbterry)
Everyone at Partouche expected a 5 mil guaranteed prize pool. Staff is saying it was never guaranteed. I found proof: http://t.co/heDB7Vz7

— Justin Bonomo (@JustinBonomo)
Worst of all, the PPT knowingly changed its banners to remove any mention of a "guaranteed prize pool of 5 MILLION EUROS."

Amid the controversy, Partouche Director of Marketing Jean-Jacques Ichai submitted a letter of resignation to the company, apologizing for the mix up. Partouche himself was not interested in apologizing, however. Instead, he lashed out at the players and cancelled the PPT.
The good part starts at 5:54 when Tristan Wade confronts Partouche.
"I know how to write," Partouche spat at Wade. "If you don't know how to read, it's your problem."
After putting a clown suit on himself on video, Partouche then reneged on this reneging, announcing the following day that the prize pool would in fact be guaranteed. Score one for the poker community.
Partouche was right when he said that poker players tend to complain — just troll TwoPlusTwo's News, Views and Gossip and you'll believe me — but in this situation, the players had every right to protest. Guaranteed prize pools play a very large roll on the live tournament circuit because they create buzz and entice people to play when they otherwise wouldn't, and to blatantly lie about a guarantee is beyond unethical, it's downright scummy. Had the PPT actually reneged on the guarantee, they would've basically stolen €735,420 from the poker community.
Poker is on the rise in France. EPT Deauville is one of the most popular stops on the PokerStars.net European Poker Tour. The World Poker Tour Grand Prix de Paris is a special tour stop in the heart of the capital. The World Series of Poker Europe moved from London, England, to Cannes, France, in 2011. And the PPT has become a staple for grinders who head to Europe in preparation for the WSOPE. All of this momentum could've been undone had Partouche robbed from the poker community, and even though he did the right thing, the country still might receive a hit from non-European players.
For now, we can celebrate the good news. Ole Schemion took down the event, earning €1,172,850. Dan O'Brien (4th, €341,991) and Dan Smith (7th, €178,496) also made the final table.
2. Easy for Elias
On Sunday, the 2012 World Championship of Online Poker heated up on PokerStars with the start of Event #22 $10,300 NLHE. Two hundred and ninety-seven players took to the virtual felt, generating a prize pool of $2.97 million — more than double the guarantee. Eighteen Team PokerStars Pros competed for the top prize of $574,695 and a shiny WCOOP bracelet, but only two members of the team cashed. Leo Fernandez (40th) and Daniel Negreanu (37th) crawled into the money, and Ville Wahlbeck was eliminated on the stone bubble.
Several notables reached the final table, including Matt "ch0ppy" Kay, Paul "Paolo69" Foltyn, Chris "ImDaNuts Oliver[/b], Jonathan "MONSTER_DONG" Karamalikis, and Darren "darrenelias" Elias. Karamalikis was the first to go when he ran two tens into Elias' pocket jacks. The jacks held, and Elias added to his massive chip lead. Karamalikis had to settle for the ninth-place prize of $51,975.
Oliver was out next. It was his turn to get it in with two jacks, and he was racing against Elias' ace-king. The flop and turn were both dry, but an ace spiked on the river, eliminating Oliver in eight place ($71,280). Elias, who had more than half of the chips in play at this point, then eliminated Kay in seventh place ($100,980). Elias' ace-king crushed Kay's ace-queen, and Elias held on to record his third knockout at the final table.
Foltyn, after nursing a relatively short stack during the entire final table, was finally eliminated in fourth place ($245,025) by "Shhh00kem". Foltyn was ahead preflop with ace-queen against king-seven, but a seven on the turn eliminated him from play.
Eventually, Elias found himself heads up with "Shhh00kem." Elias relinquished his massive chip lead at the start of the match, but quickly regained it when he flopped a set of eights and "Shhh00kem" bluff-shoved with king-high. Elias snapped it off, doubling his stack, and he never looked back. On the final hand, "Shhh00kem" flopped a king-high heart flush draw and called an all-in bet from Elias, who had wired sevens. The turn and river were both red, but they were both diamonds and neither was a king.
Elias, who has over $1.37 million in career live-tournament earnings, earned $574,695 for the victory along with his first career WCOOP bracelet.
3. Grand Prix de Paris begins
On Monday, the World Poker Tour Season XI Grand Prix de Paris began at the Aviation Club de France (ACF) in the heart of Paris, France. This is the eighth time that the WPT has visited the ACF, and several past champions were in attendance including David Benyamine (Season II, $430,969), Theo Jorgensen (Season IX, $782,818), and Matt Waxman (Season X, $729,886). Only Jorgensen (77,000) and Waxman (37,900) survived the day, Benyamine was eliminated before the dinner break.
The ACF is an awesome venue for a poker tournament. Personal space in the tournament room may be a bit limited, but where else do you need to be fingerprinted to play poker? The lounge is filled with antique bookshelves, high-class furniture and pleasant paintings, and more often than not, you'll see a waiter scurry about with a very expensive bottle of wine or champagne. It really feels like a place for high-stakes gambling, and I'm sure if I peek my head around the corner and take a look in the cash-game area it won't disappoint.
The chip leader after Day 1a is Jacques Enjoubault, who finished with 225,200 chips. With 51 players remaining, the average stack is approximately 56,470 — which means Enjoubault has nearly four times the average stack. The Frenchman won a very sizable pot during the last level of the evening on Monday when he flopped an open-ended straight flush draw against Mickael Layani, who had top two pair. Enjoubault turned a ten-high straight, faded the full house on the river, and rocketed his stack above the 200,000-chip threshold.
Joining Enjoubault on Day 2 will be Dominik Nitsche (71,200), Jason Mercier (70,000), Andrew Seidman (69,875), Justin Bonomo (69,725), and the aforementioned Tristan Wade (64,000).
Day 1b of the Grand Prix de Paris began at 3 p.m. CEST on Tuesday, and you can follow all of the live updates over on the PokerNews Live Reporting page.
4. Mercier still on top of the GPI, Smith leads 2012 POY race
Since the inception of the Global Poker Index, PokerNews' own Mickey Doft has done a terrific job of keeping us updated on the overall leaders. On July 28, 2011, in Doft's first edition, Bertrand "ElkY" Grospellier was the overall leader with a score of 2,450.09. Jason Mercier was right behind him with 2,434,30, and less than two months later, Mercier grabbed the top stop. It's been over a year since that day, and despite losing the top spot a handful of times, Mercier is still ranked number one in the world with a score of 2,823.09. Grospellier is right behind him with 2,820.14.
Mercier would be the first to tell you that 2012 has been a down year. He's bricked several high-roller and super-high-roller events, including the $1 Million Big One for Drop during which Mercier ran pocket kings into Antonio Esfandiari's pocket aces on Day 2.
All this withstanding, Mercier's résumé speaks for itself. With over $7.8 million in career live-tournament earnings since 2008 — over a quarter of a million of which has come in this down year — Mercier still ranks 31st on the All Time Money List, and only has one seven-figure score. His consistency is what made him great over the past few years, and it's only a matter of time until he binks another event and returns to the winner's circle.
In 2012, no one has made more trips to the winner's circle than Dan Smith, who leads the GPI Player of the Year race by over 77 points, and his final table appearance in the PPT Main Event hasn't even been added to his official score yet. "Mad" Marvin Rettenmaier, who won back-to-back WPT Main Events earlier this year, is in second place with 802.42, and Jonathan Duhamel is in third place with 741.24. All three players survived Day 1a of the WPT Grand Prix de Paris on Monday, and will be fighting tooth and nail until the finish.
We'll keep monitoring the GPI rankings as we near closer to year's end. You can check them out on the GPI's website or by picking up a copy of USA Today.
5. Rafa commercial
Rafael Nadal, who suffered a leg injury, has missed both the 2012 Summer Olympics and most recently the 2012 U.S. Open.
While off of the court though, Nadal has been apparently busy with PokerStars, filming this commercial:
Like all Stars commercials it's very visually appealing, and Nadal's "all in moment" is very nicely done. The fist pump is also quite perfect because it's not too over-the-top. With athletes, over-acting is usually the norm.
We're still waiting to see Rafa rocking a Team SportStar patch in a live tournament however. Maybe he'll make an appearance in Cannes for the WSOPE, or perhaps he'll take some time out of his 2013 Australian Open training to play in the 10th annual PokerStars Caribbean Adventure.
Follow PokerNews on Twitter for up-to-the-minute news.