Get a Free €20 at vsJack.com, the Future of Online Blackjack
PokerNews Staff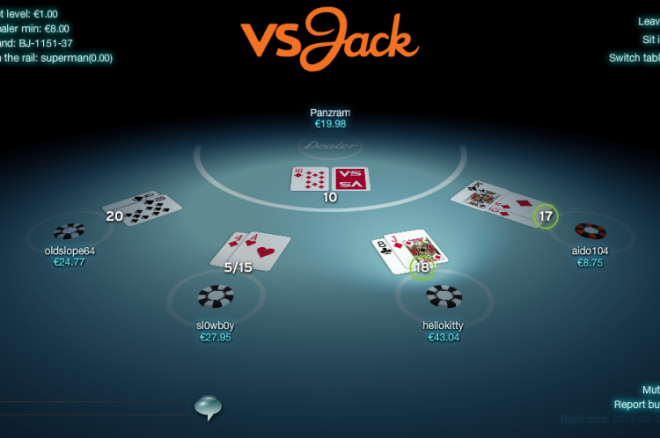 This is a sponsored article
Have you tried the new player-versus-player version of blackjack at vsJack.com? If not, vsJack is so confident you will love this new way to play blackjack online that they are offering new customers a free €20 just to test out their product!
The free €20 is only available to new customers who have never held a vsJack account before and it may not be used in combination with other offers and promotions. The free €20 should be placed into your account within a few minutes of completing the simple registration process.
So, how does this groundbreaking version of blackjack work? It's simple: blackjack without the house. In vsJack's games the dealer button rotates and players take turns playing as the dealer.
When you are the dealer you play against all other players, just like in casino blackjack, but you can play any way you want. You don't have to stand on 17 and you don't have to hit on 16. You decide what to do.
From vsJack's perspective, blackjack is stuck in the casino pits and rigged against the players. It's in even worse shape online. Blackjack has never felt more like a slot machine than in the online versions all over the web.
That's why vsJack is reinventing the game on the Internet.
NO CASINO
The guys at vsJack are breaking blackjack out of the casino. At vsJack.com you play against other players, there is no house or bank, just you and other players fighting for pots. Why would you want to play a player-versus-player version of blackjack? Because, just like poker, you can beat other players.
YOU, AS THE DEALER
With no bank in the game someone has to be the dealer. That means you. The dealer position rotates around the table. In vsJack's version of blackjack there are no dealer rules, you are free to hit on 17 or stand on 16. Play however you think you need to play to win.
NEW STRATEGIES
A rotating dealer position, and a dealer with no rules means there are totally new strategies open to you. The game requires the same math skills that good, classic blackjack demands, but on top of that you have to look at the whole table. The way the player to your left plays will change your whole hand. If he busts you may get a dealer to stand at 14, which means a win with your 15.
FIND A GAME
At the moment, vsJack offers cash games with limits of €0.20, €0.50, €1 and €5. They will be soon be adding tournaments and other experimental game options, so be sure to try it out at vsJack.com and let us know what you think!