Help Yourself To A 100% Match Up To €200 Bonus On vsJack
PokerNews Staff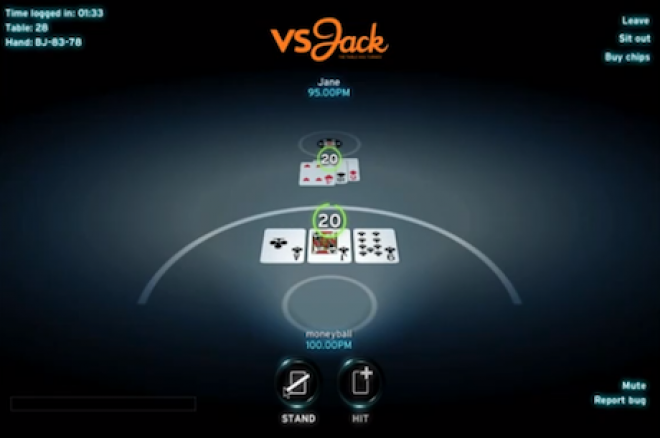 This is a sponsored article.
One of the most popular casino games in the world is blackjack, a game played by millions each and every day. You have probably played blackjack in a casino where the house enjoys a nice edge over your while online versions of blackjack can often feel like you are playing a slot machine. That is all set to change once you experience the new and exciting blackjack variant over on vsJack.com.
At vsJack.com you play blackjack against other players and not the house, making for a game that is reminiscent of poker. Where the house will always play optimally against you, other human players are prone to mistakes and therefore your chances of winning cash are increased.
Since its launch, vsJack.com has been offering a free €20 to new customers but that deal has come to an end and it is time to get serious about your blackjack with the help of a 100% match up to €200 bonus. Simply deposit between €20 and €200 and vsJack will match it 100% in the form of a cash bonus. The bonus then clears at a rate of €10 per 2,000,000 Player Points, with Player Points being awarded at a rate of 5 per €0.01 in your initial bet.
Become The Dealer!
As there is no bank in the game, someone has to be the dealer. With vsJack being player-versus-player blackjack, the dealer position rotates around the table, but there are no conventional dealer rules. This means that in vsJack's version of blackjack you can hit on 17 or stand on 16, it really is up to the whoever is acting as the dealer! Play however you think you need to in order to win.
Obviously, this new format brings in a whole new set of strategies into the game. Solid math skills could give you an edge but you also need to look at the whole table as the way the player to your left plays will change your whole hand. If that players busts, you may get the dealer to stand on a 14, which means you could win with a measly 15. The possibilities are endless.
At the moment, vsJack offers cash games with limits of €0.20, €0.50, €1 and €5. Tournaments and other experimental game options are in the pipeline and will be added soon. Try it out at vsJack.com and let us know what you think of the game.
Get all the latest PokerNews updates on your social media outlets. Follow us on Twitter and like us on Facebook now!