TonyBet Offers a Variety of Lines and Options to Suit Your Betting Needs
PokerNews Staff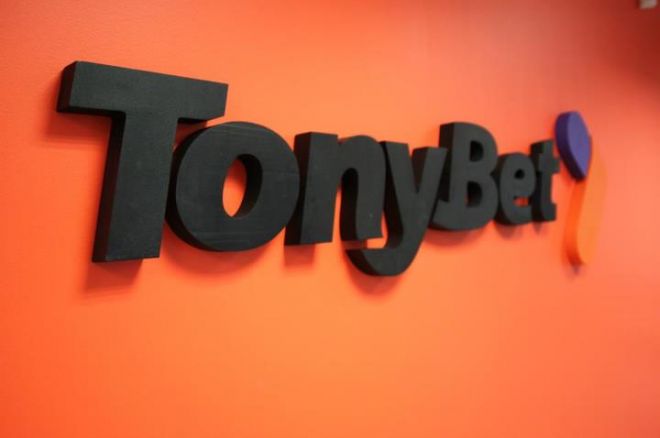 PokerNews is proud to introduce you to our online sportsbook partner TonyBet.
TonyBet is a fast growing sportsbook with a huge variety of lines and options to suit your betting needs. In cooperation with PokerNews, TonyBet presents you with a 100% up to €500 first deposit bonus.
You can find the full bonus terms and conditions by visiting the official TonyBet website.
But with a variety of sportsbooks available online, what makes TonyBet stand out from the crowd?
Basketball
TonyBet's basketball product and variety speaks for itself. Operating from Lithuania, a basketball powerhouse, employees at TonyBet know everything about basketball, and a passion and love for basketball is present at TonyBet. The sportsbook offers a wide variety of betting lines for all the major basketball games, sometimes even exceeding 250 different lines per game.
TonyBet is also a very active member of the basketball community. The company had been sponsoring a number of basketball organizations around the world and was one of the sponsors of the two Lithuanian power clubs, Žalgiris and Lietuvos Rytas. TonyBet was also the main sponsor of the Lithuanian national basketball team at the 2010 FIBA World Championship in Turkey.
The sportsbook is currently sponsoring the British Basketball League team, the Worcester Wolves.
The Tony G Factor
TonyBet is a young, passionate and constantly growing betting company. It has the same character as its owner, everyone's favorite poker pro Tony G — a reckless opponent for his rivals and at the same time a warm and compassionate colleague.
Aussie Rules
Aside from basketball, Tony's other great love in the sporting landscape is the AFL, or "Aussie Rules." To represent this love and admiration for the game, TonyBet is offering the best odds in the world on AFL matches. The finals series is in full swing and there is no better place to have a bet on the AFL than TonyBet.
Poker
Poker has played a huge part in the life of TonyBet's owner, Tony G. This influence is present in the diversity of poker betting options at TonyBet. It offers competitive markets and a huge variety of poker betting. There is no better place than TonyBet for your poker betting needs.
Live Betting
TonyBet is extremely proud to offer its clients a number of live betting options. There are anywhere from 70 to 120 live events per day. The sportsbook covers football, basketball, tennis, ice hockey, and volleyball, making TonyBet your number one shop for live betting needs.
Variety
TonyBet offers a variety of sports and events. There is fantastic value on bets on the NFL and other American sports, as well as football, volleyball, wrestling, boxing and much more. TonyBet even offers markets on entertainment events and politics.
Special Bets
TonyBet is always looking for different entertaining betting options. Current examples include betting on the sex of William and Kate's first baby, and betting on whether the world will end on the Dec. 21!
Low Juice Markets
TonyBet is also proud to offer its clients low juice markets on certain sports and will quite often be the best in the world in certain markets. TonyBet is willing to compete with other companies and offer 1.95 lines on some sports and events.
Request a Bet
If you want to bet on something, but you can't find at at TonyBet, send an email to info@tonybet.ee and they will attempt to accommodate you.