2012 PokerStars.net ANZPT Season 5 Melbourne Day 1a: Billy Jordanou Leads
PokerNews Staff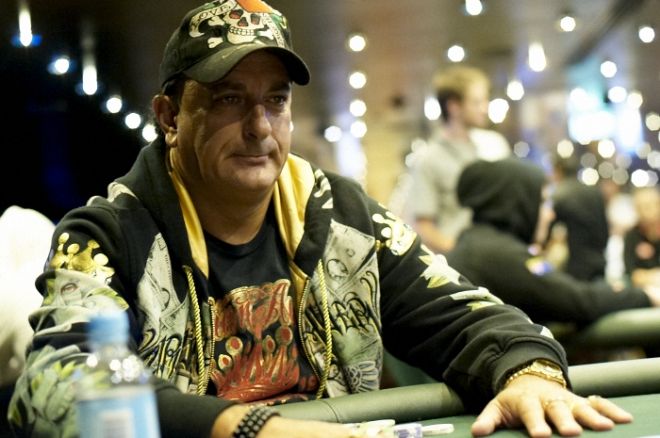 After eight one-hour levels of fast-paced action, Day 1a of the PokerStars.net Australia New Zealand Poker Tour Melbourne Main Event concluded with Billy Jordanou in the lead. Jordanou had a great day in his hometown, ending with 125,000, more than six times the starting stack.
The first of two Day 1 flights attracted a big 186-player crowd, but only 80 survived. These numbers look very promising heading into Day 1b. Only 125 players are needed to break last year's number. Two players who will not be profiting from the upcoming big payout are Tom Grigg and Jackie Glazier.
Grigg and Glazier were seated next to each other, and the latter immediately took some chips from her neighbor. Glazier won a big pot with kings, but it ended up being her only positive feat. In the end, she busted when her shove was called by an opponent with top pair. Glazier only had a flush draw and was knocked out. Grigg ended up getting his stack into the pot with top pair against a straight and flush draw. The three-time APPT finalist didn't dodge the river and left the tournament area.
Patrick Healy and Octavian Voegele started off well, but the former ended up giving it all away to the latter. Voegele called Healy down with top pair and was good as Healy had just middle pair. That pot was the start of a very good ending for Voegele. He ended with 92,100. David Gorr was also among the players who did not survive the day. The 2011 Aussie Millions champion lost with aces versus kings and missed his flush and straight draw against a player holding a flopped straight.
The craziest hand of the day might be the craziest hand in live tournament poker over the last few months. Tim Eduard knocked out two players in a pot where all three players had flopped a set. Eduard turned his set of aces into quads giving him an early chip lead. He ended the day with 44,900.
Billy Argyros didn't have a fortunate day like Eduard. Argyros entered the event late and almost immediately lost half his stack to Didier Guerin. About an hour later Argyros got his chips in good with pocket queens, but those were no match for Luke Edwards'
. Edwards made runner-runner straight and knocked out Argyros.
Joe Hachem also entered late, but his stack went in the opposite direction of Argyros' stack. He hit a big draw for his tournament life against pocket aces, and kept going from that point on. In the biggest pot, he turned a straight and got maximum value on the river against his opponent who called with top pair. Hachem is among the biggest stacks heading into Day 2 with 111,800.
Day 1a Top 10 Chip Counts

| Place | Player | Chips |
| --- | --- | --- |
| 1 | Billy Jordanou | 125,000 |
| 2 | Robbie Stewart | 123,400 |
| 3 | Minh Nguyen | 113,100 |
| 4 | Kwong Phung | 112,500 |
| 5 | Joe Hachem | 111,800 |
| 6 | Igal Augarten | 108,100 |
| 7 | Fabrice Ho | 102,700 |
| 8 | Manny Stavropoulos | 93,000 |
| 9 | Matt Naughton | 92,400 |
| 10 | Davor Derek | 84,600 |
Day 1b will start Saturday at 12:10 AEDT (1800 PDT, Friday). Late registration will remain open for the first four levels. Make sure to tune back in to PokerNews.com as we bring you all the live updates!