Care for some free cash on Poker770?
PokerNews Staff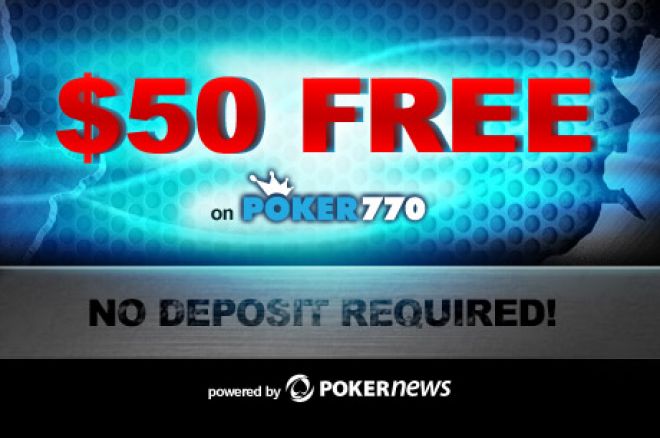 It sounds too good to be true, but it is true, and it's exclusively available to our loyal PokerNews readers. Right now, you can get your hands on a free $50 on Poker770 and it's surprisingly simple!
Get a Free $50 From Poker770
PokerNews and Poker770 have joined forces to kick-start your bankroll with $50. All you have to do is download Poker770 through PokerNews, enter the bonus code "news50en," and fill in and submit the details on the form.
Once you've completed those steps and your account has been verified, your account will be credited with $25 immediately. Earn at least one Poker770 point within the first 60 days of receiving that bonus, and you lock up that money. Fail to do so, and you will forfeit your right to the money. The second $25 will then be released when you earn just 500 Poker770 points within 120 days.
This promotion is applicable to players in Andorra, Australia, Austria, Brazil, Canada, Germany, Greece, Holland, Iceland, Luxembourg, New Zealand, Portugal, Spain, Switzerland and the U.K.
If you live in any of the following countries, the situation is a little different, but you can still get the full free $50: Argentina, Belarus, Bolivia, Chile, China, Croatia, Czech Republic, Denmark, Estonia, Finland, Hungary, India, Japan, South Korea, Latvia, Lithuania, Macedonia, Madagascar, Mexico, Montenegro, Norway, Paraguay, Peru, Poland, Russia, Serbia, Slovakia, Slovenia, South Africa, Sweden, Ukraine, Uruguay or Venezuela.
For the aforementioned countries, the free $50 will be split into three parts instead of two. The first $10 will be released into your Poker770 account immediately, another $20 will be released once you have earned 500 Poker770 points within 120 days, and the final $20 will be released once you have earned another 500 Poker770 points within 120 days.
Here are a few other frequently asked questions with helpful answers:
Q: I signed up to Poker770 through PokerNews a long time ago. Am I eligible for the Poker770 $50 FREE offer?
A: If you have not made a deposit or taken advantage of any Poker770 $50 FREE offer in the past, you may be eligible for this offer. If you are not eligible we still invite you to check out Club PokerNews for more offers and promotions at Poker770 and our other featured poker rooms.
Q: I signed up to Poker770 through another site's promo code. Can I still get the Poker770 $50 FREE?
A: Unfortunately, no. This one-of-a-kind promotion is only available via the PokerNews network. If you already signed up through another site, we still invite you to check out Club PokerNews offers and promotions at our other featured poker rooms.
Q: I don't want to participate in the Poker770 $50 FREE promotion, I would like to deposit and receive a first-deposit bonus, how do I get that?
A: Simply send an email to support@poker770.com in order to receive a generous first-deposit bonus.
What's more, the free Poker770 cash can be easily withdrawn thanks to the low play-through requirements. Either generate just $50 in cash-game rake/tournament fees or just make a deposit of $100 or more into your Poker770 account and you will be able to cash out your free $50. Furthermore, you can withdraw any profits over the initial $50 any time you like.
This special offers are only available to new Poker770 customers who have yet to make a deposit onto either site.
If you experience any problems with this or any of our promotions, please contact our Ticketed Promo Support System.
Get all the latest PokerNews updates on your social media outlets. Follow us on Twitter and like us on Facebook now!