PokerStars To Release New Client
PokerNews Staff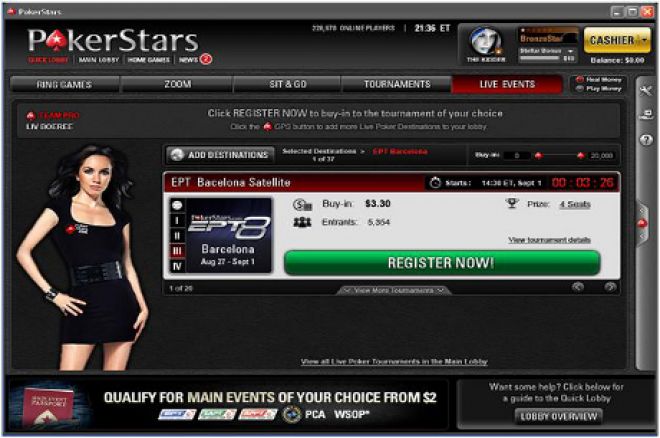 Matthew Pitt of PokerNews UK and Ireland was recently part of a media event held by PokerStars where they revealed the new look of their 'PokerStars 7' software which will shortly enter the BETA testing phase.
A couple of weeks ago was asked by PokerStars if I would be interested in heading down to London to attend the inaugural PokerStars VIP Club Live Event. Having been on numerous PokerStars-run events in the past I jumped at the chance , especially as it meant getting a first look of the new PokerStars 7 software that is soon to be released.
I won't bore you with all the details of my journey from Huddersfield to London – one that started at 04:30am on Saturday morning – or the fact I had to ride The Tube for the first time, or me getting slightly lost, instead I will start right at the deep end as I arrived at The London Film Museum; the venue for this particular event.
As I walked up to the lobby I ventured past a film crew and like anyone would, I took a glance at who / what / why they were filming, only to discover it was the legendary Lee Jones who was in front of the lens. Jones is one of the most respect people in poker and I was good to finally see him in the flesh, rather than his avatar on the Two Plus Two forums where he frequents. Once the excitement of seeing one of poker's stars had subsided I made a right turn to be greeted by the welcome desks, where I picked up my media bracelet and where the other guests picked up theirs.
The entrance to the museum was superb, the red glow of the PokerStars light creating a classy and stylish ambiance, which was further enhanced by the giant golden angels either side of the main door. Just a couple of feet beyond the angels were a number of staff who were armed with glasses of champagne, which I politely declined and made a bee-line for the orange juice instead; and the croissants, and the coffee, and the other free snacks!
Although I had arrived early there will still plenty of PokerStars VIPs in the building, some chatting amongst themselves, others filling in their game cards in an attempt to win a UKIPT package, the rest looking at the various props round the vast museum floor. During my scout around I saw the likes of Batman, Superman, Hellraiser's Pinhead, a Dalek, the Alien Queen and Harry Potter. Quite ironic to see so many heroes, villains and wizards as this is how the internet poker kids often refer to themselves! There was even the chance to buy THE t-shirt that Anthony Hopkins wore when filming Hannibal but at £1,495 – and no way to purchase it with FPPs – I doubt it sold!
At around 11:15 we were ushered into the "Rotunde" where there was more food waiting for those with hungry bellies and gallons of free wine, red and white, and beer too. Being the good boy that I am I stuck to coffee, more croissants and a sausage roll! You can the boy out of Yorkshire, but you can't take Yorkshire out of the boy. I caught up with some of the PokerStars staff that I knew from the European Poker Tour for a short while before Lee Jones introduced himself and started his presentation.
Before he unveiled the new software he congratulated one payer on reaching an almost unbelievable 5,000,000 lifetime VPPS, a true grinder. Unfortunately his name was never mentioned so we cannot give him a shout out but congratulations to that man!
Jones started his 15-minute presentation by informing us that this was the first new client in the 10-years PokerStars had existed but that during the 10 years the PokerStars team had learned a lot about how players use the lobby. He went on to say that many of the features you find in the current PokerStars lobby have been "bolted on" and he even admitted that the current myriad of features you can select are a nightmare to navigate through due to the huge lists that drop down from the top of the screen; those will be a thing of the past.
After showing us a number of slides, Jones then logged into the PokerStars 7 lobby whilst it was connected to the actual PokerStars servers! The first thing that struck me, was how similar to the Full Tilt Poker lobby the client looked and how simple they had made it, and this simplicity was completely intentional.
Jones described how recreational players are crucial to any poker site and that the PokerStars team had designed this new lobby with that player type in mind. It is now possible for a player to be seated at a table and be receiving cards in just two mouse-clicks, meaning it is easier than ever before for a player to just jump into a game and play poker.
The buy-in/stakes option has been simplified as PokerStars have realised recreational players do not care about if they are playing $0.05/$0.10 or $0.15/$0.25, all they want to know is where they can sit with their $10, $25, $50 or whatever. Now they can select the buy-in amount and within a couple of clicks of their mouse they are seated and receiving cards.
Should you choose to use this new lobby layout – a version similar to the "old" lobby will still be available – then you will need to get used to the green "Play Now" and "Register Now" buttons. These have been purposely made to attract recreational players and get them into games as quickly as possible before they decide to log off and do something else! This is particularly true of the Live Events lobby where players can choose from a number of live events and the satellites are there for them to register for instantly.
Among the other cool new feature are what Jones called the "App Bar." Here players can easily customise their client by finding and selecting the many different options. Absolutely everything is in here, and is so simple to find, from four-colour deck to auto-mucking your losing hand. Each option as its own image and the way it has been designed makes it simple to add new features into it, rather that bolting them on as an afterthought.
Everyone who was in attendance at this superbly run event has been invited to be part of the closed-beta testing — according to Jones — that should start within a couple of weeks. Once we have access to the client we will bring you the new images (the current ones are subject to change) and we will make a short video showing the best features.
Get all the latest PokerNews updates on your social media outlets. Follow us on Twitter and like us on Facebook now!