Preparing for the 2012 WSOP October Nine: Jeremy Ausmus
PokerNews Staff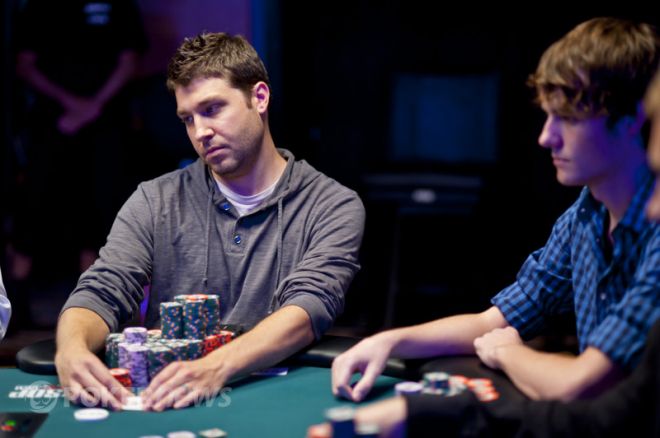 [LEDE]
Take us back to Day 7 of the Main Event. You're on the final table bubble as one of the short stacks. What was going through your mind when Gaelle Baumann was all-in and you were one elimination away from being part of poker history?
It was the most exhilarating point in my poker career. We were all getting really excited because it's probably the biggest sweat we've all ever had. The crowd was going nuts, the lights and cameras were there, the bracelet was showcased next to the table. For me it was even more of a sweat because if she doubled up, she would be near my stack, forcing me to get involved instead of wait her out. The hand before that, she had doubled and I was pretty sick about it. Then the next hand she had a chance to double again so it was pretty stressful.
How would you describe your run through the Main Event?
I never amassed a ton of chips until Day 6 when I briefly took the chip lead. The other days I had an average stack and sometimes a short stack and just flew under the radar.
Was there a point when you realized that there was a chance you could make the final nine?
Any tournament I play I know that making the final table is a reality or I wouldn't bother playing it. I didn't think a lot about that sort of stuff because I was just so focused playing. I didn't even really notice the cameras, the crowds, and the magnitude of the situation. On Day 6 when I had lots of chips and some friends came to watch it started to really set in.
You had eight cashes at the 2012 WSOP entering the Main Event. What was your confidence level like going into the tournament?
I had a lot of confidence. To be honest, when I sit down at a no-limit hold'em table, I am always very confident. I've made a good living at this game in all the disciplines: cash games, tournaments, online, and live play. Not a lot of people can say that and I think it shows how I can adjust and change gears to meet each unique situation that arises. I try not to get too caught up in the short term results like cashing nine times. I just strive to play the same if I hadn't cashed for 50 tournaments, it's obviously much easier said than done.
When did it sink in that you had made the final table? Is this something you've dreamed about as a poker pro?
I've always thought it would be nice but I didn't waste too much time daydreaming about it because it's a pretty unrealistic goal. It's actually sinking in a lot more now with the final table only a week away. Until recently, I would randomly say stuff to my wife like, "Holy s---! Can you believe or did you forget I'm at the final table of the main event?"
You've been primarily a cash game player since turning pro in 2004. Do you believe that background gives you a bigger edge in deep tournament structures like that of the Main Event?
There is no doubt that the main event structure benefits the cash players. Especially when compared to a tournament pro who only plays online tournaments, which are quite shallow for the most part. But more and more pros these days seem to be versed in and getting better at playing a wider range of stack sizes.
How have you been preparing for the final table? Have you been studying opponents or watching any of the ESPN footage?
I've watched some footage, but that's about it. I'll brush up on some shove ranges and stuff but our stacks are deep enough, we are just gonna have to play poker. Mine is on the verge of being short but it's not really that bad with 33 big blinds. I haven't played a poker tournament since the final table. The last couple of weeks I'm going to focus on poker a ton. I've been working out, eating good, and I'm currently changing my sleep schedule.
Has it been difficult focusing on poker after the birth of your child in September?
Yes. My main focus has been my baby in the intensive care unit, my two-year-old daughter, and my wife. This is a time that my family needs me so I am thankful I can be there for them. I feel lucky I have a lot more experience than some of the others at the final table. If not I would feel a lot of stress about improving my game and not having enough time to do it. The day will never come when I feel I've fully mastered poker but I've worked really hard at it the last few years so there isn't as much room for improvement for me. I've thought about what I would be doing if my situation were like the others. I guess I would've done WSOP Europe and some other tournaments. Playing a lot and staying sharp is no doubt helpful but nothing fully prepares you for this precise situation. You need to just play a bunch of deep final tables, you can do that with friends, but, they play different, the big money isn't there, it's not televised, etcetera. Poker is so situational, it's nearly impossible to replicate an exact situation.
What has your support system been like since July? And how many people will you be bringing to Vegas for the final table?
My support system has been great. My friends and family have always fully supported my career choice and now they are super excited for me making the final table of the most major poker tournament in the world. To a lot of people it really validates what I'm doing. That sounds totally ridiculous to all of the pros — and myself. I'm sure a lot of my relatives must think I'm finally pretty good at poker. Most people don't get all the variance; they think if you are on TV you must really be good. About 100 people will be in attendance in my rooting section. Everyone is really starting to get excited, including myself.
Which means more to you: The glory of being the world champion of poker or the $8.5 million top prize?
The money means more to me without a doubt. This is another topic where the general public's view and poker pros' views differ. To a poker pro, it's just another tournament. But this one happens to be the biggest one in the world so it's much different in terms of a payday. We know whoever wins it isn't the best poker player in the world. I think a lot of people out there do think that whoever wins this is the best poker player in the world. I use to think that 10 years ago. I didn't get into poker for fame and notoriety. It's just something I love to do and it pays well. That being said, I wouldn't mind the recognition that comes with it. Poker needs a champion that will cast it in a positive light and promote the game to others. I'd love to be the one who does it!