We Are Giving New Poker770 Customers A Free $50!
PokerNews Staff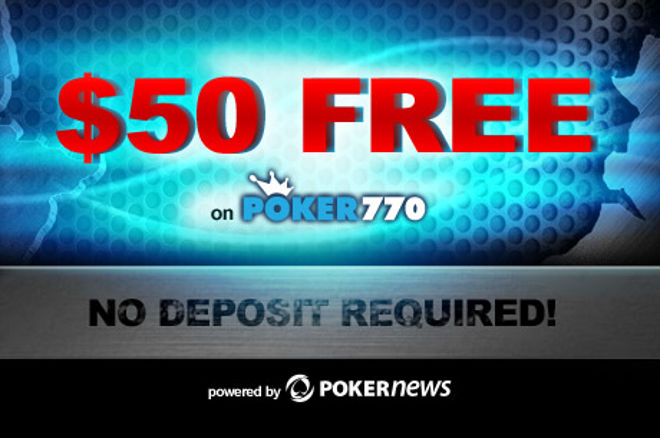 The online poker world is full of stories of players who made a $50 deposit and ran it up into tens of thousands of dollars, and in some cases much more. By signing up for a new Poker770 account you could become one such player as PokerNews is giving away $50 free on this site to get your career off the ground. How much can your run yours up to?
Help Yourself To A Free $50 From Poker770
To get a free $50 on Poker770, just download Poker770 through PokerNews, enter the bonus code "news50en,", fill in and submit the details on the form. It is as simple as that.
As soon as your information is submitted and your account is verified, $25 will be released immediately into your account. From there, earn at least one Poker770 point within the first 60 days of receiving that bonus to lock up the money (if you don't earn at least one point in that time frame, you'll forfeit your right to the money). To release the other $25, you just need to earn 500 Poker770 points within the next 120 days. This is applicable to players in Andorra, Australia, Austria, Brazil, Canada, Germany, Greece, Holland, Iceland, Luxembourg, New Zealand, Portugal, Spain, Switzerland and the U.K.
For players residing in either Argentina, Belarus, Bolivia, Chile, China, Croatia, Czech Republic, Denmark, Estonia, Finland, Hungary, India, Japan, South Korea, Latvia, Lithuania, Macedonia, Madagascar, Mexico, Montenegro, Norway, Paraguay, Peru, Poland, Russia, Serbia, Slovakia, Slovenia, South Africa, Sweden, Ukraine, Uruguay or Venezuela, your free $50 will be split into three parts instead of two, but getting your hands on the free money is still very easy indeed. Here's how your free money will be released:
The first $10 will be released into your Poker770 account immediately.
Another $20 will be released once you have earned 500 Poker770 points within 120 days.
Finally, the last $20 will be released once you have earned another 500 Poker770 points within 120 days.
To withdraw any of the cash, you just need to generate $50 in cash-game rake/tournament fees or by depositing $100 into your Poker770 account. Do either and then you can cash out your free $50; moreover, you can withdraw any profits over the initial $50 any time you like.
If you would rather have a generous first-deposit bonus, simply send an email to support@poker770.com and they'll hook you up with one of the industry's best bonuses.
If you experience any problems with this or any of our promotions, please contact our Ticketed Promo Support System.
Get all the latest PokerNews updates on your social media outlets. Follow us on Twitter and like us on Facebook now!