2012 PokerStars.net APPT Macau: Asia Championship of Poker Day 2: Andrew Gaw On Top
PokerNews Staff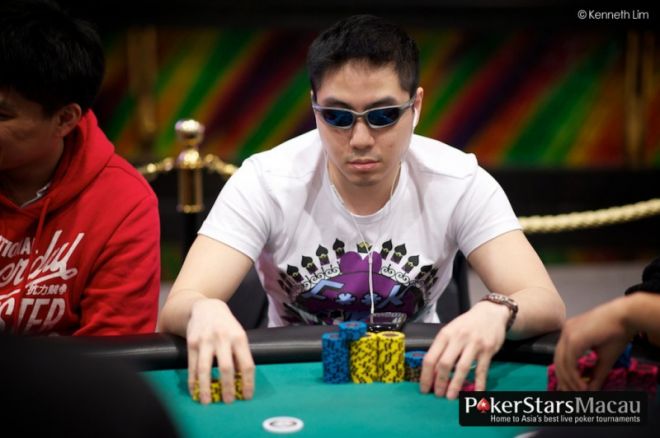 A total of 140 players returned for Day 2 of the 2012 PokerStars.net APPT Macau: Asia Championship of Poker Main Event at the Grand Waldo Hotel in Macau. Just 56 hopefuls remain after six levels of play, and they'll all return Friday when the hunt for the money will be on. Andrew Gaw leads the pack with 329,200 in chips, but plenty of big name pros still have a good chance.
The PokerStars Party at D2 Wednesday night was a great success, but most players needed a bit more time to recover from all the free drinks. The day kicked off Thursday at 5:00 p.m. local time, but Jordan Westmoreland did not show up until two hours into the day. Ultimately, he survived the party night, but not the poker day as he was eliminated on Day 2. This was long after two world class players were already knocked out though.
Defending champion and PokerStars Team Online member Randy "Nananoko" Lew started the day with little chips and could not make a comeback. Lew ran his ace-jack into Timothy Finne's ace-queen, meaning a new champion was going to be crowned at the end of this event. Finne also did not survive the day.
The other high-profile pro that was knocked out rather quickly was Team PokerStars Pro Bertrand "ElkY" Grospellier. Grospellier ended up all in preflop against John Conkright in a very favorable situation for the Frenchman. Grospellier tabled ace-jack and was up against Conkright's king-jack suited. A king on the flop spelled disaster for Grospellier, who was left empty-handed.
About halfway through the day, we also saw Didier Guerin exit the tournament. The young Aussie explained how he shoved the river with a set of nines, but he was called quickly by a straight. Guerin's was thrown off by the big bet size of his opponent, and that cost him dearly.
Jorn Walthaus was knocked out not long after Guerin, and he was even more unlucky. Walthaus hit the nut flush, and last year's runner-up Jimmy Pan decided to go for a check-raise on the river. Walthaus called and saw that Pan had rivered a straight flush. Walthaus was knocked out on the very next hand when his sixes ran into Pan's queens.
Tom Marchese was involved in a lot of pots on Thursday, and ended up with a 131,200-chip stack to show for. Marchese knocked out Michael Benvenuti with treys against ace-ten, and later on he also took Dominik Nitsche's last chips with aces versus jacks. Professional third-place finisher Joseph Cheong (third in the ACOP Warm-Up for USD$94,317 and third in the 2010 WSOP Main Event for $4,130,049) did not have a good day as he was knocked out when his ace-king couldn't beat Raymond Wu's aces.
Team PokerStars' Max Lykov and Naoya Kihara were long gone when their colleague Bryan Huang was eliminated. Huang got his money in with an open ended straight draw but that wouldn't beat Xing Zhou's top pair top kicker. The Team Pros had a very tough day as also Eugene Katchalov was knocked out. Wu (144,900), Vivian Im (33,700), Celina Lin (29,900) and Angel Guillen (10,700) will be the only members of the team to return on Day 3 to defend the PokerStars honors.
The Australian honors will not be defended by Jonathan Karamalikis, who was knocked out close to the end of the day. He got his money in good with pocket kings, but his opponent ended up making a straight with ace-jack.
Make sure to tune back into PokerNews.com Friday at 3:10 p.m. local time as the tournament heads into the crucial stages. The goal will be to play down to the money, or until the end of the 16th level, whichever comes first.
Follow PokerNews on Twitter for up-to-the-minute news.