Dan Cates Defeats Ben Sulsky to Win PokerStars All-Star Showdown for $550,000
PokerNews Staff
The first annual All-Star Showdown, an eight-player single-elimination heads-up no-limit heads-up tournament, took place on PokerStars from Oct. 27 through Nov. 4 and featured eight of the world's best players. After seven intense matches, Dan "w00ki3z" Cates captured the title and accompanying $550,000 first-place prize.
For those who don't know, here is how the All-Star Showdown was played:

Prior to the first match, tournament seeding was determined by a random draw.
The matches took place at 18:00 CET from Oct. 27 - Nov. 4, with a break in play on Oct. 29 and Nov. 1. The final was held on Nov. 4.
Matches played simultaneously over four heads-up tables.
Each $100,000 buy-in was spread evenly over four tables with blinds starting at $50/100.
Blinds doubled after every 3,000 hands played.
Each match ended when a player busts on all four tables.
In the quarterfinals of the All-Star Showdown, Ben "Sauce123" Sulsky defeated Tobias "KTPOKP" Kuder; Isaac Haxton downed Alex "Kanu7" Millar; Cates bested Alexander "Sussie Smith" Roumeliotis; and Phil "MrSweets28" Galfond emerged victorious over Ben "Ben86" Tollerene. From there, Sulsky beat Haxton in an epic 19-hour semifinal match, and Cates dispatched Galfond.
That left Sulsky and Cates to battle in the finals on Sunday, each player beginning with a $400,000 bankroll. The match, played across four $200/$400 NLHE tables, began as a back-and-forth affair with each player taking a small lead. In one early hand reported by the PokerStars Blog, Sulsky ($50,600) raised to $800 on the button and Cates ($113,200) three-bet to $3,200. Sulsky made the call and then called a bet of $3,600 on the
flop, bringing about the
turn. Both players ended up checking, and then Cates checked the
river. Sulsky took the opportunity to bet $8,800, and then called when Cates check-raised to $27,600. Cates showed
, but it was no good against the
of Sulsky, who raked in a pot worth $68,800.
Cates shrugged off the loss and he collected a big pot of his own. Cates ($110,000) opened for $800 on the button, Sulsky ($100,000) called from the big blind, and the flop fell
. From there, Sulsky check-called a bet of $1,200, the
turned, and Cates bet $4,000 after his opponent checked. Sulsky responded with a check-raise to $12,800, Cates called, and the
peeled off on the river. Sulsky checked, Cates bet $22,400, and Sulsky check-raised all in for $85,200. Cates made the call with
for fives full, and it was good enough to win the $200,000 pot as Sulsky showed the inferior
for deuces full.
Once Cates raced out to a $200,000 lead, he never looked back. In what would be the last hand (Hand #3,179), Sulsky got the last of his money in preflop holding
and was dominated by the
of Cates. The
flop gave both a set, but Sulsky needed the last nine in the deck to keep his All-Star Showdown hopes alive. Unfortunately for him, both the turn and river blanked and he had to settle for the $250,000 consolation prize.
Here's an hour-by-hour look at the trends as reported by the PokerStars Blog: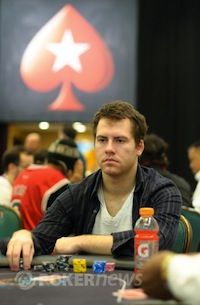 | Hand | Player | Profit |
| --- | --- | --- |
| 83 | Sulsky | +$16,000 |
| 385 | Cates | +$12,400 |
| 449 | Sulsky | +$33,000 |
| 597 | Cates | +$48,800 |
| 831 | Cates | +$52,400 |
| 1,188 | Cates | +$156,500 |
| 1,394 | Cates | +$212,400 |
| 1,827 | Cates | +$219,000 |
| 2,238 | Cates | +$243,733 |
| 2,467 | Cates | +$333,733 |
| 2,854 | Cates | +324,800 |
| 3,014 | Cates | +$289,600 |
| 3,169 | Cates | +$340,800 |
| 3,179 | Cates | +$400,000 |
Congrats to Cates on becoming the first All-Star Showdown champion, capturing the $550,000 prize and establishing himself as online poker's best heads-up player.
For a full recap of Cates' victory over Sulsky, check out the PokerStars Blog.
*Hands and data courtesy of the PokerStars Blog.
Don't forget to follow us on Twitter and like us on Facebook.