Take Part In The PokerNews PKR StakeChases And Win Up To $250 Worth Of Tournament Tickets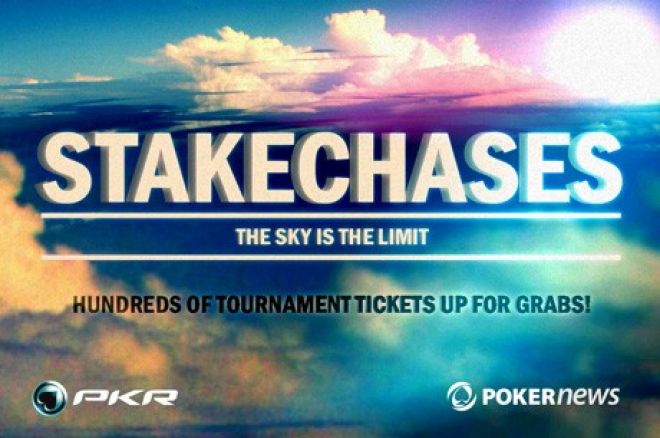 Would you like to be awarded with up to $250 worth of tournament tickets just for playing your favorite real money poker games? Then keep on reading to discover how that could happen to you if you participate in the PokerNews PKR StakeChases promotion.
This superb promotion kicked off on Oct.24 and will continue to run until Nov. 28, meaning you still have plenty of time to get involved and earn plenty of PKR Points.
Unlike many rake-based promotions where you are battling against other players, in the PokerNews PKR StakeChases the only person you have to worry about is yourself, because the prize you are awarded at the end of the promotion is based on the PKR Points you earned regardless of how many points your rivals generated.
The PokerNews PKR StakeChases are open to both new and existing PKR players who signed up for their account via PokerNews links and who used our exclusive bonus codes. New players will automatically be entered into the First Depositors division, whilst those of you who already have a PKR account will participate in the Active PokerNews Players division.
The first points target you need to aim for is 2,500, which is the level where the first set of tournament tickets are awarded. The next highest tier is set at 5,000 then 10,000; 25,000; 50,000 with the highest rank and most precious prizes will be awarded to any player who reaches a 100,000 points tally. The prizes will be distributed as follows:
Existing Players
| Points | Name | Ticket Value |
| --- | --- | --- |
| 2,500 | $6 Mini Masters | $6.00 |
| 5,000 | 2x $6 | $12.00 |
| 10,000 | 2x $12, 1x Mini Masters | $30.00 |
| 25,000 | 3x $20, 1x $12 | $72.00 |
| 50,000 | 5x $20, 1x $30 | $130.00 |
| 100,000 | 5x $30, 2x $50 | $250.00 |
New Players
| Points | Name | Ticket Value |
| --- | --- | --- |
| 2,500 | 1x Mini Masters, 1x $3.50 | $9.50 |
| 5,000 | 1x $12, 1x Mini Masters, 1x $3.50 | $21.50 |
| 10,000 | 1x $20, 2x $12 | $44.00 |
| 25,000 | 3x $20, 3x $12, 3x $6 | $114.00 |
| 50,000 | 1x $50, 2x $30, 5x $20, 3x $12 | $246.00 |
Although the points targets may look and sound high, in reality they are actually easy to achieve because PKR Points are awarded at a rate of 100 per $1 generated in rake or paid in tournament fees. Plus, you have more than a calendar month in which to earn as many points as possible, which should be plenty of time to reach the top tier or at least get very close to it.
The prizes in the PokerNews PKR StakeChases are not cumulative, which means you will only be awarded the tournament tickets from the highest tier that you manage to reach once the promotion draws to a close. Your tournament ticket will be credited within 48-hours of the promotion coming to an end and any profit you make from these tickets can be withdrawn at any time, with no release restrictions at all.
Should you not have a PKR account PokerNews can help and give you a 125% up to $500 first deposit bonus too. Download PKR through PokerNews, enter the bonus code "PNPKR500" and not only will you be able to claim the huge bonus, but you will also be able to participate in the PokerNews PKR StakeChases promotion too.
If you experience any problems with this or any of our promotions, please contact our Ticketed Promo Support System.
Get all the latest PokerNews updates on your social media outlets. Follow us on Twitter and like us on Facebook now!