There's a Free $50 in Cash Waiting for You!
PokerNews Staff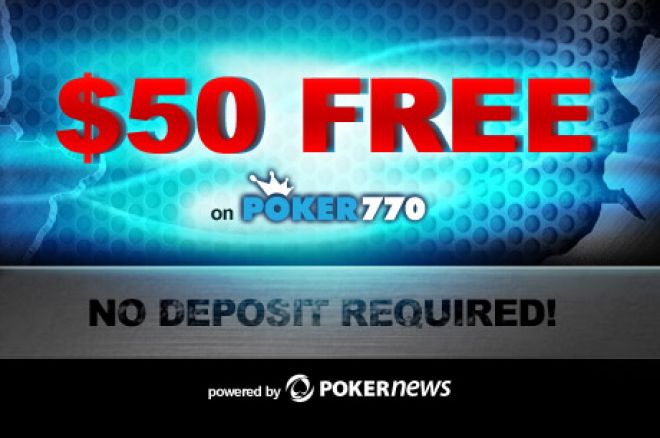 Depositing money into an online poker account for the first time can be daunting. Perhaps you don't want to risk your hard-earned cash while testing the waters of your new hobby, or new online room. To help, we here at PokerNews are so confident that you'll enjoy playing on our partner sites, that we're willing to kick-start your bankroll by covering the cost of your first $50 of play on Poker770. Yes, that's up to $50 in cash, for free!
Free $50 on Poker770
To claim your free $50, just head over to poker770.pokernews.com and follow the simple five-step process of downloading the software, and using the PokerNews promo code 'news50en' when registering for your real account. Submit your details to us in step four and five and then you're set!
Lynn Gilmartin shows you exactly how to do it in this step-by-step tutorial.
As soon as your information is submitted and your account is verified, $25 will be released immediately into your account. From there, earn at least one Poker770 point within the first 60 days of receiving that bonus to lock up the money (if you don't earn at least one point in that time frame, you'll forfeit your right to the money). To get the other $25, you'll just need to earn 500 Poker770 points within the next 120 days. This is applicable to players in Andorra, Australia, Austria, Brazil, Canada, Germany, Greece, Holland, Iceland, Luxembourg, New Zealand, Portugal, Spain, Switzerland or the U.K.
For players residing in either Argentina, Belarus, Bolivia, Chile, China, Croatia, Czech Republic, Denmark, Estonia, Finland, Hungary, India, Japan, South Korea, Latvia, Lithuania, Macedonia, Madagascar, Mexico, Montenegro, Norway, Paraguay, Peru, Poland, Russia, Serbia, Slovakia, Slovenia, South Africa, Sweden, Ukraine, Uruguay or Venezuela, your free $50 will be split into three parts:

The first $10 will be released into your Poker770 account immediately.
Another $20 will be released once you have earned 500 Poker770 points within 120 days.
Finally, the last $20 will be released once you have earned another 500 Poker770 points within 120 days.
To withdraw any of the cash, you just need to generate $50 in cash-game rake/tournament fees or by depositing $100 into your Poker770 account. Do either and then you can cash out your free $50; moreover, you can withdraw any profits over the initial $50 any time you like.
For more information on the offer, please visit the following link: Poker770