Win One Of 200 Seats To The $10 PCA Qualifier, Where 10 PCA Packages Have To Be Won!
PokerNews Staff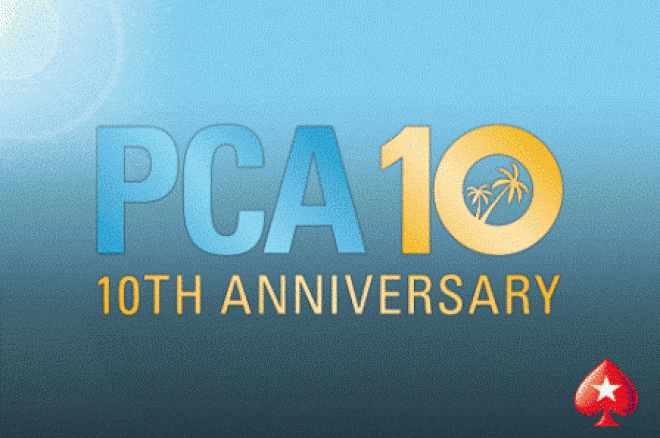 The 2013 PokerStars Carbbean Adventure (PCA) celebrates its 10th anniversary in January 2013 and you could be part of those celebrations thanks in part to a superb PCA Freeroll Satellite brought to you by PokerNews.
Make sure you have no other plans on Dec .2 at 12:30ET (17:30 GMT) because you do not want to miss the PokerNews PCA Freeroll Satellite. Dubbed the "Deadline Turbo," this spectacular freeroll will award no fewer than 200 seats to a $10 Qualifier where at least 10 PCA Main Event packages – each worth $16,000 – have to be won!
Name: PokerNews PCA Freeroll Satellite
Tournament ID: 647963836
Date: Dec. 2
Time: 12:30ET (17:30WET)
Target tournament: 645284779
Unlike previous Deadline Turbos PokerNews has run, these new tournaments will not command a buy-in, instead you will have to enter a password instead. The password will appear on this very page on Nov.30, so make sure you bookmark this article and keep checking back to PokerNews.
The password for the Dec. 2 PokerNews PCA Freeroll Satellite will appear here shortly.is : qwerty
Please be aware this tournament requires at least 200 players to be registered by the time the tournament starts otherwise it will be cancelled.
The Dec. 2 PokerNews PCA Freeroll Satellite starts 30-minutes before the target tournament and awards the top 200 finishers a seat directly into it. Do not worry about missing out because the $10 Qualifier into which our freeroll feeds into, feature a late registration period of 180-minutes!
PokerNews will be running a number of these Deadline Turbos in the weeks leading up to the 2013 PCA and in order to ensure all of our valued customers get a chance of glory, PokerNews will be limiting the number of entries to one per person so make the most of your shot.
The $10 Qualifier which our freeroll feeds into kicks off at 13:10ET (18:10WET) on Dec. 2 and will boast a prize pool of at least $160,000. This huge sum of money is made up of 16 PCA Main Event packages, which are non-transferable. This means if you win a 2013 PCA package via the target tournament you must play it, you cannot unregister. PokerNews will be heading to Paradise Island in January, will you be joining us?
Those of you who are reading this article and do not have a PokerStars account, fear not because PokerNews can help you solve that minor problem. Download PokerStars via PokerNews, enter the marketing code INPNEWS and the bonus code STARS600 and you will be eligible for a 100% match up to $600 welcome bonus. In addition to the bonus, players signing up using PokerNews marketing codes will be eligible to participate in all future PokerNews-exclusive promotions held on PokerStars.
Get all the latest PokerNews updates on your social media outlets. Follow us on Twitter and like us on Facebook now!