Allow Us to Boost Your Bankroll on Party770
PokerNews Staff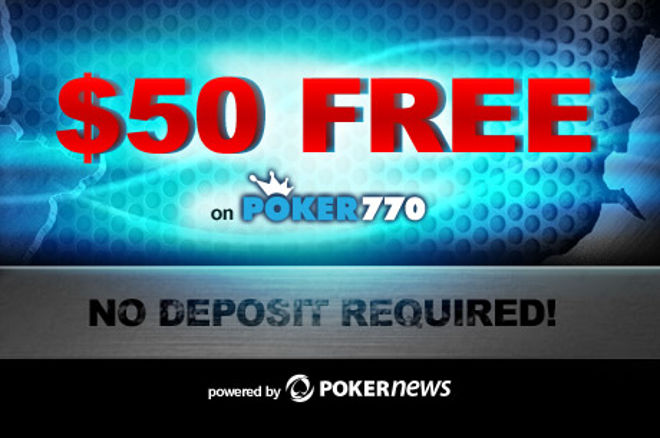 Would you like a free $50 deposited into your account? Of course you do! PokerNews wants to boost your bankroll by simply signing up for Poker770!
To get a free $50 on Poker770, just download Poker770 through PokerNews, enter the bonus code "news50en" when registering your new account, then submit your details on our form. It's as easy as that.
As soon as your information is submitted and your account is verified, $25 will be released immediately into your account. From there, earn at least one Poker770 point within the first 60 days of receiving that bonus to lock up that initial deposit (if you don't earn at least one point in that time frame, you'll forfeit your right to the money). To get the other $25, you'll just need to earn 500 Poker770 points within the next 120 days. This structure is applicable to players in Andorra, Australia, Austria, Brazil, Canada, Germany, Greece, Holland, Iceland, Luxembourg, New Zealand, Portugal, Spain, Switzerland or the U.K.
For players residing in either Argentina, Belarus, Bolivia, Chile, China, Croatia, Czech Republic, Denmark, Estonia, Finland, Hungary, India, Japan, South Korea, Latvia, Lithuania, Macedonia, Madagascar, Mexico, Montenegro, Norway, Paraguay, Peru, Poland, Russia, Serbia, Slovakia, Slovenia, South Africa, Sweden, Ukraine, Uruguay or Venezuela, your free $50 will be split into three parts:

The first $10 will be released into your Poker770 account immediately.
Another $20 will be released once you have earned 500 Poker770 points within 120 days.
Finally, the last $20 will be released once you have earned another 500 Poker770 points within 120 days.
Lynn Gilmartin offers a quick guide to the signup process:
To withdraw any of the cash, you just need to generate $50 in cash-game rake/tournament fees or by depositing $100 into your Poker770 account. Do either and then you can cash out your free $50; moreover, you can withdraw any profits over the initial $50 any time you like.
If you'd rather have a generous first-deposit bonus, simply send an email to support@poker770.com and they'll hook you up with one of the industry's best bonuses.
This special offer is only available to new Poker770 customers who have yet to make a deposit onto the site. Make sure you enter the bonus code "news50in" on Poker770.
Get all the latest PokerNews updates on your social media outlets. Follow us on Twitter and like us on Facebook now!