Bellagio Poker Operations Manager Sean McCormack Discusses Reentries at WPT Five Diamond
PokerNews Staff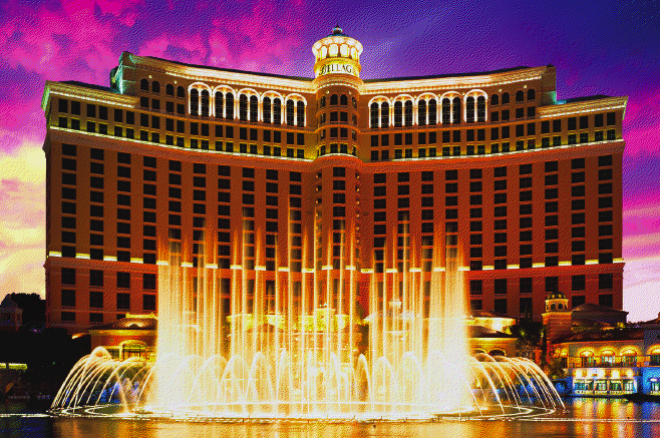 Sean McCormack was appointed the position of Poker Operations Manager for Bellagio in July 2012. Since then, some obvious changes have been made to the Bellagio poker room, as well as one of its biggest tournaments, the World Poker Tour Doyle Brunson Five Diamond World Poker Classic. McCormack was gracious enough to sit down with PokerNews to discuss these changes and provide his thoughts on the controversial addition of unlimited reentries at the WPT Five Diamond event.
First off, with Five Diamond being a World Poker Tour event, does WPT make any decisions or is it Bellagio?
We work as a joint venture so ultimately we are like partners. We do have the ultimate say in how we run the tournament but we do take suggestions from the WPT. We went with a structure that WPT wanted, we used to do 40,000 in starting chips and we went with the WPT structure, which is 30,000 in starting chips.
For the first time ever there were unlimited reentries for this WPT event. Why was the decision made to make the Bellagio WPT Five Diamond unlimited reentry?
Here at the Bellagio we cater to a different niche to a higher caliber player, not just in poker but the casino as a whole, so we wanted to give the players the opportunity to reenter as many times as they want. We know there were a few players that reentered four to six times. We do want to knock out the casual player but at the time we wanted to give the option to a player to come back in – if you get unlucky on one hand by getting Aces or Kings cracked, you feel bad. You just traveled from Europe, Asia, New York, and get knocked out in the first two levels, you want that option to reenter for another opportunity rather than not having that option.
You mentioned high caliber players and casual players. Specifically, what demographic is the tournament trying to attract?
We want to attract everyone from an everyday player to your online player to the veterans and big guns of the game who have been playing forever.
Were your goals of the tournament achieved?
I think we hit a home run with this tournament. We had 503 entries and none of us could have guessed that amount. It was a huge win for Bellagio.
Through Twitter feeds, forums, and news postings, various suggestions floated the net. One suggestion was to lower the Main Event buy-in from $10,000 to $5,000. How do you feel about that?
We are definitely open to suggestions which I believe the stigma in the past was we weren't here at Bellagio; that we could just live by our name and we don't really have to take anybody else's option. With me, Jack and Doug, we have opened our doors to suggestions but we have already lowered this event. The Doyle Brunson World Poker Classic Main Event used to be a $15,000 entry and we brought it down to $10,000. I think we attracted a substantially larger market in doing so. Could we get 1,000 entries if we lowered it to $5,000 buy-in? It would be anybody's guess but here at the Bellagio we have a niche that we try to achieve. Its not that we devalue the brand by bringing it down any further but we want to set the bar, we want to be number one. When you come to Bellagio, we want you to feel like you have arrived!
Another suggestion was to limit your reentries to just 1 instead of unlimited. What are your thoughts on that?
It is something we will discuss after this tournament. I just read on PokerNews and other feeds how some players like the idea of unlimited reentries and some players like to limit it to either one or two, to give what they're saying, the casual player a fighting chance, which I understand. If you come to play a $10k, some players only have one barrel so I can understand and am aware that there is an argument for both sides. It will be something we look into.
What are some specific changes from last year's event to this year's event?
For one, we moved the tournament into the poker room. We used to have the Fontana Ballroom, and it was perfect, but there was no parking. We then tried it out in the pit but players complained of smoke, noise, distractions, so we moved it into the poker room, which I say is a huge success as obviously 503 entries is a dream. We are all very happy with the outcome.
Jack McClelland, director of tournament operations, offers his opinion:
As far as the chip stacks, this is the standard WPT structure, so we just agreed to follow. I also changed the payout structure last December. Last year we had over 400 entries and paid 100 spots. When I initially designed it we were up over 600/700 entries so paying 100 spots made sense. Some players disagreed and let us know, so I had to adapt and adjust. This year we are paying out 54 players; if we had 499 entries it would have been 45 payouts.
Do you see any changes being made for next year?
McClelland: We are going to try to keep it the same but we always have to be prepared to change because it's like a flowing experience. There are 10,000 players out there and only three of us. Every time we make a change, the players figure out a way to get around it and have to change it again making it hard to stay ahead of all of them. So we will reconvene, see what worked, what didn't, take all aspects into consideration and make a decision from there.
How much of the player's opinions do you take into consideration whether for the tournament or overall environment of the poker room?
McCormack: We listen to everything; we analyze it and try to come up with what's best. We want to satisfy the players' wants but we also need our decisions to make sense for the casino.
Does Bellagio have the best poker room in Las Vegas?
Without a doubt, 100 percent. Now for an unbiased response, I definitely do think we have the best room. We have the best amenities and have always been known as the leader in the industry and everyone looks up to us. There is some stiff competition; our sister property Aria, for example, is a beautiful room, but we tend to cater to a different clientele. We have lost anywhere from 5-10 percent of clients to Aria but the cross over play is amazing because they'll play there, then come here and vice versa. We try not to step on each other's toes, try not to spread the same limits, or the same games, but there is room in the market for competition. We have also the Venetian, which is probably our biggest competition as they are not under the same company, but it's healthy competition. We also have a different clientele then they do.
What do you feel sets Bellagio apart from the other poker rooms in Las Vegas, and the world?
Here at Bellagio we spread more high-limit games than anybody, I would think, in the world, on a regular basis. We have Bobby's Room games running at least five days a week. We spread 25-50 PLO, 10-20 NL, 20-40/40-80 and 100-200 limit hold'em every single day and for those players, this is their playground. We could go out and write their names on the seats because they're here every single day. We own the market in the high limit games; you can say we hold the patent on limit hold'em. If you are a Limit Hold'em player, playing for a living, then you're playing here because there is no other game in town. As far as the casual player, what else comes to mind when you come to Vegas? Bellagio is your first thought; you think of the fountains, the history, making you want to play here. When the game moved from the Mirage to Bellagio they stopped calling the Mirage "The Office" and started calling the Bellagio "The Office," and they still do. This is "The Office." We have more players playing for a living than any other room.
How much importance does Bellagio poker room give to staying active in social media?
In the past, we were nowhere near the forefront of being on top for social media. I know my predecessors in the past have said if there is one thing I could have done more, is social media. For that reason, I have made it my number one project, immersing myself in Twitter, Facebook, and Instagram, as it is definitely the way to meet and attract your audience. I now even have a reminder set on my phone daily telling me to Tweet, Tweet, Tweet. I would like to think social media contributed to some of our numbers for this tournament event. This tournament is also the first time we have ever posted chip counts, results, and table draws on Twitter, providing as much information to the players as possible.
Are there any special comp deals, promotions or hotel rates associated with the poker room?
Sunday through Thurs. we offer $129 a night plus $25 resort fee for players, and Friday and Saturday it is $179 plus a $25 resort fee. For comps, we were doing $1 an hour and have upped it to $2 an hour to remain competitive in the market. We don't do any jackpot or high hand promotions, which I think is great for local or off-strip casinos but I don't think it is something the avid player wants.
Are there plans to reduce the size or to expand the poker room?
I can't give too much away but there are talks of possibly reducing the number of tables in the room during non-tournament times to create more space. It is a concern we get that there is a lack of space, as compared to the Venetian, so we are trying to weigh the options. I will say there are no talks of expanding the poker room in the immediate future.
Do you feel Bellagio's Poker Room has fallen behind its competition? If so, how?
I think for the most part we have stayed on top of our competition as we have tried to meet them or exceed them. With social media, we fell behind for sure; Aria is probably the best with social media. They are very engaging with their players and we are now catching up to where they are.
How has the negative feedback from players affected the staff?
Every poker room has negative feedback and it is what you do with that feedback that makes or breaks you. We try to meet every concern and see what we can do. Sometimes you can accommodate and sometimes you can't. We always think of not just what's good for Bellagio but what's good for poker. All of our staff has the same goal of making the environment comfortable for both the avid and casual player. If someone is not happy, we figure out why and try to fix it if we can.
Have there been any other requests for additional changes?
The one change players request on almost a daily basis is some type of broadcasting system that tells them what games are active. It seems to be the biggest concern; players want to know current spreads and not a tweet from 30 minutes ago, because that's already outdated. I know Bravo Poker Live is probably the biggest mobile app available so there have talks recently about either creating our own mobile app or joining the Bravo app for MGM Resorts.
Why was the decision made to adjust the event schedules to more strictly no-limit hold'em events?
We have had various other tournaments in the past, but with the decrease in tournaments as whole due to the economy and online poker shutting down, our turnouts for games like H.O.R.S.E. or PLO have hugely declined. We will be discussing the possibly of reintroducing H.O.R.S.E as a tournament as early as May. We know that poker just isn't NLHE but at the moment it is the strongest game in tournaments.
Why aren't events held in a convention/conference center that allows for more space and privacy?
Of course, we lost the perfect location, which was the Fontana Lounge. Parking is generally the issue at conventions and it spreads us very far from our poker room but it's not an idea that we've completely thrown away. It is possible that something could be done in the future but for right now we feel holding everything in the poker room is the best option for us. Our preliminary events hit around 300 entries every event so we couldn't ask for a better outcome.
Outside of the big events held at Bellagio, what can a player expect from the room on a daily basis?
The best action in Vegas!
A lot of players have been asking, "What is Bellagio's stance on Howard Lederer?"
No comment at this time.
There have been rumors of threats being called into the room when Lederer is known to play. Is there any truth to this, and what precautionary measures does Bellagio take against this sort of thing?
Bellagio will always protect its players and staff. To my knowledge, no threats have been made but we would deal with those accordingly in conjunction with our security.
Photo courtesy of the World Poker Tour Blog.
Get all the latest PokerNews updates on your social media outlets. Follow us on Twitter and like us on Facebook now!