Play vsJack Now and Receive Up To €50 Instant Match Bonus
PokerNews Staff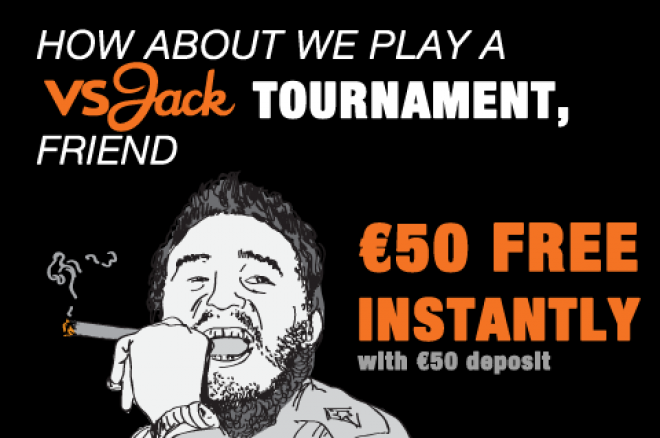 This is a sponsored article.
Interested in playing blackjack without having to play against the house? Now is your chance with vsJack, and you can earn an instant match bonus up to €50.
In vsJack's games the dealer button rotates and players take turns playing as the dealer. When you are the dealer, you play against all other players, just like in casino blackjack, but you can play anyway you want. You don't have to stand on 17 and you don't have to hit on 16. You decide what to do, giving you more control.
In this interesting and new format of blackjack, the cards are shuffled after each deal and only one deck is in use. A player has the option to split any two cards that are the same, but only two cards that are the same. For example, two tens can be split, but not a king and a ten. Furthermore, a player can choose to double down if his or her first two cards total seven through 11. A maximum of four split are allowed, and a player can split aces.
As the dealer button moves around the table from player to player after each hand, a player's position at the table is constantly changing. When a player gets to act as the dealer, he or she will have the most information available to them on how the other players are acting. One should take a look at the other players' totals and decide whether he or she can beat them or not. If a player needs to take a card, that is an option. As dealer, there are no rules to follow, and the dealer cannot split or double.
To get a better feel for how to play as the dealer, check out the following tutorial:
Just like the game of blackjack does, vsJack has various betting levels. The betting levels of €0.20, €0.50, €1 and €5 are currently being offered. There is one small catch, and that is that in order to be able to play as a dealer, it is required that a player has a certain amount of bets. The risk as dealer changes based on how many players are sitting at the table, and here are the requirements:
| | |
| --- | --- |
| 6 players | 9 bets |
| 5 players | 8 bets |
| 4 players | 7 bets |
| 3 players | 6 bets |
| 2 players | 4 bets |
Rake is taken from each pot based on how many players are seated at the time of the deal. If there are two players dealt in, the rake will be 0.50% of the pot. If there are three or four players dealt in, the rake will be 1% of the pot. If there are five or six players dealt in, the rake with be 1.5% of the pot.
The only question now is, what are you waiting for? Start playing vsJack now and be sure to use the PokerNews links to get the best vsJack bonus!